If you have been around the blog a while, then you know that I am all about conceptual understanding and love incorporating manipulatives.  Manipulatives are some of the best ways to introduce a new mathematical concept and are the foundation of the C-R-A. They help to form a solid foundation.  Previously, we have written about the different math supplies and teacher supplies that we love. Today, I wanted to share what I consider essential math manipulatives.
ESSENTIAL MATH MANIPULATIVES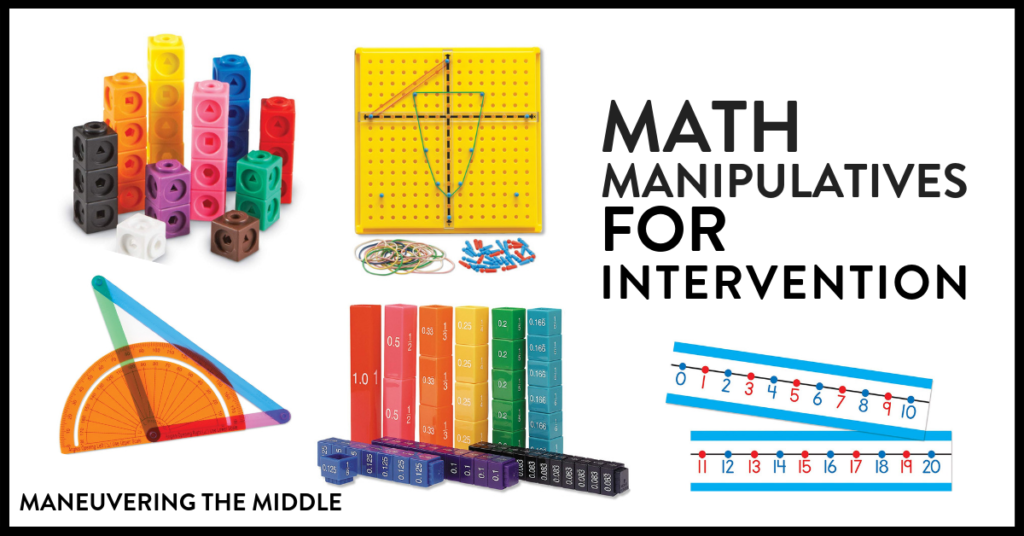 Not a manipulative but awesome for the classroom
These dry erase pockets are perfect to spice up the typical paper and pencil practice.  Plus, you save on paper! Win-win! 
Can you be a math teacher and not love dry erase markers?  I am not sure it is possible. 
I personally believe that colored card stock will up the engagement in your room about 15%.  It might be the bright colors, it might be that I only used colored card stock with group work… 
Another handy and easily accessible office supply that can be used in the math classroom!  Jot down thoughts, ideas, and use with different hands-on activities…
This is probably available for free in the workroom.  It is nice to have for students to work together on large pieces of paper!
I love the red and yellow dot stickers as counters.  They are nice because they stick to butcher paper and won't be moved when working with groups.
Must-Have Math Manipulatives
My four-year-old son and I use two-color counters, and that might be why they are my favorite…they will last for years and can be incorporated in many different ways. 
Modeling integer addition and subtraction

Using as dots on a real-life dot plot

Probability experiments

Stacking to model the volume of a cylinder
I am a firm believer in the number line, and these individual ones are so much more practical than the ones at the front of the class.  If you laminate and store them flat, then they will last quite a long time. Use some tape to momentarily tape them down for the small group, and then use dry erase markers to model integer operations. 
(also known as unifix cubes or snap cubes):  
At first, I wasn't quite sure how these could be used in middle school, but then I started incorporating tape diagrams (also known as strip diagrams).  They are perfect hands-on models that are more engaging than drawing the little boxes over and over again. Additionally, when you incorporate percents, these make excellent percent bars! 
I personally prefer the bars, but the circles are fine, too.  These make so much sense when learning about equivalent fractions, how to rename fractions, and how to simplify fractions.  Once students are really good with the models, it makes the connection to the algorithm so much easier! 
I would love to know how you incorporate pattern blocks!  My friend, Brittany from Mix and Math, demonstrated how she uses them with multiplying fractions, and my mind was blown!  Amazing! 
Algebra tiles are a lot like two-color counters; in that they can be used time and time again.  Solving equations is the first thing that comes to mind, but also consider using them when teaching properties of operations, specifically the distributive property, and even when incorporating the area model. 
Dice obviously are super helpful with probability, but I also love how they can generate various numbers and you can then do things with the numbers.  One day, students were in partners, each one rolling die to create fractions. From there they would simplify the fraction or rename it. Easy, quick, hands-on practice! 
Perfect for probability, data, and statistics.  If you don't own physical spinners, consider using this site to utilize digital ones on a device. 
I firmly believe that 3D shapes are a necessity!  If I could manufacture my own, I would make them about 18 inches tall.  Sure, there are online models, but it is really nice when students can physically touch all the faces, vertices, edges, etc.  If you are on a budget, just bring some from home! 
NICE TO HAVE MATH MANIPULATIVES
This might be my new favorite!  I am not sure how long they have been around, but they are new to me.  These are excellent for making slope more concrete and for comparing graphs.  Beware that the pegs are included, but rubber bands are not…maybe that was intentional.  🙂 
Another really cool and new(er) math manipulative to help students understand triangles and all the different angles involved.  This sure beats the string and three points. 
An oldie-but-goodie manipulative!  The Geo Reflectors are awesome for reflections, and the patty paper makes translations a bit more tangible.  
If you are working in small groups the great news is that you don't need a class set of each of these.  Of course that is nice, but with school budgets what they are, you can totally get away with a small quantity that you add to over time.  
What other math manipulatives do you consider essential?  Why?