Math manipulatives are some of the best ways to introduce a new mathematical concept and are the foundation of the C-R-A. They help to form a solid mathematical foundation as students move from concrete understanding to representational to abstract. By providing the opportunity to concretely work with the manipulatives, students are able to develop a conceptual understanding rather than just memorizing procedures. Today, I want to share what I consider essential math manipulatives.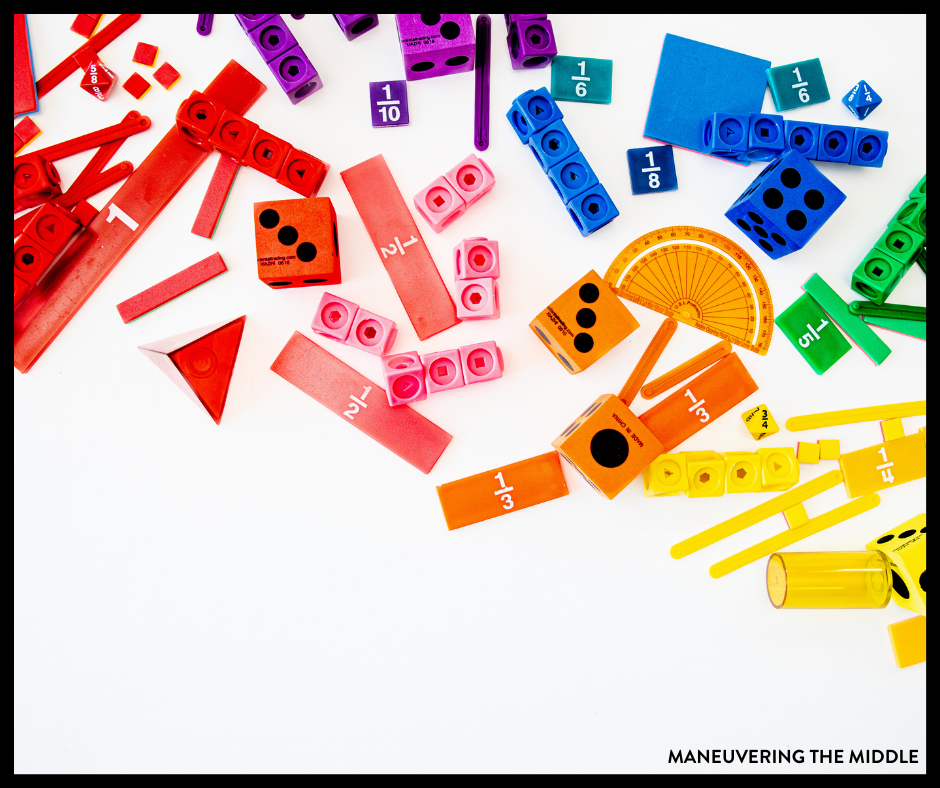 LISTEN ON: APPLE PODCAST | SPOTIFY
MUST-HAVE FOR MATH
Math you will use them for: integer operations, dots as a real-life dot plot, probability experiments, and stacking to model the volume of cylinder
Budget solution: Buy two colors of sticky foam (you can get at Hobby Lobby, glue them together and cut into tiny squares. They do not have to be circles for most applications.
Math you will use them for: modeling integer operations, ordering numbers, inequalities
Budget solution: Grab our vertical number line freebie, print and laminate. The set I bought from Amazon lasted about 5 years. I hole-punched each one and stored them on a small hook at my small group table.
Math you will use them for: Algebra tiles are a lot like two-color counters; in that they can be used time and time again. Solving equations is the first thing that comes to mind, but also consider using them when teaching properties of operations, specifically the distributive property, and even when incorporating the area model.
Budget solution: Again, I think purchasing some foam, putting on some Netflix and cutting for a few hours can save you money.
I firmly believe that 3D shapes are a necessity! If I could manufacture my own, I would make them about 18 inches tall. Sure, there are online models, but it is really nice when students can physically touch all the faces, vertices, edges, etc. If you are on a budget, just bring some from home!
Budget solution: Bring items from home. An oatmeal container is your cylinder, a rubix cube is your cube, a tissue box is your rectangular prism, an ice cream cone is your cone.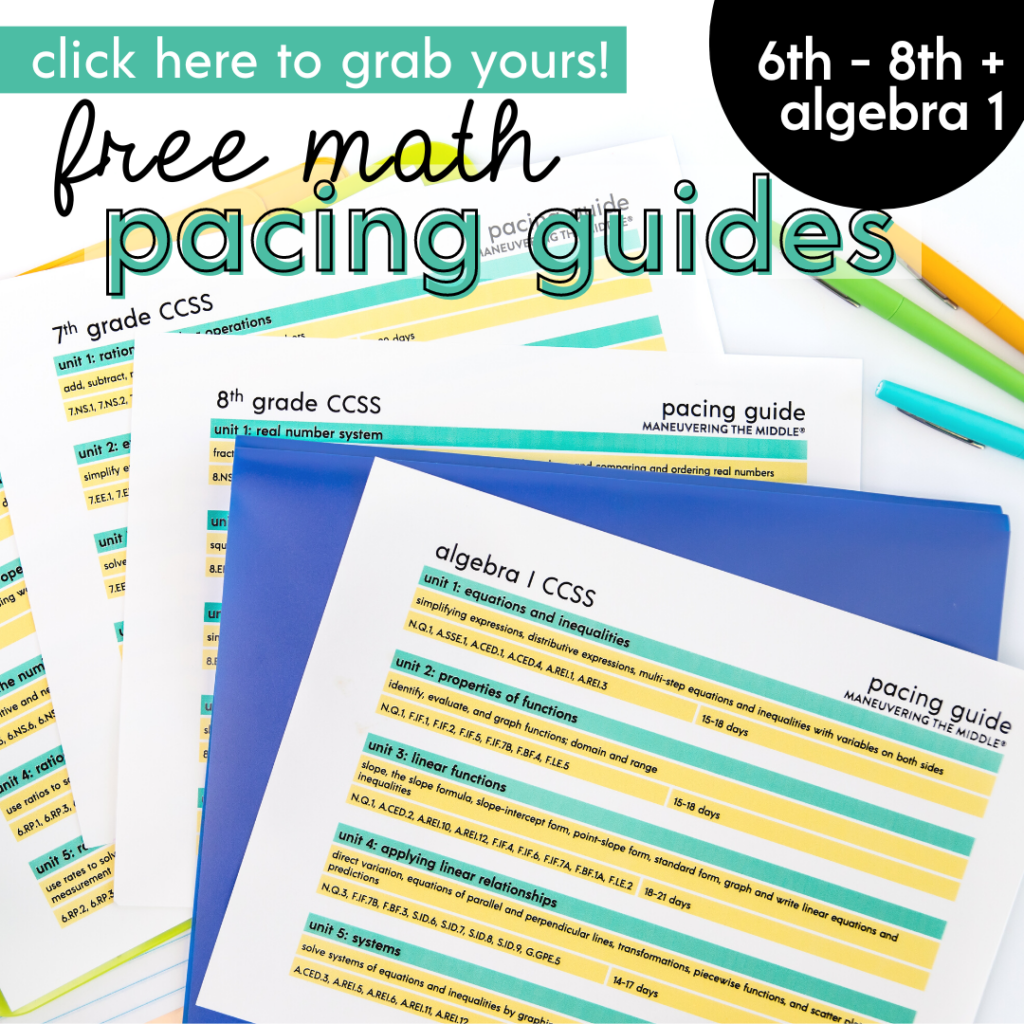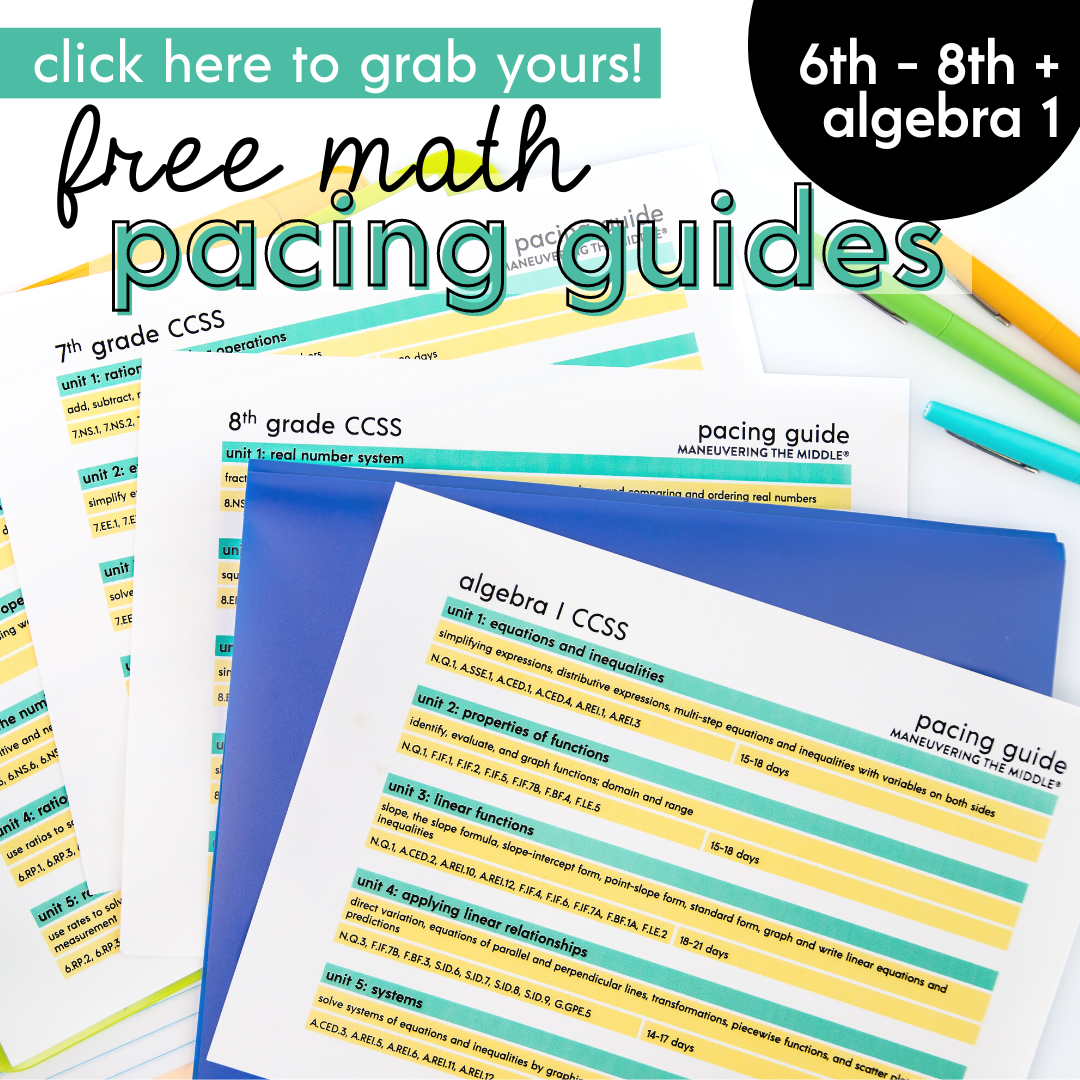 NICE TO HAVE MATH MANIPULATIVES
This might be my new favorite! I am not sure how long they have been around, but they are new to me. These are excellent for making slope more concrete and for comparing graphs. Beware that the pegs are included, but rubber bands are not…maybe that was intentional. 🙂
Another really cool and new(er) math manipulative to help students understand triangles and all the different angles involved. This sure beats the string and three points.
An oldie-but-goodie manipulative! The Geo Reflectors are awesome for reflections, and the patty paper makes translations a bit more tangible.
If you are working in small groups the great news is that you don't need a class set of each of these. Of course that is nice, but with school budgets what they are, you can totally get away with a small quantity that you add to over time.
I personally prefer the bars, but the circles are fine, too. These make so much sense when learning about equivalent fractions, how to rename fractions, and how to simplify fractions. Once students are really good with the models, it makes the connection to the algorithm so much easier!
I would love to know how you incorporate pattern blocks! My friend, Brittany from Mix and Math, demonstrated how she uses them with multiplying fractions, and my mind was blown! Amazing!
Dice obviously are super helpful with probability, but I also love how they can generate various numbers and you can then do things with the numbers. One day, students were in partners, each one rolling die to create fractions. From there they would simplify the fraction or rename it. Easy, quick, hands-on practice!
Perfect for probability, data, and statistics. If you don't own physical spinners, consider using this site to utilize digital ones on a device.
NOT MATH SPECIFIC BUT HIGHLY RECOMMEND
While I believe that manipulatives are amazing and make math come alive, I would be remiss to not include things I used in my classroom daily to either aid using the manipulatives or just to make math more hands-on.
These dry erase pockets (or whiteboards) are perfect to spice up the typical paper and pencil practice. Plus, you save on paper! Win-win!
For students, I recommend using the skinny expo markers. Students write big, so the skinny point helps them use their writing space efficiently. They are smaller, which makes them easier to store and basically impossible to flip.
Make your task cards or anything else you don't want to print off year after year by laminating. Also, an MTM user recently shared that her and a few members on her team worked together to print and laminate every single activity. They put it all in a large tub and they work together to share it throughout the math department. Talk about teamwork!
Another handy and easily accessible office supply that can be used in the math classroom! We have a list of 15 ways to use sticky notes for math practice here.
This is probably available for free in the workroom. It is nice to have for students to work together on large pieces of paper! An easy way to make any boring worksheet interactive is to cover tables with butcher paper, provide markers, and give students problems to work with.
WAYS TO PAY
Manipulatives are not cheap. Take into consideration that you may need 30+ sets of something and it can really add up. Here are some suggestions:
Buy a set for just you or your small group before you commit to a class set
Create an Amazon wishlist and share on FB or with parents. One thing I have realized is if parents don't realize there is a need, they can't help! If your school has a PTA, ask if they can cover the cost.
Ask around! My fellow 5th grade teacher had collected many manipulatives since she had been teaching about 10 years longer than me. She was always happy to share when I asked. Maybe you will discover an old closet filled with items you can use.
What other math manipulatives do you consider essential?