Should teachers assign homework? Should you assign homework to your students? The answer to that question is dependent on a variety of factors, so let's dive in.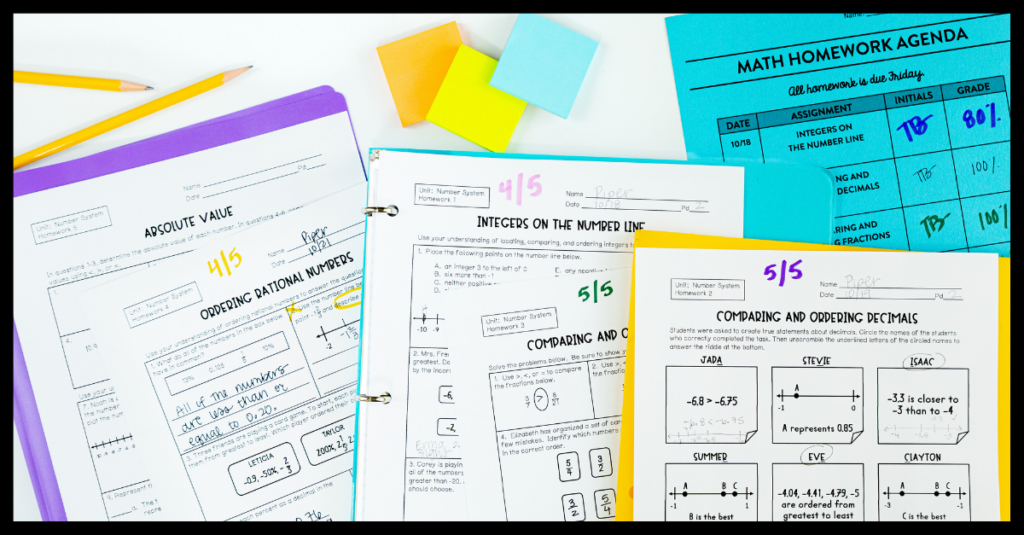 LISTEN ON: APPLE PODCAST | SPOTIFY
What is the purpose of homework?
What is your purpose behind assigning homework? Here is a quick brainstorm of how you might answer this question:
Homework is required.
I need a specific number of grades.
Students need to practice.
You believe homework builds a habit of responsibility.
The next question to ask yourself is: "Is my current situation working well?" For example, if you assign homework daily and only 50% of students complete it, then you may need to reevaluate.
Academic Pros of Homework
Homework has many benefits. Even as a student, I remember working on my math homework, and having some aha! moments. Many teachers depend on homework because their class periods are so short. Homework allows for students to practice what they learned in class when class time doesn't allow for it.
Flipped classrooms depend on students watching videos at home. While they aren't working problems independently, they are still learning at home. This allows them to do the majority of their work in class, removing the barrier of trying to practice something you don't understand with no assistance.
Lastly, our brain is a muscle that does grow as we continue to use it. If learning an instrument or playing a sport requires practice, then so does math.
Social-Emotional Pros of Homework
Homework isn't just about knowledge. Homework can build a variety of other valuable habits – responsibility, ownership of their learning, and time management.
If my students weren't taking class work seriously, all I had to say was, "Whatever isn't completed in class will be homework," and students QUICKLY got back on track. Incentivizing students to use their time wisely in class can help students stay on task.
Lastly, in some cases, homework allows parents to see what their kids are learning and their child's academic strengths/weaknesses. In years that I didn't assign homework (when I had 90 minute classes), parents reached out often to ask what students were working on since they never saw homework.
Academic Cons of Homework
You probably don't need me to list them because you already know! All those amazing homework pros that were listed above become moot if students don't actually do it. Homework isn't actually practice or an indicator of what students know because it can be copied from a friend or apps like Photomath make it super easy to cheat.
Not to mention, some students would rather just take a zero than complete the work, so now you have missing grades to deal with. And for the students who do complete their homework with fidelity, well, they can be practicing it incorrectly without immediate feedback. Which is why I highly recommend something that is self-checking like a riddle or mixed answer key.
Social Emotional Cons of Homework
While research shows that there is a correlation between completing homework and academic success, it does not show that students do better because they do their homework. Cathy Vatterott, an education professor at the University of Missouri-St. Louis, stated "Correlation is not causation. Does homework cause achievement, or do high achievers do more homework?"
Some parents and teachers argue that students have already spent 8+ hours at school. Students benefit from resting, playing, and spending time with their families. The whole child should be considered.
Assign Homework, but Do It Purposefully
According to this recommendation, homework should follow the 10 minute rule. Multiply the grade level you teach by 10 and that is how many total minutes a student should have of homework of all subjects for one night. If you teach 6th grade, students should have 60 total minutes of homework a night.
With this recommendation in mind, you have to consider the varying abilities of your students. A 10 question assignment may take one student 10 minutes to complete while it may take another student 1 hour to complete.
Which leads to my next point, it has to meet students' needs. Online math homework, which can be designed to adapt to students' levels of understanding, can significantly boost test scores according to this study.
These 5 questions from Edutopia give a great framework to help guide what type of homework you assign to your students.
How long will it take to complete?
Have all learners been considered?
Will an assignment encourage future success?
Will an assignment place material in a context the classroom cannot?
Does an assignment offer support when a teacher is not there?
If you decide that homework is beneficial to your students, here are 5 best practices for implementation:
Give less homework more frequently
Ensure that students are practicing what they just learned
Provide feedback as quickly as possible
Explain to students the purpose of homework and how it will be evaluated

Many middle schools specifically are moving towards a model (or already have) that allows for a tutorial or advisory period. Utilize that time period and teach students to do the same.
Hopefully, some of these thoughts will help you to weigh your options and come to a conclusion that meets both your students' needs and your philosophy and approach to teaching. Let us know in the comments – do you assign homework?
Follow Us: Instagram | Pinterest | Facebook