Preparing for a substitute used to be so easy! Ha – I am joking, of course. We had no idea how easy it used to be. Now with COVID, quarantining, and technology, it is pretty complicated.
Schools have a variety of procedures regarding substitutes, and I also know that you might be lucky to even have a substitute. There are schools out there that rely on teacher's planning periods or non-classroom staff to cover other classes.
Since our control is limited, let's focus on what we can do to make a substitute's job manageable and to make your absence not disruptive to your students' learning.
Note: I have heard substitutes be referred to as guest teachers. I love the term "guest" because it implies that this is a person who deserves our respect and our help. Language matters. Moving forward, I will likely use them interchangeably.
LISTEN ON: APPLE PODCAST | SPOTIFY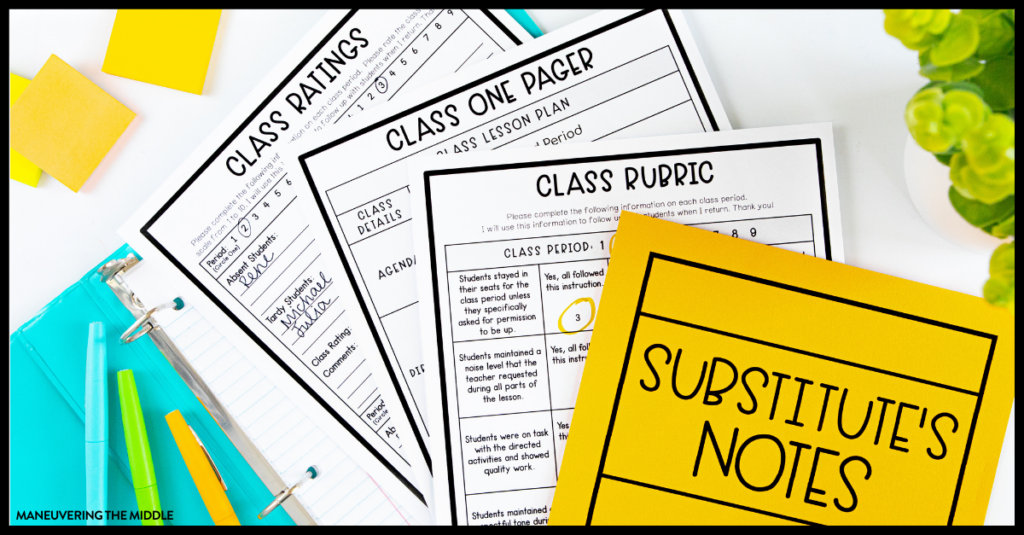 Preparing for a Substitute before You Need a Substitute
1. Prepare a Guest Teacher Binder
Our mantra at Maneuvering the Middle is go slow now, so that you can go fast later. Take the time to create a guest teacher binder before you need one. At most, it will take about an hour to prepare, and even less time if you grab ours.
Everything mentioned in this post is included in the Substitute Binder pages.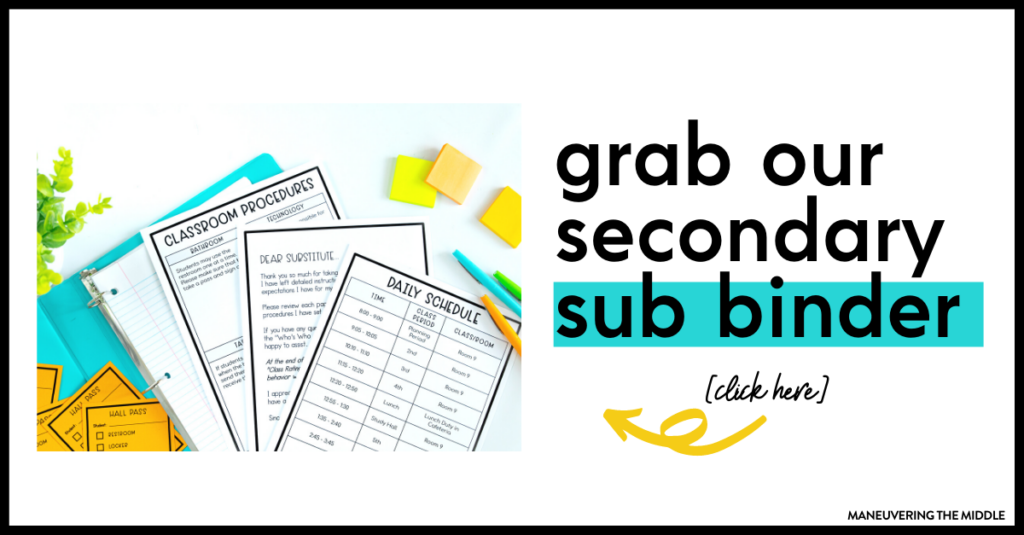 Why a binder?
It can be used year after year (with a few revisions). I highly recommend that you place these pages in page protectors and organize them with tabs that would help a guest teacher navigate quickly.
It needs to be a binder that is clearly labeled and huge! Small folders get lost, thrown away, or accidentally taken home by guest teachers.
If you wake up sick, you will be able to send an email with a description of where the binder is. You won't be writing a long email with a ton of directions at 3 am.
What should be included in the substitute binder?
Contact information for office, team lead, and/or the assistant principal
Bell schedules and all alternative bell schedules that may exist
Daily routine explanation
Short list of the most important routines and procedures – think bathroom, technology, tardies or dismissal
Information regarding procedures for drills or actual emergencies
A variety of student information that we will expound on later in the post
Necessary computer login information (guest logins over personal passwords)
Random information like how to turn on the projector
Lesson plan with materials
Now ideally you were able to do this at the beginning of the year for the entire year, but maybe you are working on the fly. Stick with the essentials and keep things brief. Guest teachers don't have a lot of time to acclimate themselves before students arrive, so bullet points and essential information is key.
2. Include Relevant Student Information
Guest teachers will need:
Class rosters
List of students who may need additional support and any accommodations they may need – I would star these students on the seating chart too
List of student(s) who can be trusted to answer questions – Typically, if a guest teacher asks the entire class a question, it will just turn into a lot of talking or disagreement on the answer. If I give one specific student to ask, then chaos is avoided.
Seating charts – or a note of where the seating charts are located
3. Prepare an Emergency Lesson Plan (or Two) with all student materials printed or posted online
We need something for our students to do!
I love to share stories of my mishaps. My first year teaching I had a very strict pacing calendar that I was expected to follow. I was part of a program that required me to be pulled for a two day professional development. According to my pacing calendar, I would be out when subtracting integers would be introduced, so I created lesson plans and student materials for subtracting integers. This is no doubt, one of the most challenging middle school math concepts for students to master.

Obviously, I returned to my students being utterly confused, I had wasted two days of lessons and lesson plans, and I had to change all of my plans when I returned on a dime.
So learn from my mistakes! When you are out, plan on students reviewing and practicing skills you have already taught. (Obviously, this applies only for shorter absences.)

Here are some ideas that might work well for you:
Solve and colors — coloring tends to calm students and can be just enough incentive to keep working
Mazes – again, coloring and the self-checking aspect without being a multiple choice situation
Now make those copies (you may consider leaving a key with your work shown) and place them in an identifiable location within your guest teacher binder. 
We have heard from so many All Access members that All Access makes being absent a breeze. The video library is the perfect way for students to keep moving ahead even if you are out.

"The BIGGEST win, is when I needed to be out for several days, the curriculum was perfect with the warm-ups, videos, and activities." – All Access Member


4. create accountability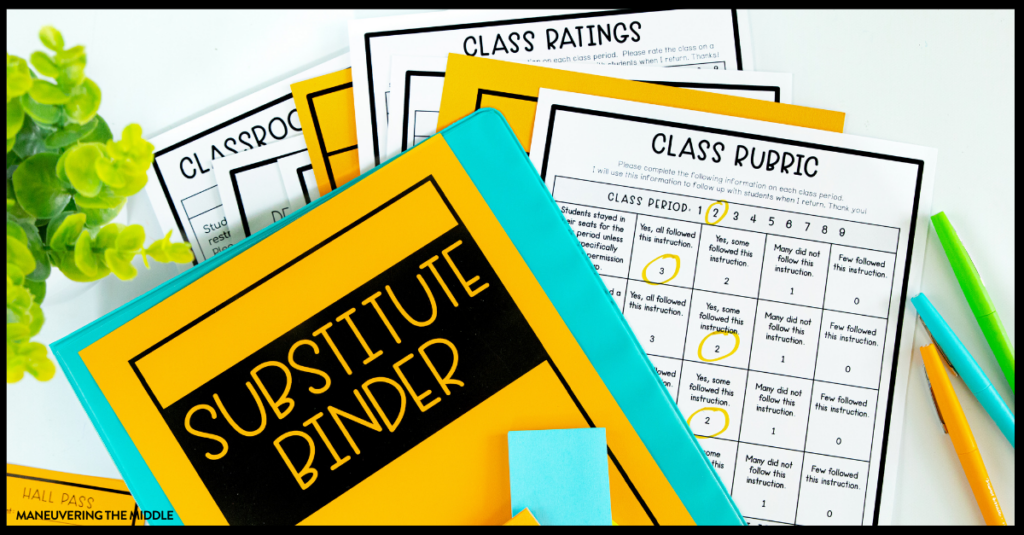 Next, you want to create some sort of incentive!

I would leave a Class Rubric for the guest teacher to complete for each class — things like maintaining a reasonable voice level, staying on task, being respectful, etc. The substitute would then rank them using the rubric. (This rubric is also included in the Secondary Substitute Binder.)

Then from there it's up to you — do you reward every class with a 10? Does only the best class get a reward? If you are looking for easy, cheap incentive ideas, click here.
Extended Absences
Hopefully, if you are going on maternity leave, you will have lots of runway to prep your guest teacher. Ideally, your guest teacher has spent a few weeks in your classroom prior to your due date. We actually have a whole post about returning from maternity leave that you may find helpful.
This is where you can really utilize technology to best maintain your class. You may need to utilize pre-created content like our All Access Videos or YouTube to minimize your absence and continue with the content. Keep a very strict routine that students are used to following like: log in to their LMS, watch video, complete online assignment. Routines are crucial for guest teachers to implement.

But essentially, organization is key, whether you prepare paper copies for maternity leave, or digital copies that you are sharing with a department head, or an organized LMS where students can easily find their assignments.

Additionally, I think in cases like this, it is worthwhile to add your department head or administrator to your LMS or Google Drive, so that they can access and support the guest teacher without you being present.
What tips do you have for preparing a guest teacher?
All the mentioned things above are included in my Editable Substitute Binder for Secondary Teachers. It is simple in design, easy to use, and most importantly ready to go. I also included additional binder covers, classroom procedures, emergency procedures, seating charts, a lesson plan template, and a printable hall pass. This substitute binder can be edited in Google Slides.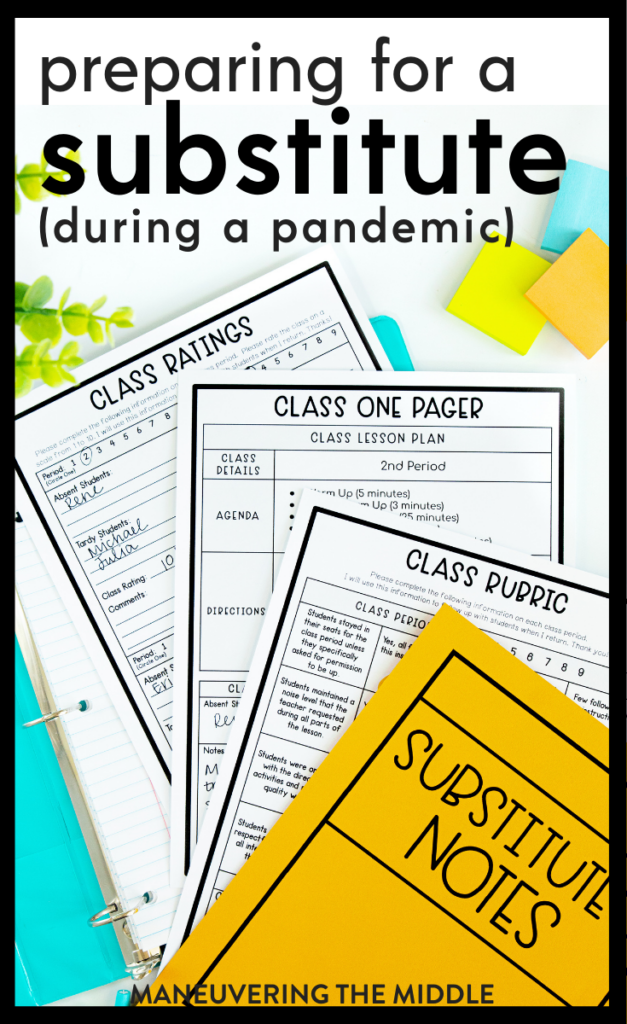 Editor's Note: Maneuvering the Middle has been publishing blog posts for teachers for nearly 6 years. This post was originally published in September of 2016. It has been revamped for accuracy and relevancy.