Update 8/01/2020: This post was originally written many years before a pandemic changed everything about being a teacher. Many of the same concepts for substitute preparation still remain. However, for clarity, I am going to do my best to be a thought-partner as we navigate this trying time. You can find that information by scrolling down to #5.
I will never forget the first time I realized that I needed a substitute binder.  I was chosen to attend a technology conference and would be out of the classroom for three consecutive days.  Prior to this, my need for a substitute was limited to sick days or the occasional personal day.  In that case, my notebook paper and sticky note method worked perfectly. 🙂  But for three days, three different preps, six classes, duty, and various bell schedules, I needed something a little more reliable than a sticky note.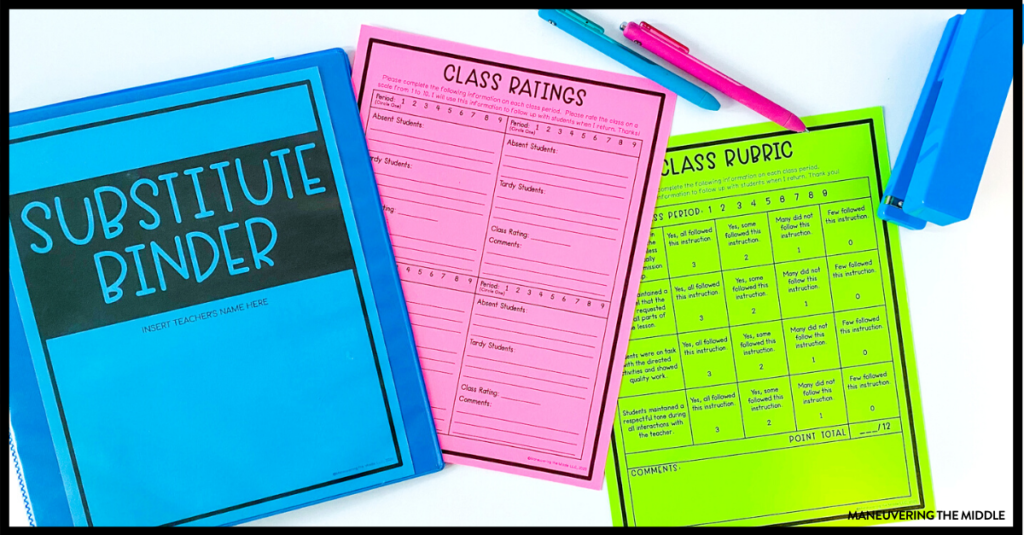 Getting organized for a substituTe teacher
1. create a substitute binder
Initially, a binder seems like so much work.  And it does take time.  However, the benefit to taking the time upfront is that you will thank yourself every single time you use it thereafter, like when you end up being sick or find out your child needs you.  Make a nice, neat cover and dedicate a binder to your substitute.  I would also recommend page protectors.  You never really know how the binder will be treated or where it may end up, AKA, the front office.  So, I would suggest putting each page in a page protector to ensure that it lasts all year.
2. Include school information
Some schools give substitute teachers a folder with information, some don't.  I always liked to be sure to include a page with my specific bell schedule, my conference period, my assigned duty, and which prep was each period.  This makes it a bit easier to keep track and ensure that each class is working on the appropriate assignment.  Less confusion = less problems.  I also liked to share the phone numbers of appropriate people, usually the AP, nurse, front office, team leader, or department head.  Anyone they might need to call with a question or in the event of a discipline issue.
3.  Include student information
I liked assigning a student helper (or at least requesting one) while I was gone.  This helps the substitute teacher and minimizes the number of students leaving the classroom to "help" with one small task.  Amiright?  It is also handy to share any specific details and directions.  For example, students who do not work well together, a reminder about video announcements that need to be shown in third period, or if a certain assignment needs to be collected.
4.  create accountability
In a perfect world, every student would be on their best behavior for your guest teacher.  They would act better than they do for you, and they would be on task for the entire class period.  Take me to that world, please!  In the event you don't live in that perfect world, I would encourage you to find some type of reward that your students have bought into.  This could be as simple as a challenge between the classes, a treat, a fun game they can play when you return, listening to music on a Friday, etc.  I personally loved using math computer games as my reward.  I used a rubric (pictured) for the substitute to fill out. Before I would be out, I reviewed the rubric with my students, so they knew what they were being graded on. The class with the highest score received a prize.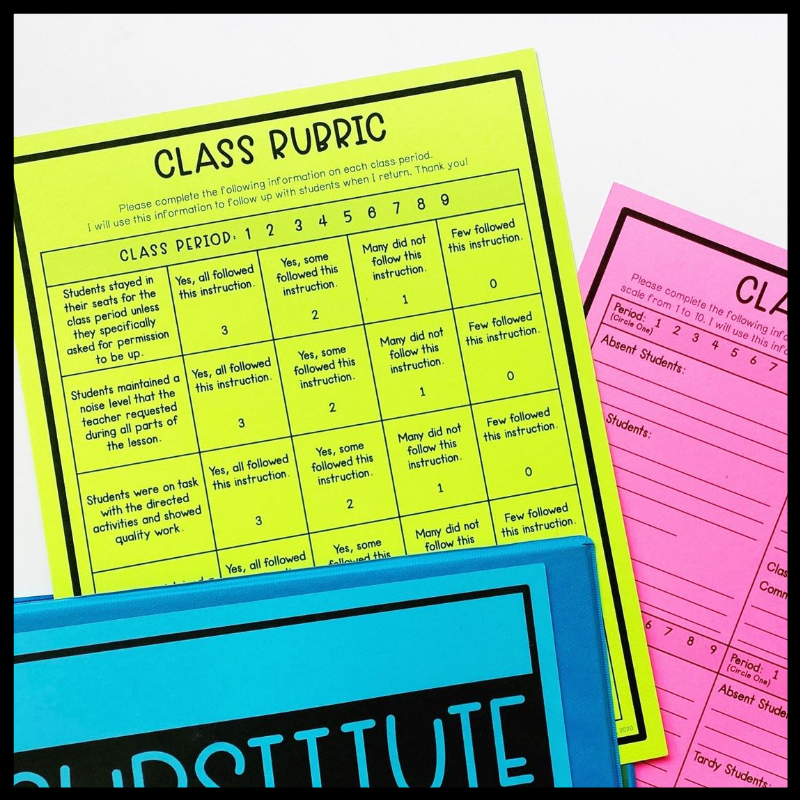 All the mentioned things above are included in my Editable Substitute Binder for Secondary Teachers.  It is simple in design, easy to use, and most importantly ready to go.  I also included additional binder covers, classroom procedures, emergency procedures, seating charts, a lesson plan template, and a printable hall pass. This substitute binder can be edited in Google Slides.
5. Planning for a Sub During a Pandemic
You are going to have to prepare a lot at the beginning of this school year (just in case). I would go ahead and make to sure create and organize a substitute binder still. Here are the two scenarios you will need to prepare for:
For When You are Out Because You are Quarantined
Since COVID-19 updates are changing by the day, I am speculating. However, what I have heard (and what I have experienced in my daughter's daycare) is that if anyone tests positive for COVID-19, there will be a quarantine of students and teachers for 14 days. This means that you might not be sick, but will be required to teach from home. In some cases, you might be teaching from home to students who are also quarantined at home or to students who are still at school with a substitute. 
Here is my general recommendation, start the year with a very strong technology routine already in place. Have your daily class routine include:
Logging into the LMS

Checking assignments

Watching videos

Completing assignments
After that has been completed, students can work in your classroom however you see fit. You can be pulling a small group during that time based on the formative results of the previous day's lesson. 
That way, in case you and/or your students must go into quarantine, there will not be a panic about what to do. It will be business as usual except from a different location and without the activity. Provide a verbal and written explanation to your parents and students before anyone gets sick. 
If you have students who are still at school, but with a substitute, I recommend creating a choice board using skills they already have mastered (or if it is at the beginning of the year, using the previous grade level's standards). 
For When You are Out Because You are Sick
This one is a little more challenging to navigate. A mild case of COVID-19 can last around 16 days while a more severe case can last 10 weeks. Not to sound hopeless, but no teacher can reasonably prepare for that much time out on the off chance they will get sick. 
Here is what you can do: follow my suggestion above. 
Create a really strong technology routine for your students

Prepare a substitute binder using our suggestions above

Ask your administrator (the sooner the better) what their plan is for when a teacher contracts the virus

Get ahead of creating your lessons/videos/assignments by about one week 

Create a document that has your username and password for your grade book, your LMS, and whatever other sites someone will need to take over your class
I know there are many fears and anxieties about returning to the classroom. There are really so many unknowns. Remember that you have many students looking to you to determine their attitude and disposition about everything. Do your best to model hope and tenacity during this trying time. In the meantime, please always reach out to us with questions. 
Do you have any great reward ideas?  How do you stay organized and prep for a substitute teacher? Do you have a substitute binder?
Editor's Note: Maneuvering the Middle has been publishing blog posts for teachers for nearly 6 years. This post was originally published in September of 2016. It has been revamped for accuracy and relevancy.