October is just around the corner! While there are so many fun things that autumn brings, it can be a challenging month to be a teacher. Let's dive into some ways that we can thrive during this month.
LISTEN ON: APPLE PODCAST | SPOTIFY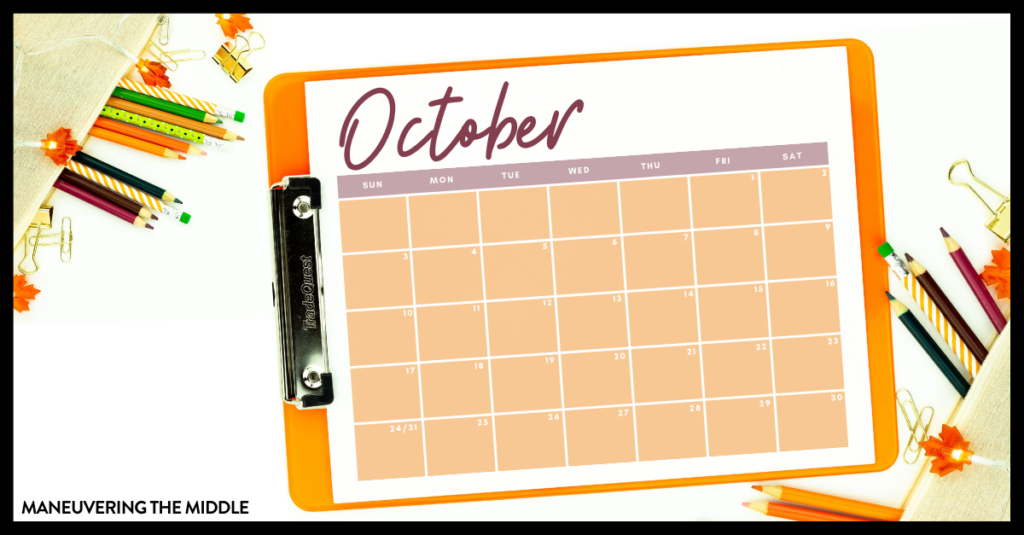 Why is October so challenging?
October is just days away. Labor day was 16 work days ago, and Thanksgiving is approximately 30 work days away.
The excitement of Back to School is beginning to wear off. You are now in the trenches. You may have bolted from the starting line in August with grace and enthusiasm, but now it is dawning on you that this isn't a 100 meter dash, but a full on marathon.
October is also a long month, Halloween punctuates it, the grading period typically falls within it, and daylight savings time is ending, so it can feel dark and literally be dark.
1. Take a Personal Day of Rest
When we originally published this post, we suggested that teachers should plan to take a day off from work in the month of October. Now with the shortage of subs in our country, that recommendation has a caveat. If you can request a day off, then great! If that brings additional stress to you, then plan for a day of rest on a weekend.
Pick a date, put it on the calendar, and anticipate with excitement a day in which you have made zero commitments and have zero responsibilities. If you have kids, can you send them to hang with the grandparents for the weekend?
Then I will recommend spending your day off doing things in slow motion. Go on a walk, turn off your phone notifications, sit and drink coffee in one sitting. Prioritize rest.
2. Throw a Few Stacks of Paper Away
Is there a better feeling than a clear desk? A clear desk is a clear mind. Give yourself permission to recycle a few stacks of paper. Send them to paper heaven!
If you aren't going to look at the assignment within 24 hours to grade it, or at least look at it to get an idea of your students' mastery, then you are probably never going to. And that is ok!
Note: District assessments or unit tests should not be tossed.
3. Plan your grading strategically
Here are a few tips to how to strategically plan grading:
Avoid having a test the week grades are due. This leads to missing grades from students who are absent and not enough time to follow up with students who did not meet the standards.
Avoid testing on Fridays. Student absences seem to be the highest on Fridays.
Provide accountability for assignments that are missing as the grading period goes on, rather than the week they are due. This means you are dealing with fewer assignments and fewer students. Can you take advantage of a study hall or homeroom to follow up with missing assignments?
Utilize technology that grades for you.
Can you reduce the number of assignments you are grading? Remember, you don't have to grade more than required by your school.
4. Change Your Mindset Regarding Halloween
There is a 5 out of 7 chance that Halloween will fall on a school day. While Halloween can be distracting to students, embrace it!
How can you incorporate the fun and excitement of Halloween into your content? Remember to avoid teaching new content on Halloween or the day after. Use it as a review day or an activity day.
I know that lots of students love coloring, so I created a Halloween themed solve and color to keep kids on task but also still providing structure and a more relaxed environment.
5. Spend Some Time with Your Coworkers
Teaching can be lonely. You may go several days without any adult interaction.
Your team and you are all in this together. Here are some easy ideas to implement to make October brighter for everyone on your team.
Friday Happy Hours
Weekly lunches with your team. You don't have to go anywhere; just pick a classroom and meet up.
Write a few thank you notes to your coworkers. It doesn't take long, but it can be meaningful to both the recipient and to you!
Make some positive phone calls as a group to students who are often quiet and overlooked.
6. Maintain and Adjust Routines and Procedures
At this point, students are much more comfortable with you. They may be testing you, too. This is the time to make any adjustments to the routines and procedures you taught in August. Address your expectations to your students. Get feedback from your students about what is working well, and what could use improvement.
Remember that you do not need the energy for the rest of the school year right now. You just need enough energy for this one day.
Here is to a great October!