Teachers spend 8-10 hours a day at school. We need to be prepared for anything and everything. We also want to keep students from having to make unnecessary trips to the office for things that we can easily store in our classroom. These teacher desk supplies will save you!

Maybe you will use these items never or 100 times. It doesn't hurt to be prepared! (Check out the comments for some more great suggestions.)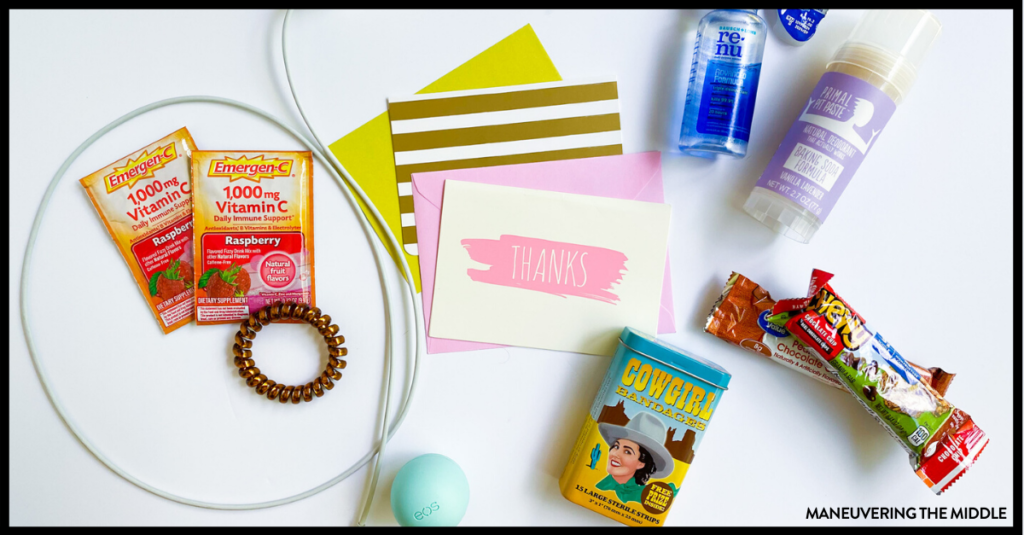 Things that You (the Teacher) Will Need
While this may not fit in your desk drawer, an All Access membership will save your time and your energy. If you are a middle school math or Algebra 1 teacher, then this curriculum is for you. Click here to learn more.


Things Your Students May Need
Bandaids, feminine products, mints, ice pack – If I could prevent students from making an additional trip to the nurse's office to get any of these items, I considered that learning time saved. Note: most of these you can even get from your school nurse by just going in and asking to have some handy in your classroom
Safety pins and a glasses repair kit – Ever have a wardrobe malfunction or a lost button…those safety pins can come in handy for you and students. The number of glasses that I have repaired in my teaching career is pretty impressive too! Parents will thank you! 
Ziploc bags or even grocery store bags – Ziploc bags serve 100 uses in the classroom, so just go ahead and buy some the next time you're grabbing groceries, but their uses aren't just for organizing supplies. In 6th grade, students are still losing teeth or needing a place to store their phone after a water bottle leaked in their backpack soaking everything. They will get used. I have saved the day when a student's backpack has torn open and they needed a place to store their stuff for the day. 
Items that Will Help Your Environment
I hope this list gets you thinking, it has saved me lots of time and headaches (literally).
If you love teacher supplies as much as I do, check out this post with 20 Must Have Teacher Supplies Under $20.
Also, check out the comments (even if you don't have anything to share) because there are many great ideas to round out ANY need you might have during your day of teaching! What teacher desk supplies do you rely on in your classroom?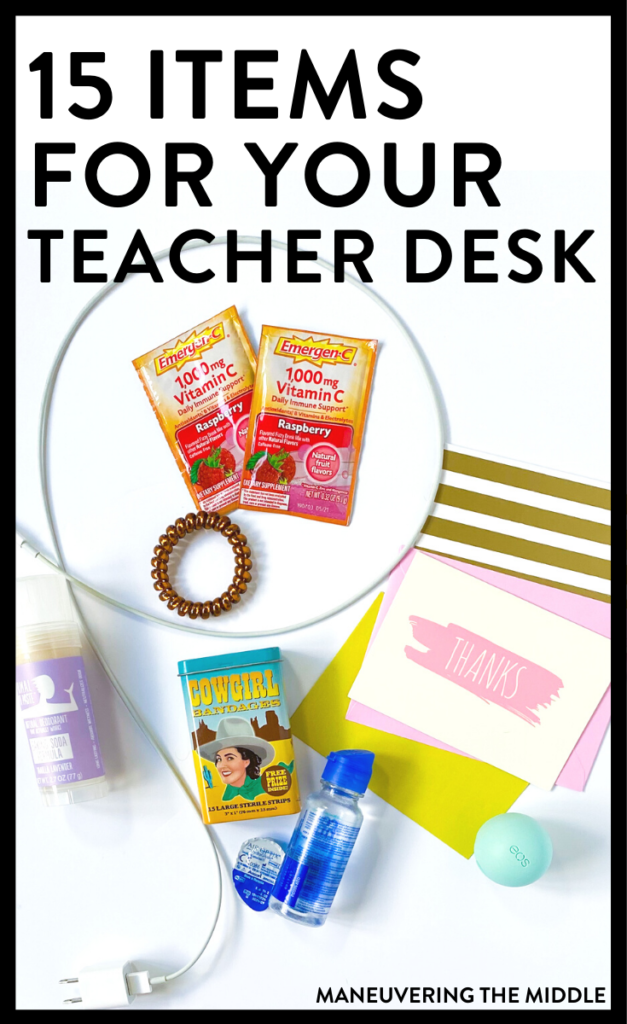 Editor's Note: We have been publishing content for the Maneuvering the Middle blog for over 7 years! This post was originally published in February of 2015 and has been revamped for accuracy and relevancy.