The more concrete we can make algebra, the better students will understand abstract concepts. Algebra tiles provide students a hands-on approach to learning algebraic thinking and concepts of algebra. If you are brand new to algebra tiles, these pointers will help get you started.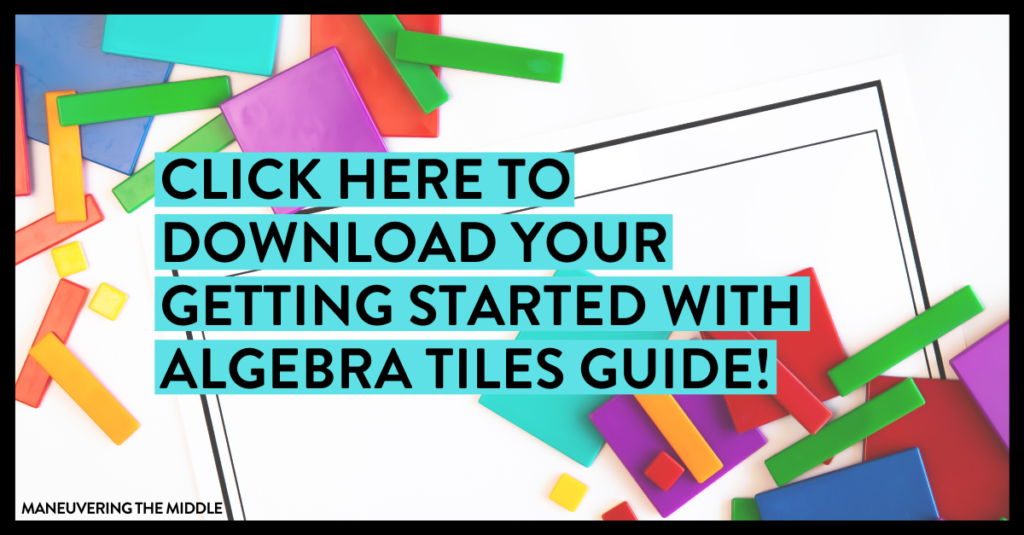 1. Make a Plan for Managing Algebra Tiles
Routines and procedures are king! Algebra tiles are tiny pieces of plastic that are bound to end up on the floor or mixed with other sets, even with the most well-intentioned students. These series of questions will help you prepare answers and procedures for your students as you set the stage for managing algebra tiles.
What is the procedure for grabbing a new set of algebra tiles? Can I use them without permission or do I need to ask first?

Where do I get them from? Do I get them for my whole table? Can my set be mixed up with others? 

When can I use them? Can I use them for homework? Can I take a set home?

What are the consequences for using the tiles inappropriately, leaving them on the floor, and/or throwing them in the air?

When do I clean up? Where do I return them? 
By thinking through these questions and explicitly instructing your students, you will be much more likely to experience success!  Your future self will thank you.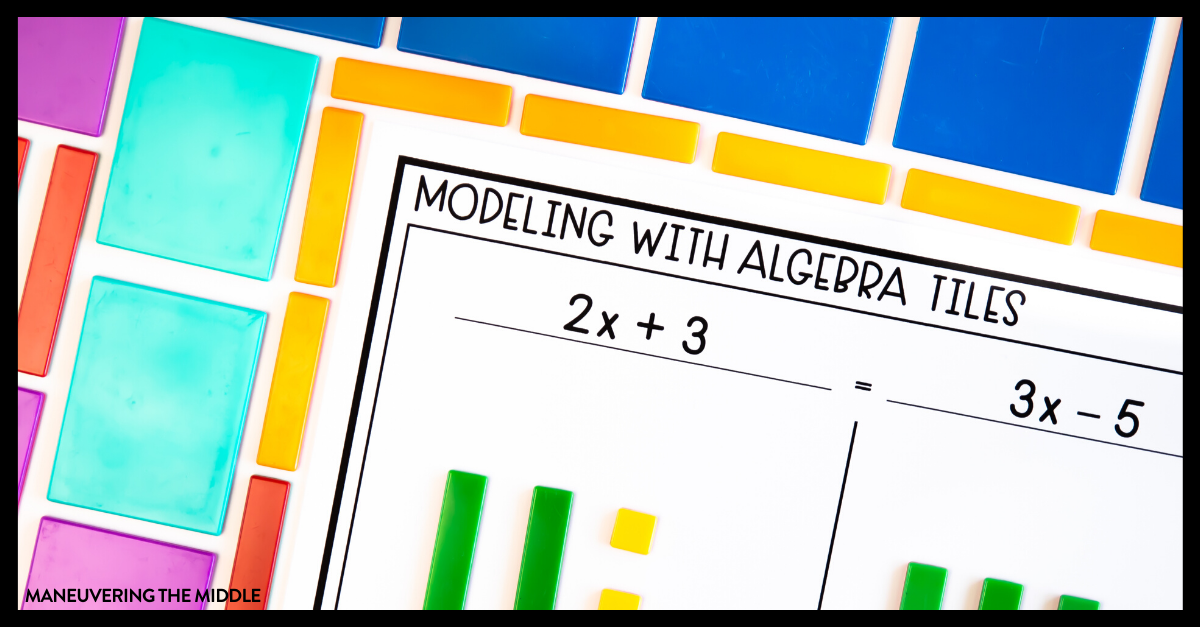 2. Get Familiar with How to Use THEM
If you are like me, you didn't learn math concepts with algebra tiles when you were in school, and might have taught for several years before giving them a try. Before implementing them with students, familiarize yourself with them. Play with them on your own.  Without a pencil or paper, solve problems from your curriculum using only the manipulative. 
Whenever I needed to practice teaching a lesson I wasn't confident in, I would pop into my coworker's classroom and ask if I could explain the concept to her. My coworker was a self proclaimed "not a math person," and would ask excellent questions that helped me clarify my lesson and prepare for student misconceptions. 
Download our Algebra Tiles Starter Guide to see how you can use them to teach simplifying expressions, distributive property, solving linear equations, adding and subtracting polynomials, multiplying and dividing polynomials, and factoring polynomials. 
3. Don't Just Use THEM for One Day
I love manipulatives, but they can be hard to manage on a daily basis.  Sometimes, I found that I would introduce a topic with a manipulative, check the "used manipulatives" box, and then wonder why it wasn't as beneficial as I had hoped. While I had good intentions, I wasn't serving the students who could benefit from more concrete learning and practice on a more regular basis.
The purpose of using tiles (or any manipulative) is that it allows for conceptual math to become concrete. If you are not familiar with the concrete representational abstract sequence, we wrote a blog post about it here.
Essentially, in the case of solving equations, the concrete representational abstract sequence would look like this:
Use the tiles (concrete) to build their conceptual understanding

Draw the tiles (representational) to show the process of solving an equation

Solve an equation (abstract)
While some students might love using algebra tiles and want to continue using them indefinitely, there will be problems where they are not the best choice (example: rational numbers). However, if algebra tiles support the students' processing of the problem, then I think students should be able to use them whenever they would like. Allow tiles to be a method for solving at any point in the unit or school year.
Are algebra tiles new to you? Do you have them in your math closet but don't see the value in using them? Do you need a few examples of how to use them?  We have you covered!
Our Getting Started with Algebra Tiles Guide is going to walk you through the process step-by-step with the different ways you can use algebra tiles along with some of the language you can use with your students.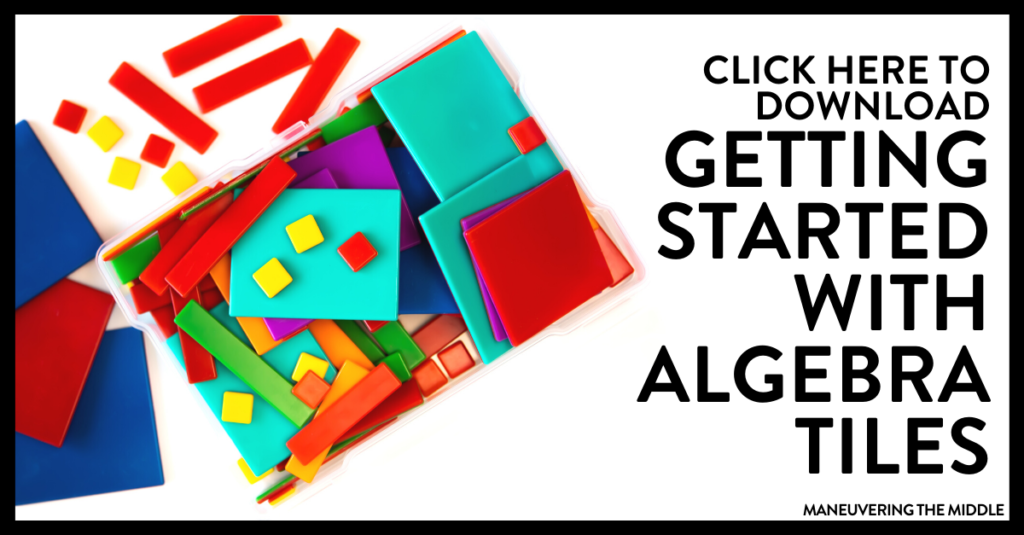 Interested in more about algebra tiles? Check out our post on how to solve equations using algebra tiles. 
UPDATE: ALGEBRA I DIGITAL ACTIVITIES ARE NOW AVAILABLE!