You name the grade level, and I will name a difficult math concept.  Maybe it's percent change in 7th grade or integer operations in 6th grade.  Teaching difficult math concepts to students who struggle is a huge challenge!  Each year, students are tasked with mastering new math content and building upon their math foundation.  Unfortunately, some students have a pretty shaky math foundation.
Maybe they didn't fully grasp the concept of multiplication and it now impacts how they solve equations and proportions and how they calculate the measurement of 2- and 3-dimensional objects.
Maybe they struggled with integer operations, trying to learn all the rules, and didn't fully internalize the concept of negative numbers.
Whatever the situation may be, suddenly they find themselves in your classroom with a new concept to master and a weak foundation on which to rely.
What I am about to share is fairly simple, and when you think about it you might say, "Obviously." However, it is also something that isn't implemented very often and is easy to skip over when we get rushed or when our planning is off. 
---
Looking for more math intervention ideas?  Check out this page. 
---
The concept is known as CRA, or concrete representational abstract.  There have been numerous studies measuring the effect of using the concrete representational abstract (CRA) sequence for students at risk of failure.  You can see a few here, here, and here.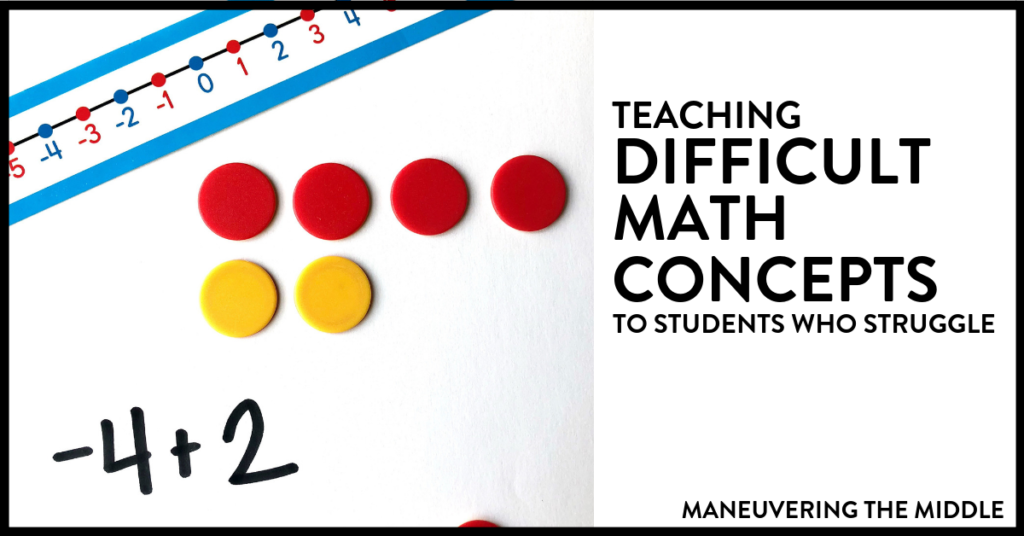 What is the concrete representational abstract sequence?
This teaching method breaks down the concept (multiplication, subtraction with regrouping, subtracting integers) in a methodical process in which students move from one phase to the next.  
Concrete
When students have a concrete understanding of a mathematical concept, they are utilizing manipulatives to demonstrate the math.  For example, my four-year-old son is learning to count. I want him to physically touch or move the items he is counting. In doing this, he is developing one-to-one correspondence.  He is internalizing that each item represents one.
When our middle school students are learning to solve equations, we want them using algebra tiles to physically remove manipulatives from both sides of the equation.  This allows students to internalize that an equation must remain balanced.
Practice with concrete manipulatives takes time.
It is not easy to facilitate with 30+ students.  
It can be expensive (manipulatives).
It can be frustrating for students who seem to already grasp the concept.  
It is also essential for students who have a shaky math foundation.
Looking for some manipulatives that you can incorporate.  Check out this post with 20 math teacher supplies we recommend. 
Representational
When we are discussing the representational segment of CRA, we are talking about moving students from actually touching and utilizing materials to drawing a representation.  
In the case of my son above, that would be counting dots on a page or drawing eight tally marks to represent the number 8.  
In the case of our middle schoolers and solving equations, this would look like drawing the algebra tiles, creating a key, and demonstrating how the process works.  
We see this quite a bit in middle school.  From integer counters being sketched to a graph that represents a linear relationship, our standards include many representational aspects.  
This is a little easier.
It makes more sense to start here because it's more doable.
It also leaves some gaps for students who need to understand why you are crossing out the positive integer circles.
Abstract
Math can be a very abstract subject.  When you think about solving an equation and finding the value of x, why are we doing this?  Why do we need to know this? The value of x is abstract. It is always changing. It doesn't actually mean anything without context.
I think this is where it is really difficult for students who struggle.  When we don't provide a context for learning and for the application of the abstract, it just seems too confusing.  Have you ever heard a student say they are confused?
This is when math becomes too procedural and you risk students understanding the process, going through the motions, and yet lacking number sense.  
What does this look like in the classroom?
This is tricky.  I will admit that I did not do this well.  
It is much easier to incorporate the CRA sequence when you have some form of intervention class where you have more time and are able to focus on the concrete understanding before feeling rushed to move on.  This is also essential in an intervention class as you strive to fill in the gaps.  Students who are missing key understandings will benefit when you take the time to use manipulatives.  You are slowly rebuilding that mathematical foundation to be solid.  
In an on-level class, this might look like giving all students the opportunity to use the manipulatives and gain a concrete understanding of the concept.  It might look like pulling a small group of students who you can see need more time.  However, once we as teachers are aware of the need, we can better plan and facilitate the learning.