For the last 9 months, Maneuvering the Middle has worked to support teachers who have shifted to online or hybrid learning. To best serve teachers and students, we have created brand new digital math resources and shifted our paper-based activities to digital resources through Google Classroom. To learn more about these updates as well as some of our favorite online tools that make digital learning more engaging, keep reading. 
Psst – Scroll down for an escape room activity freebie for your middle school students!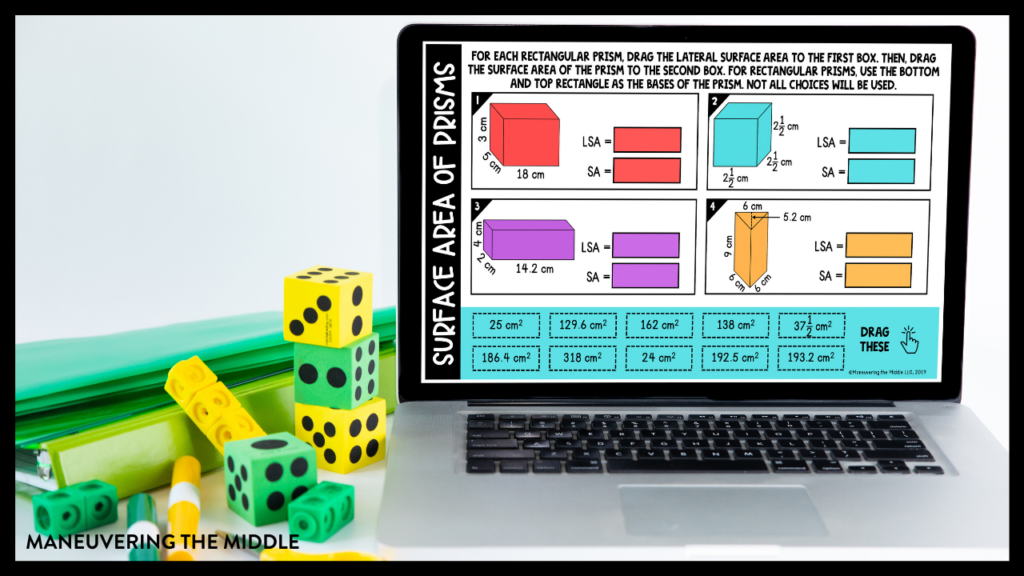 Digital Math Resources in Google Classroom
Digital Activities using Google Slides
Our digital activities are amazing! They are some of our most raved about resources. They are interactive, aligned to state standards, and can supplement an entire year of curriculum. I love that they come with self-grading Google Form exit tickets. You can read about them in more detail here! Check out the video before to see 8th Grade Identifying Functions in action (You can find the entire 8th Grade Function Bundle here.)
UPDATE: ALGEBRA I DIGITAL ACTIVITIES ARE NOW AVAILABLE!
Update:  You can now get them individually. Looking for a very specific topic? Would you prefer to grab one or two before committing to the entire unit? 
My 6th graders would love Graphing Coordinate Pairs or Solving One-Step Equations. These activities are great for end-of-year state testing review. 
Desmos
Desmos has really expanded many of its features since the pandemic. You can find our favorite Desmos middle school activities here and Algebra activities here. After joining their Facebook group, I learned that you can create your own activities using their activity builder. Activities include cart sorts, marble slides, graphing, and more. I even saw one teacher create an Among Us activity.  These videos and templates will help you get started. Another shoutout to Desmos for creating these starter slides.
Escape Room
When I first read about Escape Rooms being a popular activity in the classroom, I felt overwhelmed by all of the planning and classroom management it would require. However, in a virtual setting, it is pretty simple. You can watch a tutorial on how to create an escape room here. You just need some math problems and Google Forms. The degree of difficulty for creation and implementation is relatively low.
You can also grab a free escape room for 6th, 7th, and 8th grade here. 6th grade covers order of operations, 7th grade covers percent of a number, and 8th grade covers solving equations with variables on both sides. Use your grade level or the previous grade level for review or additional practice.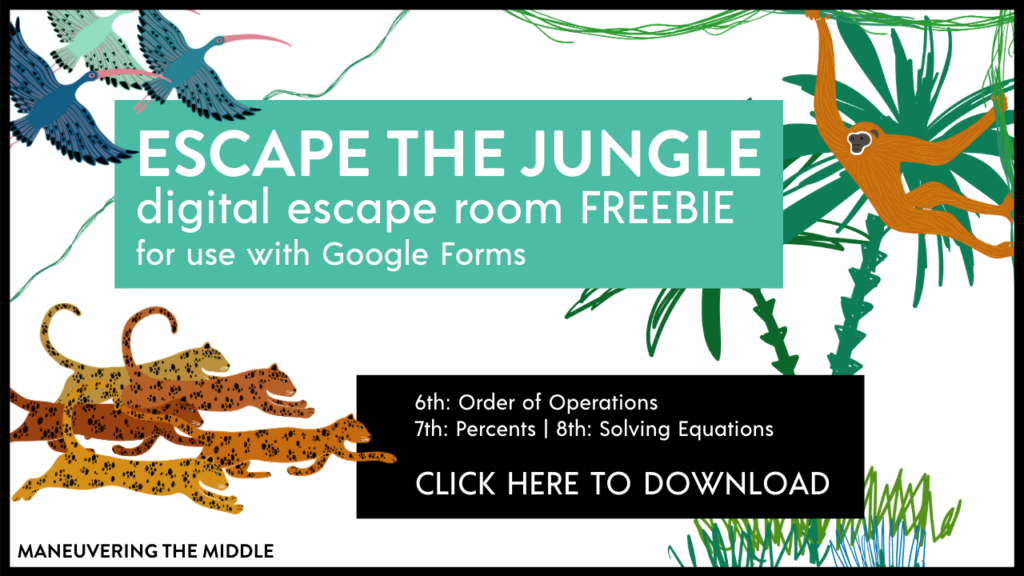 Update to all Paper-Based Activities + STUDENT HANDOUTS
Teachers and students love the Maneuvering the Middle paper-based activities – scavenger hunts, "Find It and Fix It," "He Said, She Said," and our mazes. If you own the curriculum, you can now implement these paper-based activities digitally with Google Slides and Google Forms! Whether your students are learning at home OR socially distanced in the classroom, these digital activities are paperless, engaging and a break from the traditional routine. 
Student handouts and homework assignments are now accessible inside Google Slides too.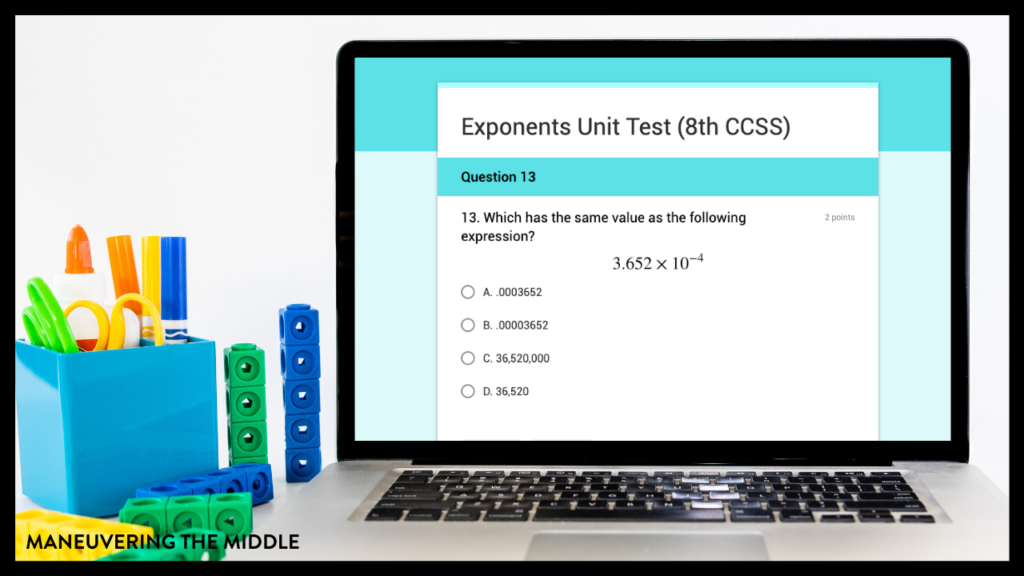 Google Forms for Assessments
I know that this isn't an activity per se, but testing does require your class time and your energy, so it seems pretty active to me (ha!). Whether you are in-person or online or hybrid, you need to say goodbye to hand-grading your assessments. BYE! Most learning management systems can test, grade, and distribute feedback to students. If you do not have a LMS with your school, good news, Google Classroom is free and using Google Forms for assessments is the best! Besides the aforementioned benefits, Maneuvering the Middle curriculum has all of its unit tests on Google Forms. You can get Digital Assessments (update 2022: and our digital quizzes too!) in our All Access membership.

Kahoot/Quizlet/Quizzizz/BLOOKET
Since I am a member of several middle school math Facebook groups, I frequently see teachers ask for activity ideas for students to participate in virtually.  One of these 4 online gaming platforms is ALWAYS mentioned. Why? Because students love them and teachers love them. All four platforms have pivoted their models to work with distance learning and they all have free features. Learn more about Gimkit here, Quizizz here, Kahoot here, and Booket here. The best part? Students who are typically reluctant about math become your must enthusiastic participants.
What online resources would make teaching easier and more enjoyable? What digital math resources and tools are your students favorite?