It is that time of year again: the Target dollar spot feels like Christmas morning (check out my Instagram for proof) which means August is just around the corner.  Teachers celebrate!  It is time to deck out our classrooms!  Easily one of the best and most stressful parts of being a teacher.  My sister and I worked on my classroom a few days ago, and I will be revealing it next week!  Until then, I have some tips on how to make classroom set-up efficient and stress free (or maybe just less stressful). 🙂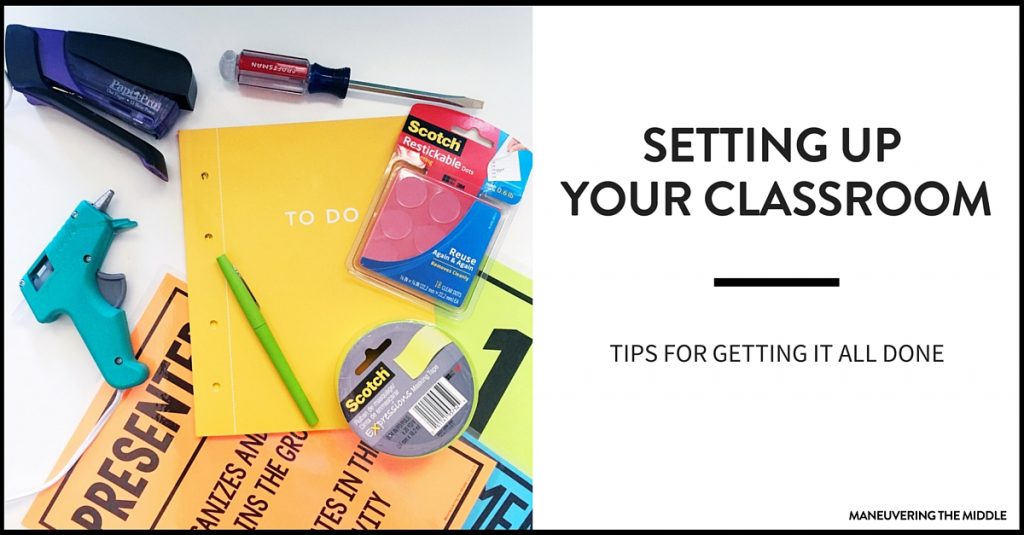 6 TIPS FOR CLASSROOM SET-UP
1. Prepare as much as you can in advance
Before you even arrive to your classroom ready to go, make a list of any bulletin boards you want to set up and what you will need to do for each.  What words to you need to print?  I like to use Power Point to create any posters for my classroom or I like the work to be done for me.  Batch processing is your friend, so is Amazon prime.  Print everything. Then laminate everything.  Then cut everything.  Then hang everything.  This is much faster than printing one poster, laminating that one poster, and then hanging that poster only to start over for the next poster idea that you come up with. Walking to pick up things up from the printer and waiting for the laminator to heat up takes valuable time.  Try to do it as infrequent as possible.   When you do start hanging your finished posters, you will be done so fast!  Also, all of this can be done in front of your favorite Netflix show.  But, don't hang up any posters until you read tip #2.
2. Set-up furniture first
If you are planning on changing the layout of tables/student desk/teacher desk/small group area/reading nook/and so on, do a quick sketch and set this up before decorating your classroom.  Where students sit and the direction they are facing will determine where you should place certain posters or the word wall. In addition, when your furniture is set up, you can actually unpack boxes and place items where they go.  I have done this out of order before which means I am moving things at least twice.  
3. Bring cleaning supplies, toolbox, and step stool
I always forget this!  Confession: I forgot these items this year.  Unless you cleaned everything before packing in May (I sure didn't), your tubs and binders are probably dusty or have sticky residue from last year's sticky labels.  Bring some Lysol wipes and Goo Gone.  I needed a screwdriver this year to fix a leg on the table and to put up my wall files.  I couldn't do this because I didn't bring my tools.  Not a huge deal, but now it is something I will have to do later.  Lastly, the step stool is must for hanging posters.  A student chair works fine, but if you are short, reaching high, and attempting to push in a stapler, you might want the extra height and support a step stool will provide.
4. Ask a friend for help
You can get help from a non-teaching friend, a teaching friend, or a kind husband/wife or mom/sister/child.  Yes, two people make it go faster, but with two people, you can hang posters and your helper can tell you if it is straight or not.  Too often, I hang posters that are off level AND IT DRIVES ME CRAZY ALL YEAR. An extra friend can also complete tedious tasks that don't require a lot of direction, so you are free to use your brainpower elsewhere.  My teacher friend had her mom set-up and organize her classroom library, so she was free to set up her teacher desk space and files. My sister helped laminated and cut while I worked on setting up the word wall area.  One year, a teacher friend and I took turns.  We spent the entire day at my school and then traded and spent the entire day at her school.  The amount you can accomplish with two people is exponential.  Plus, it's a good excuse to catch up and you can always treat them to a yummy meal as a thank you!
5. Make lists as you go
While you are working on your classroom, you will encounter tasks that you will need to complete.  For example, I realized that I was missing the glue and sticker labels for my supply bins.  Instead of stopping the task of classroom set up to make these two pesky little labels (these labels required printing/laminating/cutting), I added it to my to do list.  This way I catch everything that I still need to do, but I can complete the tasks at a more appropriate time with other tasks that might also need to be printed/laminated/cut.  In addition to a to do list, make a shopping list of items that you need to purchase.  My sister and I were meticulous this year in planning and preparing for decorating, but I still ran across items that I wanted to replace or items that I forgot to purchase.
6. Wear shorts with pockets
Or wear a fanny pack or buy a cheap apron at Home Depot.  Approximately 18 times, I found myself looking for my stapler.  I would set it down, walk away, and then spend 3 minutes looking for it.  This also happened with the scissors. This time adds up.  Keeping the items physically on your body or in a tub makes them harder to lose.
This is my fifth classroom set-up and third school that I have set-up in.  I have had small rooms and large rooms.  Rooms with cement walls and rooms with no windows.  Regardless, I have learned that if its not ready before students arrive, it becomes a cumbersome task to complete throughout the year.  It doesn't have to be perfect and there should be blank spaces on the wall, but you also want to enjoy being there, you spend at least 8 hours a day there.  So take heart!  What systems do you have in place for your classroom set up?