I am part of a Facebook group called Middle School Math Teachers.  The group has 6,000 members and is VERY active. The most common post is teachers going into their first year asking for classroom management advice, so I thought it would be pertinent to dive deeper into not just routines and procedures in general but also which ones should be taught the first day.  
There is nothing quite like the first day of school, and like that saying goes, "You never get a second chance to make a first impression."  So, make sure students know that you care about them and know what you expect of them when they leave your class on day one.
For more routines and procedures, you can find part one and part two here.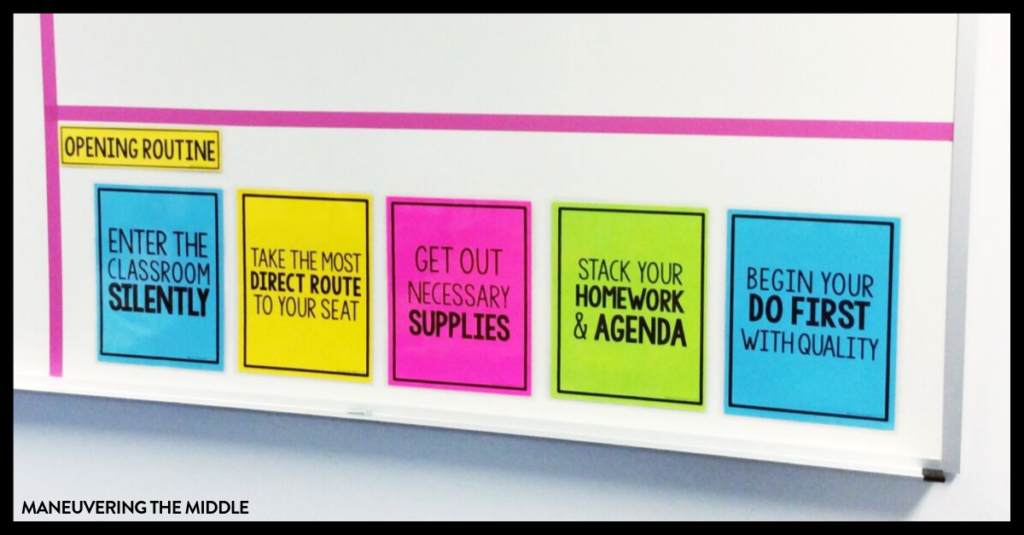 1. Group Work Expectations
There is not a better time to have students work together than the first day of school.  Everyone is a tiny bit shy, so their volume will be under control, you will have less behavior to manage, and this is a great time to circulate and meet your students!
Have a plan for how you will group students, but then make sure to explain how students are to interact, how to treat each other, how to ask for help, how to get supplies, and what their voice level should be at.  Before starting, explain to students how you will get their attention, and then have them practice talking and then getting to silent after your attention-getter.
2. Entry and Dismissal
Entry and dismissal will happen every day, and they can be the most chaotic time of your class if you don't set up what you want it to look like early on.  
Do you plan to greet students at the door? Tell your students that.  
Are you ok with several students coming up to you before class starts to tell you they don't have their homework, or is there another time that should happen?  (That used to overwhelm me!) 
Is there something the students should be responsible for doing as soon as they walk in — like starting the warm-up or getting our their homework? 
Will the board have directions that students are responsible for following? 
Do students have to be in their seat to be deemed on time, or do they just have to be in your room?  ***Don't forget that having a seating chart is 100% necessary on the first day of school!***
Dismissal is another beast, but I would recommend not waiting until the bell rings to explain your dismissal procedure.  When I taught high school, students had to wait for me to dismiss them before they left, just so students weren't running for the door and so chairs got pushed back in.
3. Cell Phones
*Before determining your classroom cell phone policy, make sure it is aligned with the routines and procedures set in place by your school. 
Cell phones are amazing tools that you can utilize as a teacher to create maximum learning impact.  With that said, they are also HUGE distractions. 
Since I don't work at a school that allows phones out for any reason, I reached out to my friend whose school does.  Her procedure works like this: All phones must be in backpacks by the time she completes her countdown, which is only seconds after class starts.  Phones are only allowed on desks when she gives permission, and if she catches a phone out, it goes in a phone time-out location until the end of class.  Most people are addicted to their phones, so be consistent with whatever policy you decide on early on.  
Have you heard of Pocket Points?  It is an app that rewards students for staying off their phones.  
4. Being an Active Learner
I used to think students would just know how to be students: write down the notes, ask questions if confused, …just… listen.  Well, I learned the hard way that that is not always the case. 
For the first few weeks of class (and especially the first day), explain and model what being an active learner looks like.  Should students be sitting up?  Should they write down EVERYTHING you do?  How do they ask a question or communicate if they need to use the restroom?  I relied heavily on hand signals to avoid unrelated comments. 
5. That One Thing
Every teacher has a specific thing that drives them nuts.  Me? Students not having a pencil. My coworker? Students balancing on two legs of their chair.  Noelle? Students not in their seat when the bell rang. Kim? Multiple students out of their seats during group work. 
Whatever that one thing is (and if this is your first year, you may not know it yet, but you will!), decide on how you will prevent students from doing it and how you will enforce what you want.  Since Kim did not like multiple students out of their seats, she enforced a routine and procedure called the "two-booty rule." If two students were already up, then you weren't allowed to get up to ask questions/sharpen pencil, etc. 
What routines and procedures do you teach the first day of school?  What about the first week?
Need more routines & procedures?