We are diving deep into the Grid Method with Jodi Rookhuizen. She runs a self-paced classroom using our Maneuvering the Middle resources and the Grid Method. Scroll down to grab a Grid freebie to get yourself started with the Grid Method.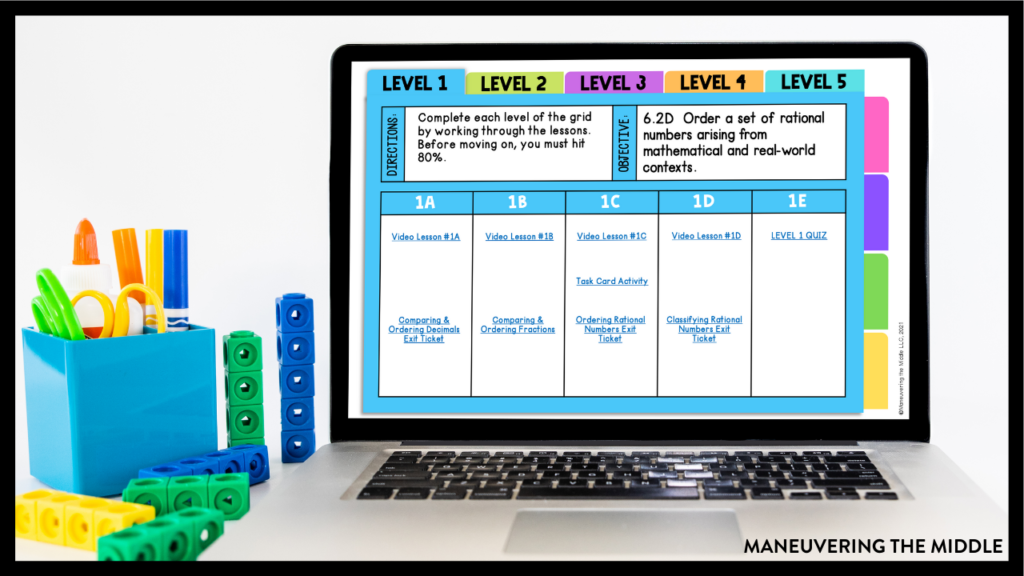 LISTEN ON: APPLE PODCAST | SPOTIFY
Who is our expert on the self-paced classroom?
Jodi lives in Billings, Montana. She taught middle school for ten years, took ten years off to raise her kiddos, and is now back and going into her fourteenth year. She teaches both 6th and 7th grade math.
Note: This interview has been edited for succinctness.
What is the Grid Method?
The Grid Method is a mastery learning framework that allows students to work in a self-paced manner. It gives students the opportunity and time to master all of the standards. Jodi discovered the Grid Method during the spring of 2020, and liked it so much that she continued to use it for the 2020-2021 school year.
Why did Jodi choose the Grid Method?
Jodi wanted to reach more of her students. She wanted to have more one-on-one time with her classroom. The Grid Method allowed her to give more attention to some learners while not holding back the students who were ready to move on.
Grab a Grid Template freebie here!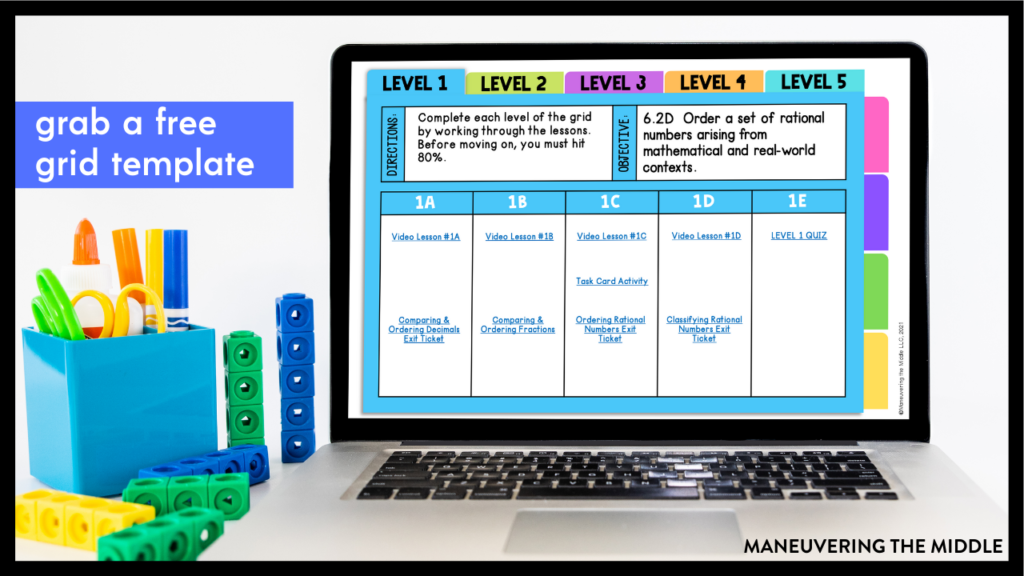 How does Jodi use the Grid Method with Maneuvering the Middle curricula?
Maneuvering the Middle materials fit seamlessly into the Grid Method. It depends on the unit, but sometimes a level is dedicated to one standard, or a level is dedicated to a section of the Maneuvering the Middle curricula. The performance tasks and digital activities are great to sprinkle in the Grid to either review or provide extensions.
How does Jodi manage students being at different places?
Students have more buy-in because they are in control of how quickly they can move on – either they are getting the support they need, or they are able to move on when they are ready.
In the beginning, Jodi gave students their Grid, allowed them to work completely at their own pace, and told them when the final assessment would be. As the year progressed, she had to put some small deadlines in place to keep students on track. For the students that were not meeting those deadlines, she would conference with them to either encourage them to stay on task, or more often, provide the intervention that they needed. Jodi provided extensions for the students who were mastering the content quickly. By providing intervention for some students and providing extensions for others, everyone was able to end the unit at the same time.
What is mastery learning?
A baby must learn how to walk before they can run; that analogy is key for our students. Everyone learns at different paces, so telling a student who did not master a skill that it is time to move on because of what a scope and sequence says does that student a disservice. Hoping the student will pick it up later is not a good teaching strategy.
Jodi likes students to score 80-85% as a good measurement of mastery.
What does a typical class look like for a student?
For Jodi, this changed because of the pandemic. They were in person all year, but they were masked and required to social distance.
At first, students were working exclusively through their grids. When she was receiving content questions from her top students, she realized she needed to adjust. She later introduced a ten minute mini-lesson at the beginning of the class period to help students move forward successfully.
Because she wasn't able to do group work or any kind of collaboration, Jodi felt like the mini-lesson (or warm up) encouraged whole class collaboration.
How does Jodi keep track of her students' progress?
Jodi has perfected technology to help her help her students. She projects a color coded tracker. Students have real-time ability to edit the tracker. Students can change their tracker to red to signal that they need something immediately. Another color means that they need her to sign off on something so they can move on to the next part of the Grid. If she finds a group of students moving slower or in the same place on the Grid, she would pull them for a small group. (Jodi couldn't do this at the beginning of the year, but was allowed to toward the end.)
At the end of each Grid level or section, there is conferencing built in, and students take a short assessment. Jodi uses a pen and paper checklist to keep track.
What are my next steps if I want to try self-paced classroom?
Complete the free course on Teach Better or complete the paid course.
TO SAVE 25% ON THE GRID METHOD COURSE, USE CODE: GOODMORNINGTEACHER @ CHECKOUT
Search "the grid method" on Facebook. There are many Facebook groups where teachers post their Grids. Talk to a teacher who uses the Grid Method because teachers are our best resource. What do you think of the self-paced classroom?