Most teachers juggle multiple preps. No matter your content or grade level, if you have been teaching for any length of time, it is inevitable. We asked our Facebook group how many preps they taught, and one teacher said 7! Wow! Let's talk about some of the ways we can manage teaching multiple preps.
Keep scrolling to learn about something HUGE that Maneuvering the Middle is launching!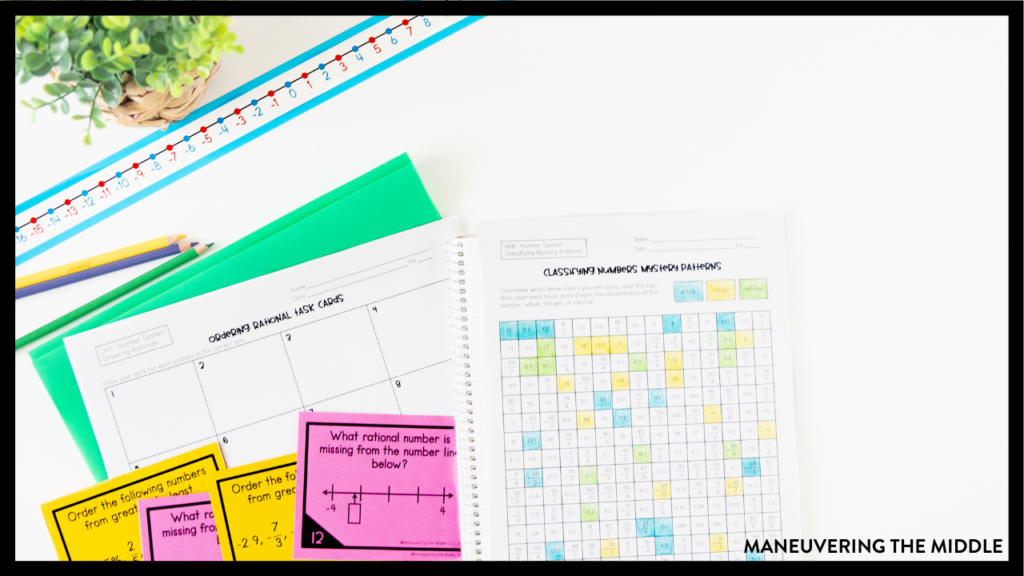 LISTEN ON: APPLE PODCAST | SPOTIFY
1. Stagger Hard Things + Batch Easy Things
When I was teaching multiple preps, one of the best things I learned was to stagger hard things and batch easy things.
For example, a science teacher is going to stagger labs. Running two or more different labs on the same day will cause obvious confusion with supplies and instructions. Not to mention that it sounds exhausting. A writing teacher might stagger due dates (by a few weeks) for essays to allow plenty of time for grading. Personally, as a math teacher, I staggered using manipulatives because it helped me keep my supplies organized.
For batching the easy stuff, I liked to run all the same types of activities on the same days when there were few supplies needed. If we were doing stations or a scavenger hunt, it was easier for me to do that with all of my classes. I could easily put the stations on different colored card stock, and let my students work while I pulled a small group.
2. Create an Organizational Zone for Each Class
One of our MTM teachers shared that she color codes EVERYTHING. She showed me a cut and paste activity where the pieces were color coded so that unit 1 was blue and everything in unit 1 was going to be blue – scavenger hunts, task cards, everything. It made me think about doing that across your preps. 6th grade is always green. If I find a green task card, I know it's 6th grade. My students know to use the green scavenger hunts around the room, etc. I think if I could go back and do this, I would utilize color coding to the extreme.
This could be part of the organizational zone for each class. If you can clearly label a certain part of your room for each prep, then that can help to cue your students. Anchor charts on the green bulletin board are for 6th grade. 7th grade material is always pink or on the right side of the classroom.
3. Share the Workload
In most cases, if you are teaching multiple preps, it is usually because you are at a smaller school with a smaller student population and staff, so there usually isn't another math teacher to share planning with, but you could reach out to other teachers outside your school.
Think: in your district or even someone you meet in a Facebook group. Though you may have different teaching styles, or different lesson planning requirements, it should help to cut down on the workload.
4. Ask for Help
Which leads me to my next idea, ask for help. The worst thing that can happen is they say no, right? And if you don't ask, you don't even give the opportunity to be told yes!
You may consider asking for a student aid or an extra prep period or no duty — anything that might help balance the time required to prep for multiple different classes. One year, I was the only teacher at my school to teach multiple preps, so I asked my admin if I could not be assigned lunch duty – and guess what? My admin said no problem!
5. Streamline Everything Else
If you have multiple preps, you will inevitably have to devote more time to planning, so look at everything else you have to do as a teacher, and see where you can optimize your time.
Self-grading assignments
Utilizing student jobs to complete some of those tasks that a student could easily do – update trackers, file papers, prep activities
Utilize technology for lower prep activities
Come up with a plan on how to batch various parts of your workload
Use every single second of your planning period effectively by having a plan for your planning period
6. Try Maneuvering the Middle All-Access
While that has been the primary project for the spring of 2021….we couldn't be more excited for our project for the fall of 2021…Maneuvering the Middle All Access!
This beta program will allow you to get the resources you need and want! Plus, it will allow our curriculum team to think outside the box of student handouts and activities.
Instructional videos for students, professional development videos for you, and ready-to-use math resources that are beyond the scope of a PDF.
We are excited to share more details with you and welcome you into our MTM All Access.
Click here to Sign Up For All Access Notifications