After eight years of teaching math, there are still several things I wish I had known before I started. Today, I am sharing five tips for a new math teacher. Whether you are fresh out of college or shifting careers, this is for you.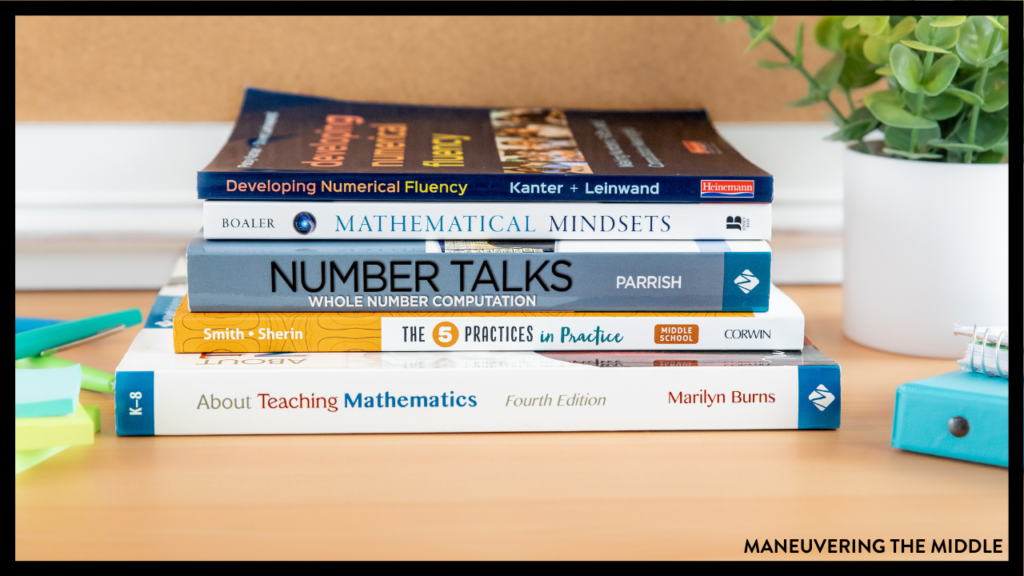 1. Create a Safe Environment for Mistake Making
You are responsible for creating a safe learning environment for students to make mistakes. This is one of the most crucial responsibilities because it sets the foundation for relationship building and authentic learning.
Students learn by doing and sometimes that means doing something incorrectly.
When I would make a mistake, I would remind students that my brain was growing! Modeling this positive attitude will encourage students to feel less self-conscious about their mistake making. Mistakes are to be celebrated!
Also, you can totally normalize making mistakes by incorporating error analysis questions into your classroom, or the "my favorite no teaching strategy." Both of these get students comfortable looking for an error and then allow for discussion and conversation.
2. Fight against Passive Learning
If you are teaching middle school (particularly math) then you should prepare yourself for this second point… teach students to work through hard things, also known as productive struggle.
This is still a battle I fight daily. The first thing I begin teaching my students to say is, "Mrs. Brack, will you clarify this part to me?" or even simply, "I need help." "I don't get it" suggests that you are passive in the understanding of a problem.
You can respond with, "I don't get it yet." You can come up with a classroom slogan or motto for them to repeat back like, "I can do this" or "I am capable" or "I am not afraid of hard things."
Then, you need to shift those "I don't understand" type responses to a specific question about the content. Or by asking, "What do you understand?". We want them to make a connection to something they already know and then construct a plan based on that.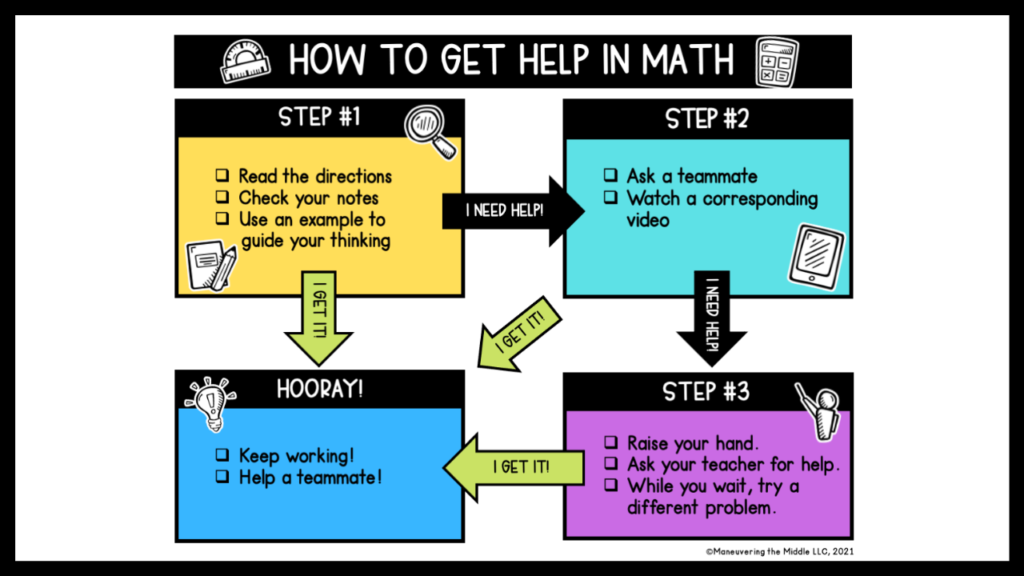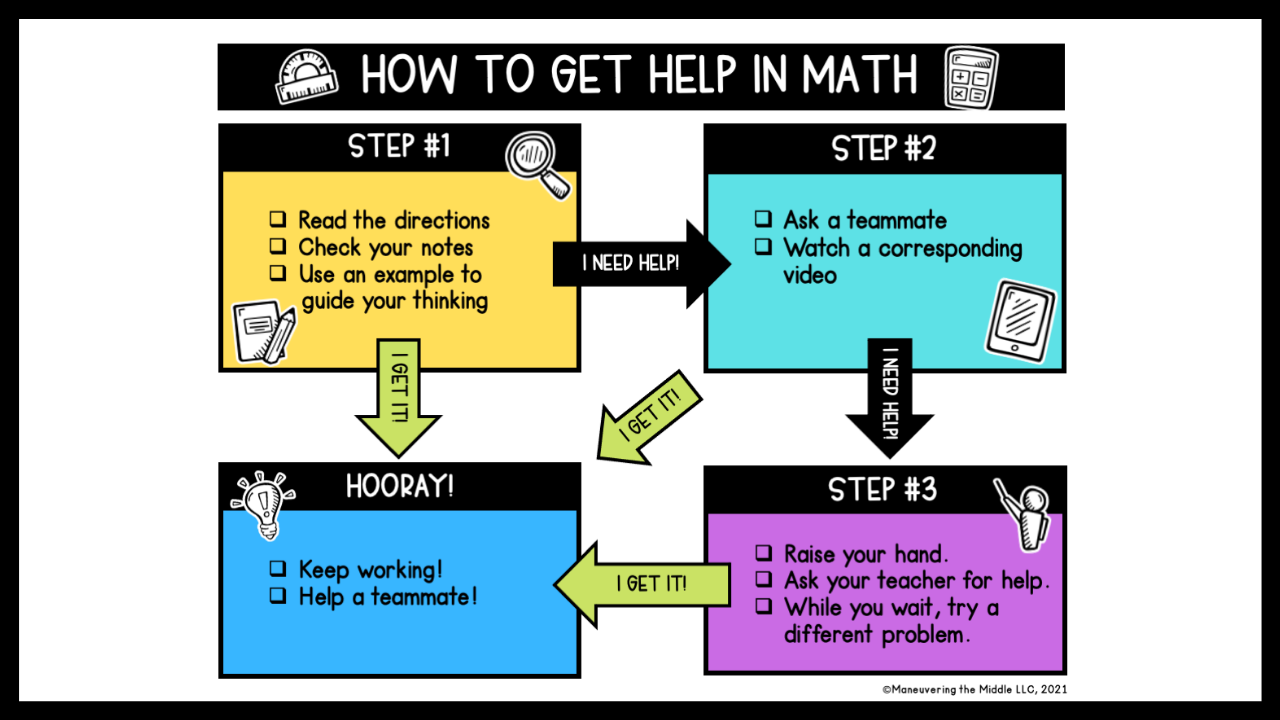 In addition, many students will decide they 'do not get it' before attempting the problem (or even reading the problem…grrr). In order for you to receive help from me in my classroom, students must follow these steps. (credit: Robert Allen and Amara Mattingly)
Click here to get your own copy of my How to Get Help in Math Flowchart.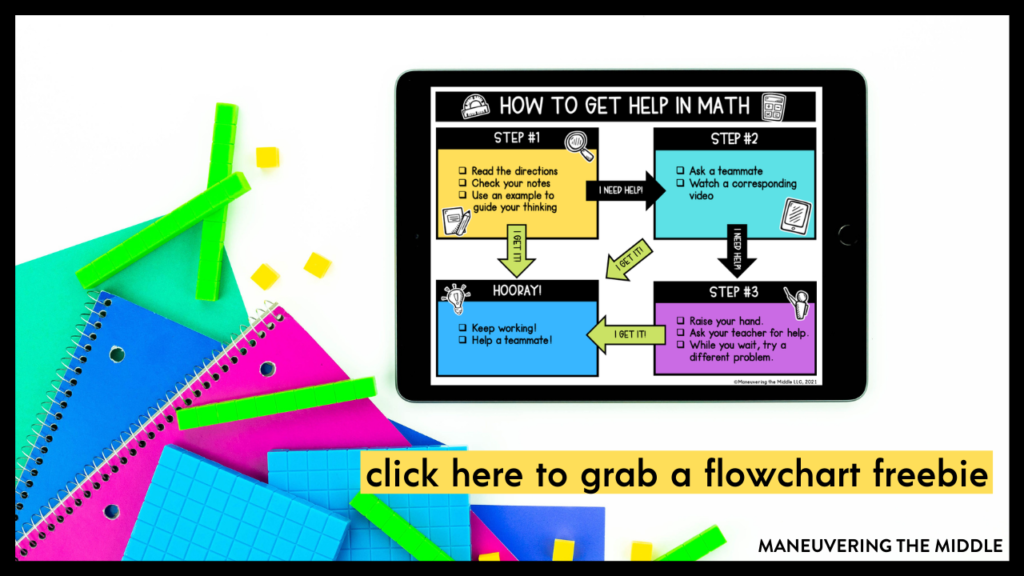 3. Ask for help and be a good student
As a new math teacher, you don't know what you don't know. Even veteran teachers are lifelong learners of instructional math practices. Get comfortable asking for help from a trusted colleague, or even the brilliant teachers that are readily available in many Facebook groups.
When it comes to teaching math, many things have changed. If you are relying solely on how you learned it growing up, then you are likely missing out on some great strategies. The way that I taught students to divide fractions during my first year teaching is nowhere near how I would approach teaching dividing fractions today.
4. Number Sense is a Priority
I have come to terms that not all students will have their multiplication facts memorized by the time they get to my class. In the beginning, this defeated me. How can they learn ____, when they don't even know their multiplication facts? I thought that fluency was the cornerstone of math, so it became my primary focus. It wasn't until I taught 9th grade Algebra that I changed my mind. I watched as students with calculators repeatedly told me that equaled 2. They would show me their calculators where I would see 4/2=2. I realized that number sense was an infinitely more important skill to focus on because in a few years my students would have access to calculators.
5. Find a reliable curriculum
There is so much required your first year and so many plates to spin, I would highly recommend finding something that you can use as a foundation. Creating math materials is a full time job; you will have to tackle classroom management, grading, and intervention (and about a zillion other things too).
Maneuvering the Middle curricula is loved by teachers and students. It will make your first year about a gazillion times more enjoyable!
What have you unexpectedly learned teaching math? What misconceptions did you have as a new math teacher?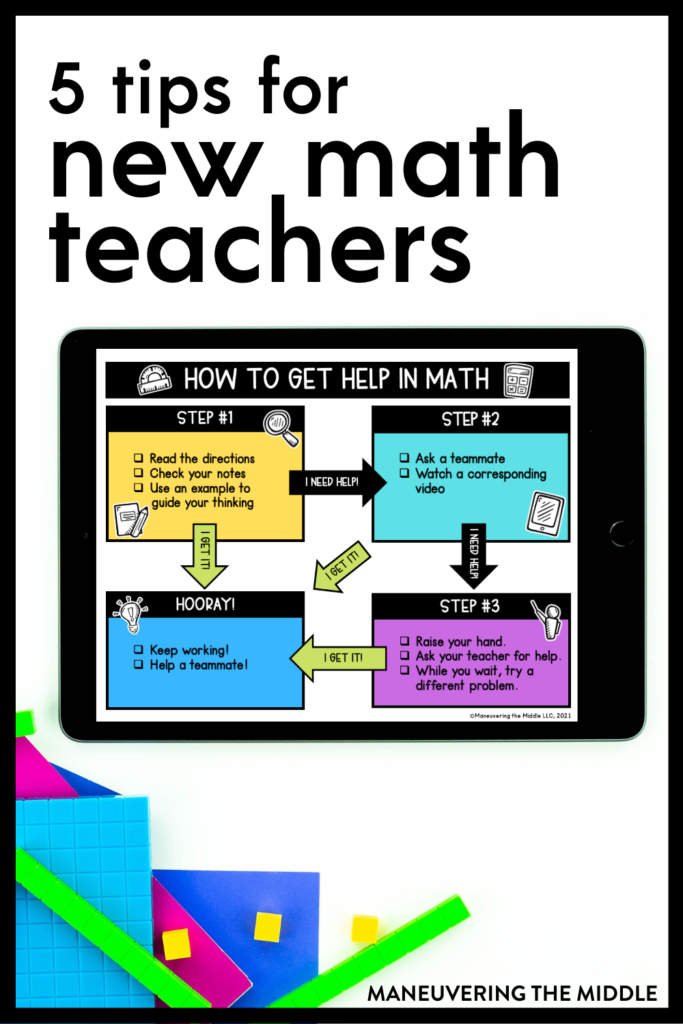 Editor's Note: Maneuvering the Middle has been publishing blog posts for teachers for nearly 6 years. This post was originally published in June of 2017. It has been revamped for accuracy and relevancy and to include a Good Morning Teacher podcast episode.