When are we ever going to use this?  I think you would be hard pressed to meet a math teacher who has not heard this phrase from one of their students.  Math can be complicated and challenging for some students (and adults)!  As teachers part of our job is to get buy in from students, by showing them just how relevant math can be.  Today, I am sharing 7 Ways to Make Math Relevant in your classroom!
1. Incorporate Graphs, Tables, and Charts
2. STEM and Coding
3. Video Story Problems
4. Performance Assessments
5. Sharing the Real Life Context
6. Teach Students to Ask the Questions
7. Promote Problem Solving
7 ways to make math relevant
1. Incorporate Graphs, Tables, and Charts
Oftentimes, it is spring, we are behind on our curriculum, state assessments are coming up, and we quickly breeze through the data and statistics unit because kids are generally good at graphs.  Tell me I am not the only one.
However, reading and interpreting graphs, tables, and charts are powerful skills that students can take with them from your classroom.  The world wide web offers graphs from any news source (just search an election year), but my favorite ones are in the Scholastic Math magazines.
The graphs are colorful, cover interesting topics, include just the right amount of information without overloading your students, and most of all they are accurate.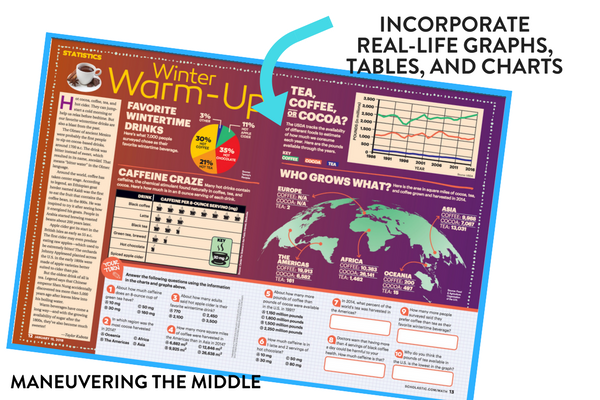 If you have a Scholastic Math magazine subscription, then you also have access to their online resources and can use their annotation tools to highlight and mark up the graphs.  Teaching students to analyze graphs will help them to be informed consumers as they enter the real world.
2.  STEM and Coding
STEM and coding are very popular in education right now.  They are an excellent way to incorporate math and tie directly into a future profession.  Students also can see the fruit of the coding through various apps and websites.  Code.org is a great resource for those of you getting started and is designed for classrooms.  Jump on the coding bandwagon and host an Hour of Code with these great online activities that are free of charge!
3.  Video Story Problems
I first saw these from Dan Meyer and now have seen Ben Rimes create video story problems using real-life information.  They are a great way to think outside the box about a very applicable problem that your students could encounter on a normal day.  While these are produced and published on the web, with the power of a smartphone, you could simply film a quick video while shopping and then bring it back to class.  Better yet, ask students to film a video and share their problem!
4.  Performance Assessments
In my post about alternative assessments, I discuss the benefits of performance assessments.  They really are so nice to incorporate throughout the year!  Students have the opportunity to think deeply about a multi-step problem and then justify their thinking.  Performance assessments are all based on real-life scenarios, so students are seeing the application as they work through the situation.  Give them a try and see what you think!
5.  Money Management
Here in Texas they revised our math standards several years ago to incorporate personal financial literacy standards.  While some of the standards might be a far reach for students to grasp, I do think that incorporating personal financial literacy into your classroom will have a dramatic impact.  Students love talking about money, and it will help them to develop a realistic view of income, taxes, saving for college, etc.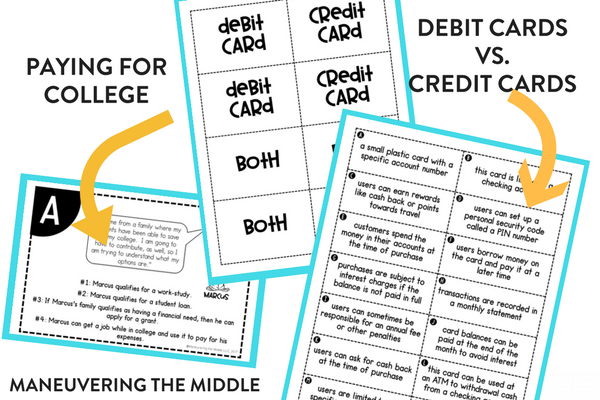 My personal favorite part in writing these units was doing the research on different salaries associated with various jobs!  It is fascinating to see the various jobs available, their salaries, and the corresponding education level.  A great way to show students that with hard work and creativity there are literally thousands of possibilities out there!
6. Teach Students to Ask the Questions
In the book Quality Questioning, the author breaks down the importance of the questions we ask in the classroom and the responses we accept from our students.  One of the key things they mention is teaching students how to ask questions on their own and providing them the opportunity to do so.  
Consider sharing a graph or a table and then asking the class, "What could the question be?"  You will be amazed at the responses you receive!  Your higher level or gifted students will find freedom and impress you with their questions.  This might be a challenge for your students who struggle with math, but with time they will improve.
7. Promote Problem Solving
Let's all be real here and admit there are some topics that are difficult to draw a direct real life connection.  Fractions = cooking, decimals = money, but what about mean absolute deviation?  It gets a little more complicated.
I enjoyed sharing with my classes, at the beginning of the year, that my job was to help them learn how to solve problems because that skill is limitless in where it will take you.  That is the truth.  Sure, I use math regularly and it's part of my job.  But, I can guarantee that everyone solves problems throughout their life and learning to persevere and struggle through a math problem gives you the confidence and grit to do so in the real world.  
I vote we rename math class to problem solving class.  Who is with me?
If you have any other ideas for making math relevant, I would love to hear about it in the comments!