The end of the semester is upon us. Let's talk about some best practices for test review.
First and foremost, I support best teaching practices, which involve monitoring your students throughout the year, consistently spiraling skills, and striving for high mastery.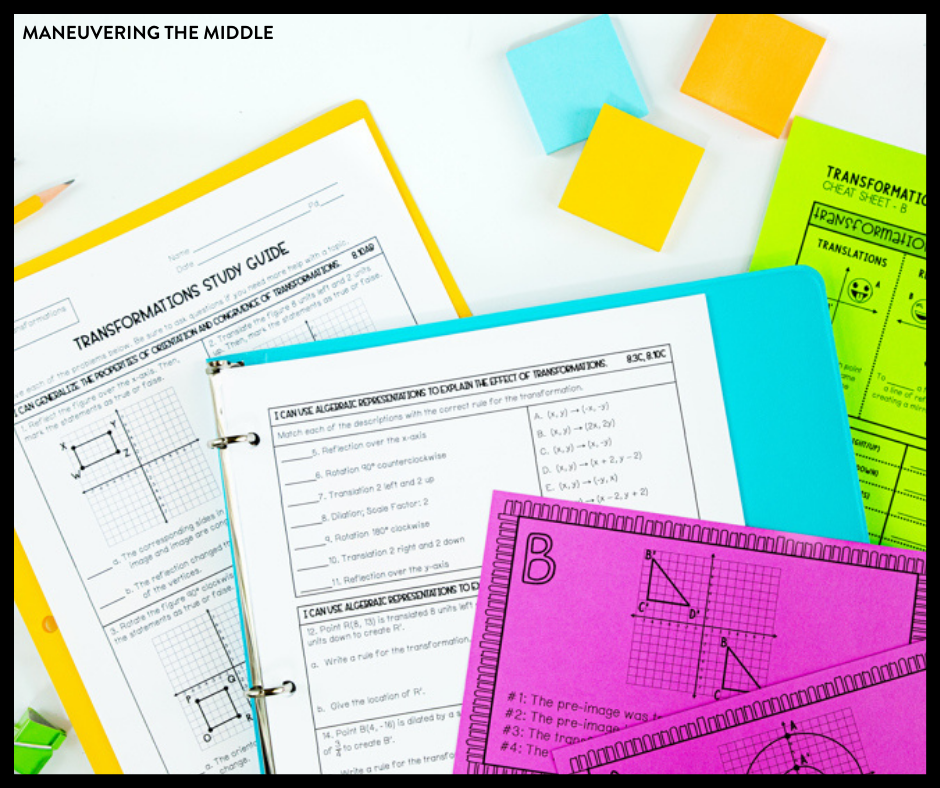 USE DATA TO REVIEW STRATEGICALLY
Look at collective student data and determine the weak spots.
What topic or skill did your students perform lowest on? Let's say it was percentages. I wouldn't just make sure there were lots of percent problems on the study guide, I would plan a percent mini lesson. Then I would couple the percent mini lesson with related skills – ratio, unit rate, and proportion problems.
Look at what is covered on the test
Familiarize yourself with the final or the test. You may or may not actually get to see the test or perhaps you, yourself, write the test. There is a spectrum of how teachers and schools execute finals. But, typically, even state standardized tests will tell you how many questions you can expect from topic A or topic B.
With this knowledge, you can cross reference what you know is covered heavily with what students need more practice on to create the bulk of your test review.
The bright spots 
For the topics and skills that your students performed better on, spiral those types of practice problems into warm ups and homework the weeks leading up to the exam.
You want students to continue to be exposed, so that no one is caught off guard or misses a fairly easy problem because they forgot one small thing.
Set Goals to Increase Investment
A simple, low-lift, but very effective way to increase investment is to give students a goal!
It can be a score or a certain number of points they will grow.
You could even make it a class goal – 80% of students will earn an 80% or higher on the final for example.
Put this goal somewhere where students can see it visually – on their study guide or on the board and mention it daily as you review.
You can read the details of how I set goals for my end-of-year test here.
After the test, celebrate students who reached their goals! Students appreciate recognition – so it can be as small as their names on a bulletin board or as big as a pizza party.
Provide a Study Guide
Study guides are valuable tools for test review! If you are going to the trouble of creating, printing, and distributing study guides, not to mention, collecting and grading them, then they should provide as much value to the student as possible. You want students to actually work on the study guide. Which is a pretty tall order!
Here are a handful of ideas to make your study guide helpful to students:
The study guide should mimic the test. Similar rigor, similar type problems – don't give students multiple choice study guides for an open response test.
Incentivize completing the study guide

You could do this by offering points on a test for completing it, or replacing a missing assignment zero!
Give at least 2 days for review. On day 1, students work mostly independently on the study guide with unfinished work for homework. This allowed me time to reteach in small groups. Day 2, play something super fun as a class. A completed study guide was your ticket to play. If your study guide was unfinished, you spent the class period finishing it.
Give students the opportunity to check their answers immediately. Students need to know ASAP whether they are completing skills correctly. You could provide a QR code, a GoFormative type worksheet, or a Google Form.
If you are reviewing a wider range of content, you can utilize our Test Prep Cheat Sheets. Click here to grab them.
Differentiate using Stations and Small Groups
Stations and small groups are perfect for test review days. Here are a few ideas:
Students can rotate using their study guides. Maybe part of their study guide is just a blank box where they show work for what you assigned them on Deltamath or IXL. If your study guide is broken down by skills, the skill where students need the most support is where they rotate to your small group.
Maneuvering the Middle All Access curriculum has so many hands-on activities that are perfect for stations or small groups – Error analysis, task cards, and actual stations too!
If I was implementing a test review for midterms tomorrow – I would have one station for skills that most students mastered, a station with me for the lowest performing standards, and one or two stations for students to work collaboratively together either with or without tech.
How Much Time to Dedicate for the Test Review
There is a sweet spot – look at your scope and sequence and your data. If there are three standards that require a reteach, then you may need 3 review days to cover those mini-lessons. Then ask yourself, what skills can be paired with those reteach skills?
Feeling overwhelmed about preparing a comprehensive test review unit? We got you. Click below to check out any of our test review units. While these test review units are for the entire year, you can easily pull out what you need for the semester.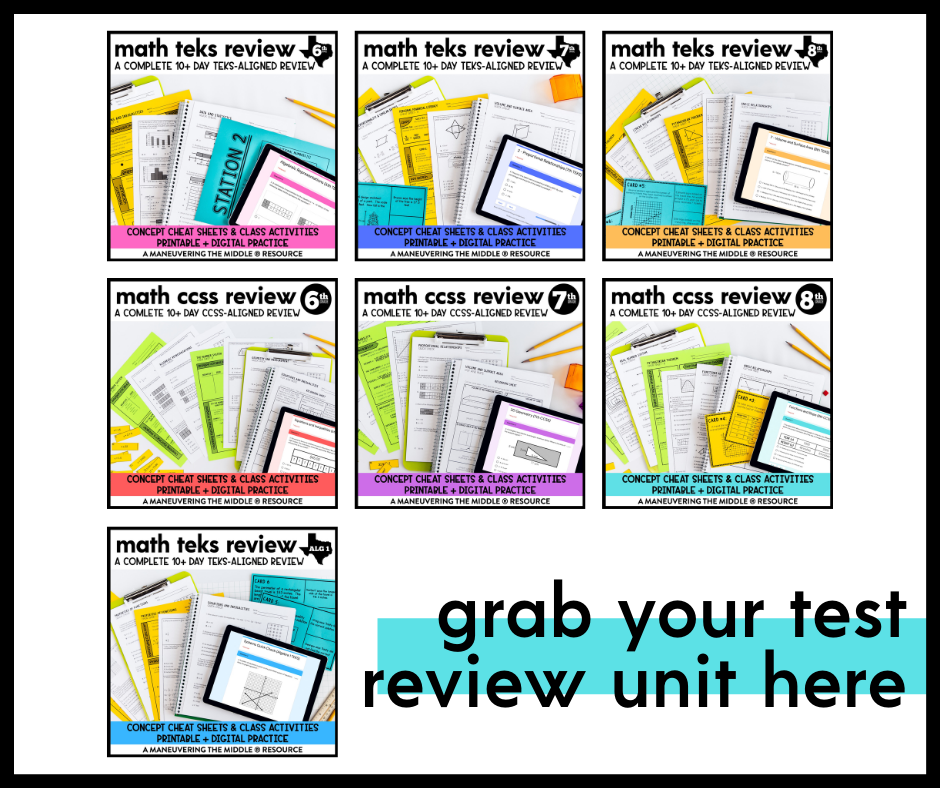 How do you review for end-of-semester tests?