Math Stations, when done correctly, can solve many classroom challenges. Math stations can meet the needs of various learners, provide practice on spiraled concepts, and it puts the responsibility of learning on the students. Seems like a win-win! In addition, technology has made personalized learning easier than ever!
You may be eager to try math stations (or math centers), but are unsure of where to start. Hopefully this post will give you a little confidence to try them out.
LISTEN ON: APPLE PODCAST | SPOTIFY
Stations Wouldn't Work in My Classroom
If you just thought those words to yourself, then let's get all of the roadblocks to stations out and in the open:
You may not think you have the bandwidth to create or find multiple activities for a single lessons
Your class periods are too short
Your students will be off task
You don't have the space or your class sizes are too big
You might not know where to even begin – how do I start this?
Starting Small with Math Stations
In that case, I will remind you to start small. No teacher should commit to an entirely new approach to teaching without dipping their toes in the water first.
Small Groups: Start with just pulling a small group while the rest of the class works on something else. Get used to the practice of using data to lead small group instruction or intervention to students who need additional support. Not sure where to start with small groups? This post and this post are great places to start.
Weekly Stations: Introduce stations as a once a week activity for the entire class period. For example, every Friday is Station Friday. On that day, students get to practice what they learned that week with stations. Whether you have 40 or 90 minute class periods, students can work on what they learned from Monday to Thursday. Station 1 is Monday's skill, Station 2 is Tuesday's skill and so on. You can make your small group one of your stations that every student visits, or pull specific students for small groups while they are participating in stations.
Keep Transitions Easy: Students don't have to actually move. If students out of their seats or managing a transition sounds overwhelming, then perhaps, the tub or folder rotates instead.
Keep the Station Group Small: Maybe you have 30 students but only 3 activities for stations. Ten kids in a station will not work, right? Well, you can always have 6 stations with repeated activities. You get to keep the groups small but not double the amount of work to plan.
Once you and your students are more comfortable with the processes put in place, you can consider these ideas.
Framework for Stations
The framework of M.A.T.H. is a great jumping point for a math teacher. It's memorable for both students and teachers.
M – Meet the Teacher
A – At your Desk or Assignment
T – Technology
H – Hands On
You may be familiar with student choice boards or playlists that would work in a station setting. In fact, one of our MTM teachers reached out this morning and shared her playlist using our All Access videos and MTM materials. It was phenomenal to see her utilize the All Access resources and allow her to provide small group instruction and support.
Best Practices for Math Stations
Visuals and timers are your friend! Set a big, loud timer that all students can see and hear to keep everyone on track.
If you are having students move, practice! Set a timer for one minute and set high expectations for how you want this done.
Simplify your groupings at first. Groups can be homogeneous or heterogeneous learners. The groups can stay the same for an entire unit or few months. Since I had tables, my groups were their table groups. On the other hand, I am reading Building Thinking Classrooms, and the author, Peter Liljedahl, encourages teachers to group students randomly.
Change it up, but also keep the routine. For example, there is always a tech station, but what program they use changes each week.
Have a plan for students needing help or checking their answers. If necessary, provide students with something self-checking or an answer key that they can look at. Maybe they input their solutions into a Form or scan a QR code to check their work.
Think about the amount of time it will take to complete the activities and try to make them equal or longer than the length of the station. What you don't want is one station that takes 5 minutes and another station that takes 20 minutes to complete.
The Maneuvering the Middle activities that best lend themselves to stations are: card sorts or card matches, She Said He Said, Find It Fix It, a Maze or a Puzzle Train. You can find our activity bundles here.
All of our hands-on activities, digital activities, student video library, and standards-based curriculum are included in All Access. Implementing Math Stations is attainable when you aren't creating all of the materials from scratch!


Have you started implementing math stations in your classroom?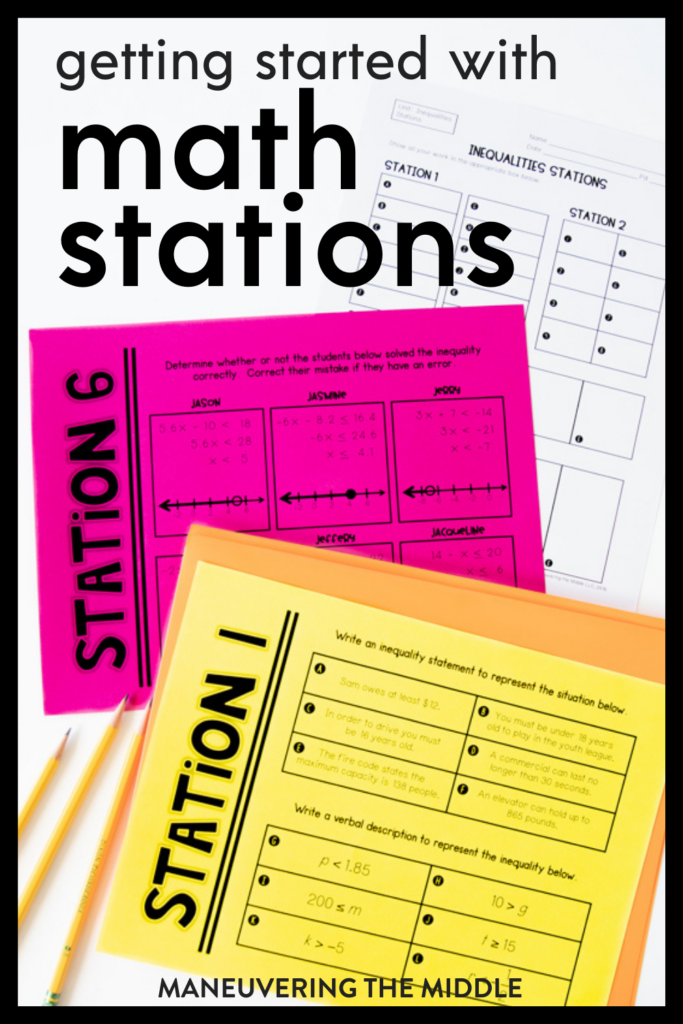 Follow Us: Instagram | Pinterest | Facebook