Conference. Planning. PLC. Team Meeting.  To the outsider these all seem very similar, time away from your students throughout the day.  Today, I am going to share ideas for maximizing your planning time, or whatever you call it.
To the teacher, we know better.
Each name comes with a distinct expectation and amount of flexibility.  I have worked in each of the settings below at a different point in my career.  In certain situations I was fortunate enough to have a conference and planning or team meeting time.  In other situations I had one conference, that was frequently filled with meetings.
Conference:  insinuates time you are to work on what you need, make copies, etc
Planning:  time for lesson planning, planning with grade level or departmental team
PLC (professional learning community):  meets regularly to share expertise and works collaboratively to improve student learning
Team Meeting:  discuss various student needs, plans events and incentives for students, meets with parents
Far too often, meetings, parent conferences, test training and other events interfere with planning time.  Or possibly you receive daily planning time, but it is ineffective due to circumstances out of your control.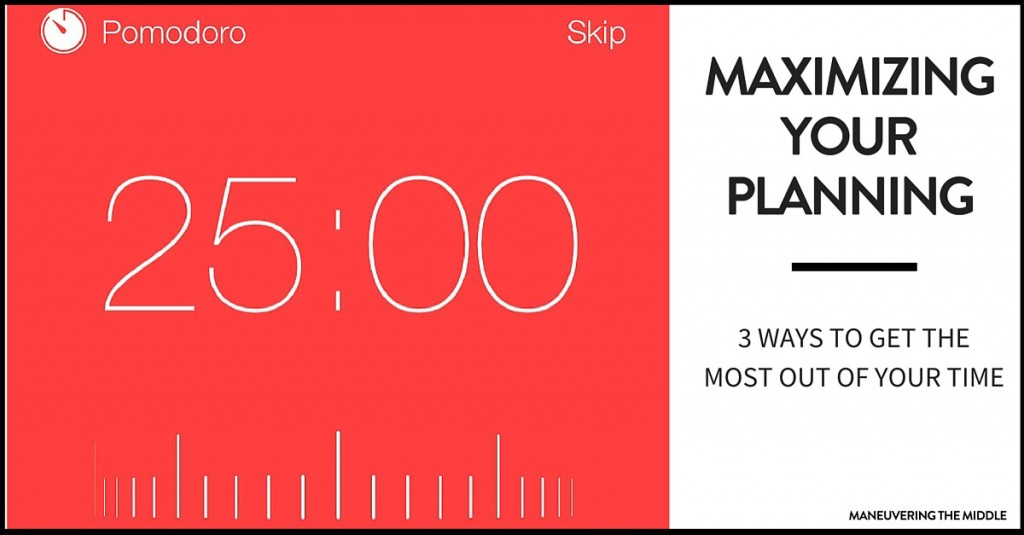 How do you maximize planning time?
1.  Be prepared
Like the boy scout moto, always be prepared, it is essential that you have everything you need readily available and within arms reach.  I personally recommend a binder with heavy duty plastic pocket tabs.
There is nothing like missing some of the right pieces when it comes to planning.  I think we can all relate to traipsing back to our classrooms for specific items, it is the antithesis of maximizing your planning time.
Here is what I kept in my planning binder:
blank calendars with district holidays
testing calendar
standards and district planning guides
notes from previous years (this was not my strength)
You might also need a cup of coffee and snack, if you are anything like me.  Lessons flow better with caffeine.
2.  Be knowledgeable
I taught many different grade levels and multiple preps at any given time.  It was difficult to keep up with all the intricacies of the standards.  Do they need to know how to subtract decimals to the tenths or hundredths place?  Is the coordinate plane introduced the year prior?  Simple questions like that can take previous minutes away as you delve to find answers.
I used a quick reference guide with all the different standards in one page.  I placed them in page protectors and referenced them daily.
If you are working with a team, it also helps to familiarize yourself before and ask others to do so as well.  There is nothing more infuriating than consistently having to get someone up to speed.  It wastes others time and everyone starts to zone out.
3.  Be structured
Especially when planning with others it is essential to be structured.  If not, it is so easy to chase rabbit trails, i.e. discuss problems with lesson, discuss problems like Johnny, discuss problems at the faculty meeting, discuss problems… you get the idea and we have all experienced it.
One of my favorite apps that brings structure to my work time is the Pomodro app. It counts down for 25 minutes and then gives you a five minute break.  This is perfect for accomplishing a specific task and gives you a few minutes to chat, a perfect solution to maximizing your planning time.  I love using when I am working on my own as well and after completing four cycles, it gives you a 30 minute break.
I also suggest beginning with a calendar.  Not a monthly calendar, but a calendar by grading period.  When planning a new unit, start with reviewing the standards and allocating a time frame to those standards.  If someone mentions a great lesson that goes with it, jot it on the calendar, DO NOT begin looking at the lesson.  You can then add it appropriate places for assessments, projects or any other event.  This will give you a good reference point to follow throughout the grading point.
Bonus:  In the comments below, Teresa shares about using post-its!