Math homework is quite the debated topic these days. Some teachers and even schools have given up the idea of homework. I even worked at a school that attempted to standardize homework by assigning a different content area to each day of the week.
On my Facebook page, I have shared a few various viewpoints to homework: homework vs. no homework and a parent's perspective.
Today, I am sharing a few tips for  math homework and how I have utilized it in the past at various different schools. I like to call it practical or the "minimalist approach".

What is the purpose of Math Homework?
I view homework as math practice. I make this illustration frequently to my students. Much like anything we want to succeed in, it requires practice. Basketball practice, football practice, video games, drawing, theater, even babysitting requires practice. As an adult I practice cooking, reading, blogging, exercising, teaching and parenting. There is always room for practice.
Homework is one way we practice; it keeps it fresh in our minds after a new lesson and helps us to keep it in our memory, so we don't forget.
What is a Practical Amount of math Homework?
This is definitely up to you to choose what is best for your students.  I personally limited homework to a maximum of 10 questions that students were capable of accomplishing within a 15-minute window. Depending on the concept, I would include roughly 6 skill-based problems and 4 or so word problems.
I firmly believe that consistency is key.  Students should not have to think about whether or not they have homework; they should think about how much they have or what is yet to be accomplished.  If you can train students to expect homework, then you have already worked to fight the struggle of getting it back completed.
How to Communicate Homework?
Communication is essential, it goes back to that famous saying, "it's not what you say, but how you say it"! At the beginning of the year, you want to communicate the homework expectations to both parents and students. Students are provided with a weekly homework agenda and the corresponding handouts attached. I send a sample one home in my parent packet for parents to review, as well.
Then I give the same spiel for several weeks. "Homework is math practice just like any other sport. I care about your success in this class and your future success in life and believe that math will help you be successful. We work hard Monday through Thursday and then we take the weekend off."
After a few weeks of being consistent, the moaning and groaning of homework dissipates.
How to keep up with homework?
The papers!!! They used to be the bane of my existence. 28ish papers flying at you, six different times a day, it is simply impossible to keep up with.
Then, I introduced the Homework Agenda. My life was revolutionized. The purpose of the agenda was three-fold:
This eliminated the paper craziness and allowed me to only collect it once each week.
Students were well aware of the expectations for the week and could keep everything together.  At this age, there are students who are involved in many extra-curricular things and they loved knowing the assignments and what to expect at the beginning of the week.
Parents knew what to look for and what was expected of their students.  I am well aware that by middle school, students are more on their own and need to take responsibility for their assignments.  I am a huge advocate of responsibility.  However, there are students who need more support at home and whose parents are happy to help.  This made it easy for them.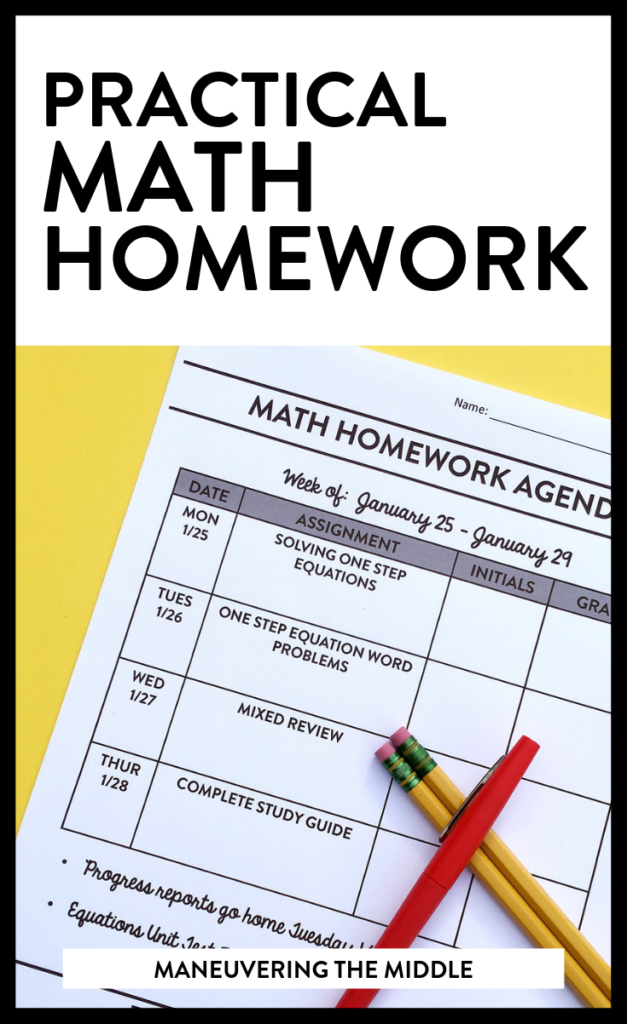 How to Use the Homework Agenda?
Each week I determined and prepped the assignments for the following week.  I used my homework agenda template to update the dates and information, along with any class announcements.  Then on Thursdays, my parent volunteer, would come in and copy the assignments.
On Monday, students received the Math Homework Agenda with subsequent assignments attached.  I would aim to finish the lesson with 8-10 minutes of class, students would begin their assignment, and then whatever was not finished was to be completed by the following day.
The next day, students were to have their homework agenda out during the warm up.  I would circulate and initial or stamp the Homework Agenda if it was complete.  I created my own key that indicated whether the assignment was incomplete, late, or a student was absent (the day prior).  This was written on their Homework Agenda, so I could see it on Friday when I entered grades.
At this point, you could go over the homework, answer questions, grade it as a class, etc.  More on that later.
The same process was repeated on Wednesday. If Savina had her late work from the day before, I would make a note on her Homework Agenda.
Why the minimalist approach to homework works?
You only have to collect the homework agenda once each week.  Hallelujah.
You only have to record grades (if you so choose) once each week.  Sign me up.
Excellent communication tool for parents, students, and teachers.  Happy parents, happy teacher.
Everything is together, students do not need anything else to complete the assignments.  Let's not make it harder than it needs to be.
Students know what is expected of them each week.  I firmly believe the vast majority (95%) of students want to meet expectations.
It is consistent and predictable.  Students thrive in consistent and predictable environments.
Update: I wrote more about the Homework Agenda in this post. Specifically, how I handled missing work and how I graded.
Want to try the Homework Agenda?  Download the template here, just type and go!
---
I know this is a heated topic in education.  I welcome respectful comments and questions in the comments. If you have something else that works well for you, I would love to hear it.