Grading math homework doesn't have to be a hassle!  It is hard to believe when you have a 150+ students, but I am sharing an organization system that will make grading math homework much more efficient.  This is a follow up to my Minimalist Approach to Homework post. The title was inspired by the Marie Kondo book, The Life Changing Magic of Tidying Up.  Though I utilized the homework agenda for many years prior to the book, it fits right in to the idea of only keeping things that bring you joy.
One thing is for sure, papers do not bring a teacher joy.
For further reading, check out these posts about homework: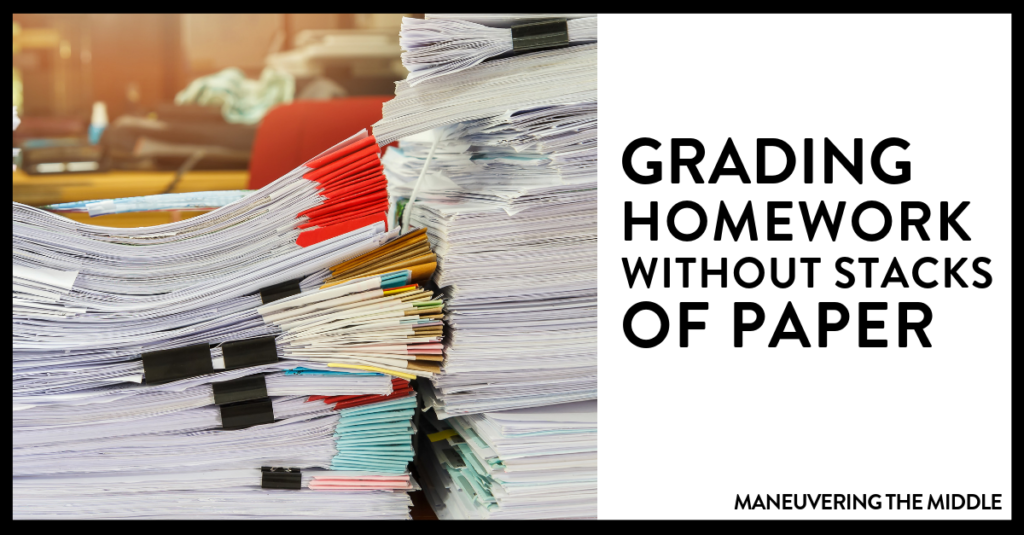 I am also aware that homework brings on another conversation:
grading
what to do if it is not complete AKA missing assignments
Any teacher will tell you that a missing assignment is a giant pain.  No one enjoys seeing the blank space in the grade book, especially a middle school teacher with 125+ students. (Side note, my first year I had 157.  Pretty much insane.)
Grading Homework, Yes or No?
Goodness, this is a decision you have to make for you and the best interest of your students. In my experience, I would say I graded 85% of assignments for some type of accuracy.  I am not a fan of completion grades.  The purpose of homework is to practice, but we don't want to practice incorrectly.  Completion grades didn't work for me, because I didn't want students to produce low quality work.  
Students had a "tutorial" class period (much like homeroom) in which they were allowed 20 minutes a day to work on assignments.  I always encouraged students to work on math or come to my room for homework help.  Yes, this often led to 40+ students in my room.  But, that means 40 students were doing math practice.  I love that.
I also believe that many students worked on it during that time because they knew it was for a grade.  This helps to build intrinsic motivation.  
Grading math homework:  USING THE HOMEWORK AGENDA
During the warm up, I circulated and checked for homework completion. Students would receive a stamp or my initials on their Homework Agenda. Essentially, the Homework Agenda (freebie offered later in this post) is a one-pager that kept students homework organized. As a class, we quickly graded the homework assignment. Then, I briefly would answer or discuss a difficult question or two.  To avoid cheating, any student who did not have their homework that day were required to clear their desk while we graded.
I would then present a grading scale.  This is where I might make math teachers crazy, but I would be generous.  Eight questions, ten points each.  Missing two problems would result in an 80.  I tried to make it advantageous to those who showed work and attempted, yet not just a "gimme" grade. 
Students would record their grade on their Homework Agenda. They would repeat this for every homework assignment that week. A completed Homework Agenda would have 4 assignments' names, with 4 teacher completion signatures, and 4 grades for each day of the week that I assigned homework.
Later in the class or the following day as I circulated, I was able to see on the front of the Homework Agenda how students were doing and discuss personally with them whether or not they needed to see me in tutorials.  I was able to give specific praise to students who were giving 110% effort or making improvements. 
This is why I love the Homework Agenda.
On Friday, I would collect the Homework Agenda.  If during the week you were absent, had an incomplete assignment, or didn't complete one, Friday was D day.  It was going in the grade book on Friday.
Here is my weekly process:
Friday:
Collect homework agendas
Have frank conversation with students who did not have it
Record grades on paper (mostly to make putting it in the computer faster because they were ordered)
Record grades in computer
Send the same email to parents of students that did not turn in the agenda – write one email, then BCC names.
List names of missing assignments on post-it note next to desk (official, I know)
Monday:
Pull students from tutorial time (homeroom) who owed me the homework
Follow up with any students who were absent Friday and still needed to turn in their homework to me
All Access is complete with Independent Practice (which can be used for homework) for every single lesson. If you want your time and energy back, then check out All Access for your math curriculum needs.

What About the Missi
ng Assignments?
Yes, there will be missing assignments.  Yes, students will come to Thursday and have lost their precious agenda.  However, it won't happen often to the same kiddo.  My least organized student, who carried everything in their pocket, could fold that agenda up and hang onto it for a week.  It was too valuable.  Too many grades, too many assignments to redo.
We all know that it is much more work when students don't complete their assignments.  It would be a dream world if everyone turned in their work everyday.  Unfortunately, we all live in reality.
We can vent our frustrations over students not doing work, which is legitimate.  We can also work towards solutions. 
The reality is that not every student has a support system at home.  I would love for us to be that voice of inspiration and encouragement.  Sometimes that voice sounds like tough love and a hounding for assignments and just being consistent that you value their education and you are not willing to let them give up on it.
They will appreciate it one day and you will be happy you did the extra work.
Want to try the Homework Agenda?  Download the template here, just type and go!
This post is part 2 in a two part series.  To read part 1, click here.