Today on the blog (and podcast), we have Marissa McCarthy! She is an amazing teacher who uses Maneuvering the Middle resources to teach and differentiate for her 6th grade students. She is a whiz at small groups and a wealth of knowledge.
Marissa has just wrapped up her 13th year of teaching math in Ohio. She has earned her masters in gifted education, previously coached her MathCounts Team, and has previously taught 6th through 8th grade, Algebra 1, and Geometry.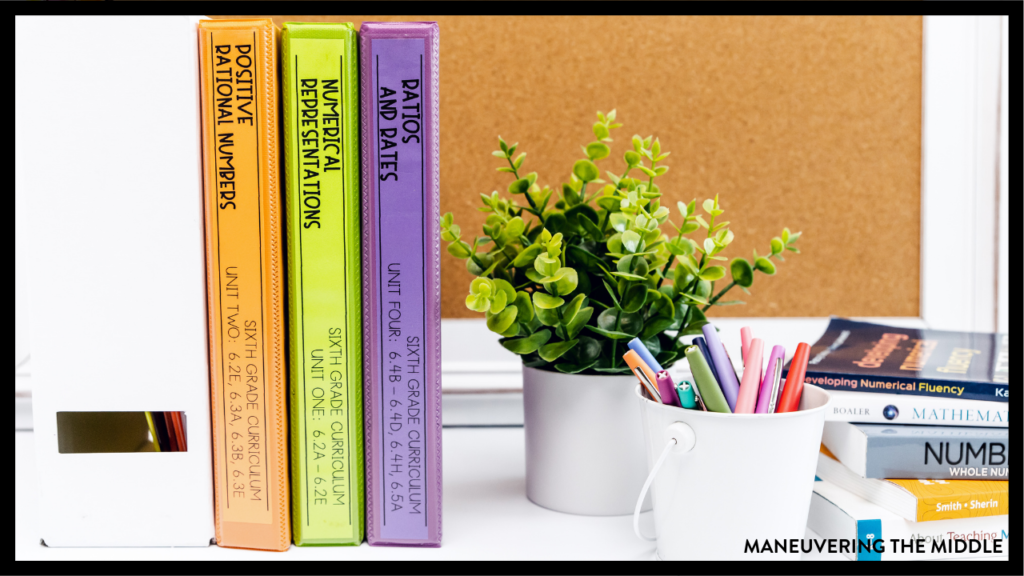 LISTEN ON: APPLE PODCAST | SPOTIFY
The interview has been edited for succinctness below.
How do you differentiate in your classroom?
My favorite way to differentiate is utilizing small groups, providing enrichment activities (6th graders are still excited to embrace a challenge), using formative data to reassess my students in small groups, and providing student choice.
What are some of the ways you provide student choice?
One of the ways is pretty simple. I give students a choice on how they practice, whether that be paper based or a digital activity. Or I give them a choice when completing a project. For example, if we are doing a statistics project comparing weather, I allow them to pick the locations.
What tips do you have for someone who needs help differentiating?
Remember that differentiation gets easier as the year progresses. Use your formative assessments to help you determine how you want to differentiate.
There are a couple of units that I pretest because students come in with so much knowledge, so I am able to determine if there are things that I don't need to cover or skills that I can enrich.
Do not reinvent the wheel. Use resources that are already written. Pick one way to differentiate per unit if you aren't sure where to start.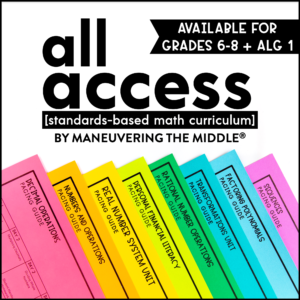 To learn more about Maneuvering the Middle resources, click here.
Can you tell me about your small group routine?
Before the pandemic, I divided the class into 5 groups based on student needs. To help with the routine, each group was named a color, so I could just say "I need to meet with the purple group" today. Some other helpful background information: my classes are 58 minutes and I would spend about 15 minutes per group.
The goal of small groups could be any of the following:
Introduce new content
Practice previously taught skills
Reteach after an assessment.
One of the easy ways to differentiate was how much time I spent with my different groups. Some groups received more time and some less time.
When I had a co-teacher and a student teacher, the groups were more supported, but when it was just me it might take 2 class periods to get through all of the groups, but it is totally worth it.
What is everyone else doing when you are working in a small group?
That is a struggle! It can be hard to manage, but the face time I get with my students is important. Students might be working on a paper or digital activity, or a related performance task.
Everyone gets better with practice. If small groups didn't go well the first few times, keep trying!
Let's talk about vertical alignment! How has your background helped prepare you for teaching 6th grade?
I have taught all of the middle school standards plus Algebra 1 and Geometry, so I know where all of the standards are going. For example, in sixth grade, students write algebraic expressions. Because I have taught Algebra, I was able to pull systems of equations problems and talk with students that what they were learning as sixth graders were preparing them for Algebra. Many students were able to write these two variable equations, and a few students figured out how to solve. I was able to do the same thing with GCF and polynomials. Students were excited to see where they were headed in math!
On the flip side, I observed a fifth grade class and learned so much about where my students were coming from. If you get a chance to do this, you should!
[Check out this link to hear more or read more about 4th and 5th grade Math from Brittany Hege of Mix and Math]
What does a typical planning period look like for you?
My planning period looks different every day. Maneuvering the Middle resources have definitely helped streamline things.
Some planning periods are focused on planning for my small groups. I start by asking: what am I trying to accomplish in my small group? Introduce a new concept, remediate, practice a previously taught skill? I might be deciding on the set of problems I want to use for practice with them or I might decide to use the student handout and make it a mini lesson at the small group table instead of the whole group. I sift through the activities and use them for students in the small group or students not in the small group.

I update my Google Slides with the agenda for the day to keep students on track and put materials on schoology for the day. [Note from the editor: this is just a small fraction of what any teacher does in a given planning period.]
What other tips do you have?
For the digital activity exit tickets, I add a question in Google Forms asking for their class period so I can sort them quickly for my gradebook. I also change the settings, so students know which problems they got wrong, but not the correct answer, so they can try again if they didn't get a perfect score.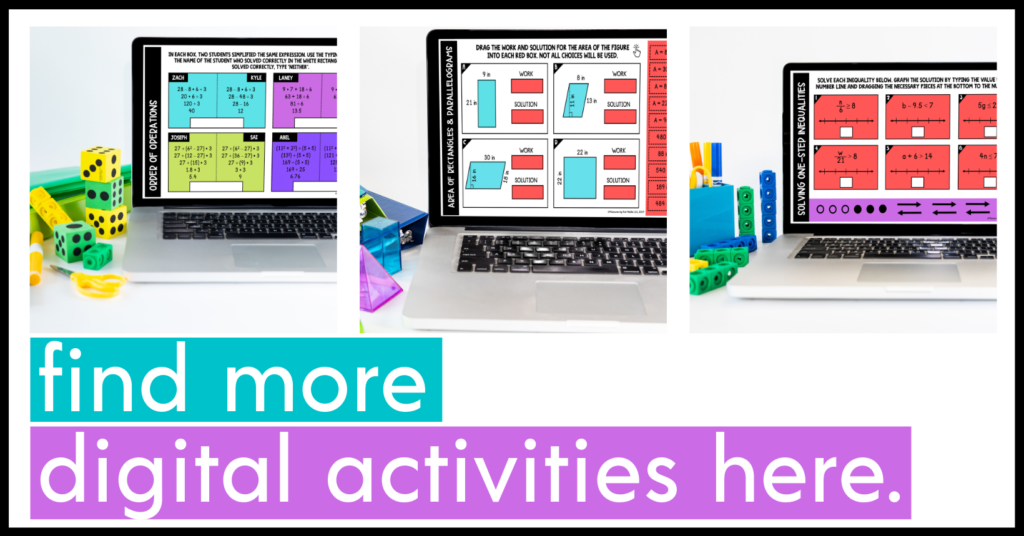 For the digital activities, I grade one page for accuracy. If a student doesn't master it, I print off that slide and use it in my small group with those students. No need to start over with a brand new set of problems that I have to write or search for.
Thank you, Marissa, for sharing your tips for using Maneuvering the Middle resources to differentiate and help your students!