When I first saw teaching one- and two-step inequalities in the grade 6 and 7 Common Core standards, I about died.  It seems so abstract to ask students to solve an inequality and graph it on the number line.  But, then I thought about the foundation of math and how inequalities are truly ingrained in basic number sense.  In elementary school students compare numbers and use inequality statements frequently. It sounds a lot like this:
Which number is smaller?

Which number is larger?

How many more would you need for the numbers to be equal?
6.EE.B8  Write an inequality of the form x > c or x < c to represent a constraint or condition in a real-world or mathematical problem. Recognize that inequalities of the form x > c or x < c have infinitely many solutions; represent solutions of such inequalities on number line diagrams.

7.EE.4 Use variables to represent quantities in a real-world or mathematical problem, and construct simple equations and inequalities to solve problems by reasoning about the quantities.

7.EE.4A  Solve word problems leading to equations of the form px + q = r and p(x + q) = r, where p, q, and r are specific rational numbers. Solve equations of these forms fluently. Compare an algebraic solution to an arithmetic solution, identifying the sequence of the operations used in each approach. For example, the perimeter of a rectangle is 54 cm. Its length is 6 cm. What is its width?

7.EE.4B  Solve word problems leading to inequalities of the form px + q > r or px + q < r, where p, q, and r are specific rational numbers. Graph the solution set of the inequality and interpret it in the context of the problem. For example: As a salesperson, you are paid $50 per week plus $3 per sale. This week you want your pay to be at least $100. Write an inequality for the number of sales you need to make, and describe the solutions.
Teaching One- and Two-Step Inequalities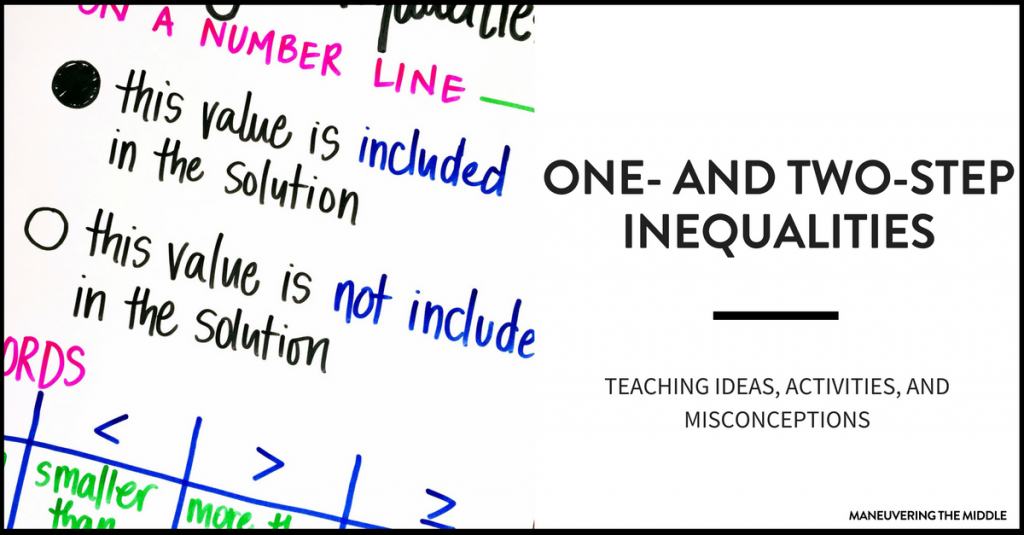 Below, I have outlined a few ideas and things to consider when planning to teach one- and two-step inequalities.  
Firm Foundation of Expressions and Their Properties
In order to solve inequalities, students must have a firm foundation of expressions and the various mathematical properties.  I know this is a huge struggle!  In fact, even as a teacher, I really had to think about the various properties and keep them all straight.
I do not think this lesson has to be incredibly formal and I wouldn't suggest frayer models of the different properties.  However, I would suggest real life application to be sure that students truly understand why 3x and 4x can be combined, but 3x and 3 cannot.  In my class this included using algebra tiles to represent the various terms and doing lots of work with expressions before jumping into equations and inequalities.  
Able to Read an Inequality Statement
Another big misconception that I have found to be true is the "alligator."  Sure, "the alligator eats the bigger number" works when you are comparing 3 and 7, but what about when it's -3 and -7 or 4x and 6?   Students need to be able to read an inequality statement and explain what it means in terms of the numbers around it.  They need to feel confident choosing a number for x to test the inequality.  
Using Number Lines
I know that I am guilty of teaching students how to solve the inequalities and then at the end just telling students to graph it.  The graph can seem to be one more thing to do, but really the solution and the thinking lies within the graph.  The number line representation is the perfect visual to actually get students talking about the solution and what it means.  Some questions to get students thinking:
What is a value of x that is in the solution set?  Is there another?

Why is _____ not a solution to the inequality?  What other numbers would not be a solution?

Describe the process for graphing the solution.

Given the graph, what inequality statement best describes it?
Common Misconceptions
Forgetting to change the inequality sign when dividing by a negative number

General confusion when the answer is "4 > x" or written with the constant on the left

Unclear of what number is considered a solution

Unable to make connections between the inequality and the actual solution on the number line

Writing inequality statements from situations when the terms "less than" or "greater than" are not included
Anchor Chart Ideas
Anchor charts are fabulous ways to showcase the content in a visual manner for students to reference.  They can easily be created before the lesson or as you are teaching, depending on the content.  This example includes the emphasis on vocabulary, as students tend to struggle with writing inequalities.
IDEAS FOR STRUGGLING STUDENTS
Bring out the manipulatives – algebra tiles, pattern blocks, etc – have students group like items
Break down the steps into a simple checklist
Go back to positive whole numbers to see if students are struggling with the concept or the mathematical skills
Give students a possible solution and ask them to work backwards
Hopefully, this gives you some ideas for teaching one- and two-step inequalities or even insight as to what knowledge your students are coming with.  I would love to hear other great activities or ideas you have used! Feel free to share in the comments.
Be sure to check out these different concepts and activities that are included in my 6th Grade Equations and Inequalities Unit and Activity Bundle and 7th Grade Inequalities Unit and Activity Bundle.