Class syllabus. Did your eyes just glaze over?  That's what happened when I went over my class syllabus with my students the first year I taught. I'm pretty sure it was 3 pages in size 12 Times New Roman font. I also remember a disproportionate amount of my first day of class discussing it.  Not my finest teaching moment! Your class syllabus does not have to be boring!  Here are some ways to keep your students informed and interested, and we will provide you with an editable freebie and/or digital syllabus to get you started.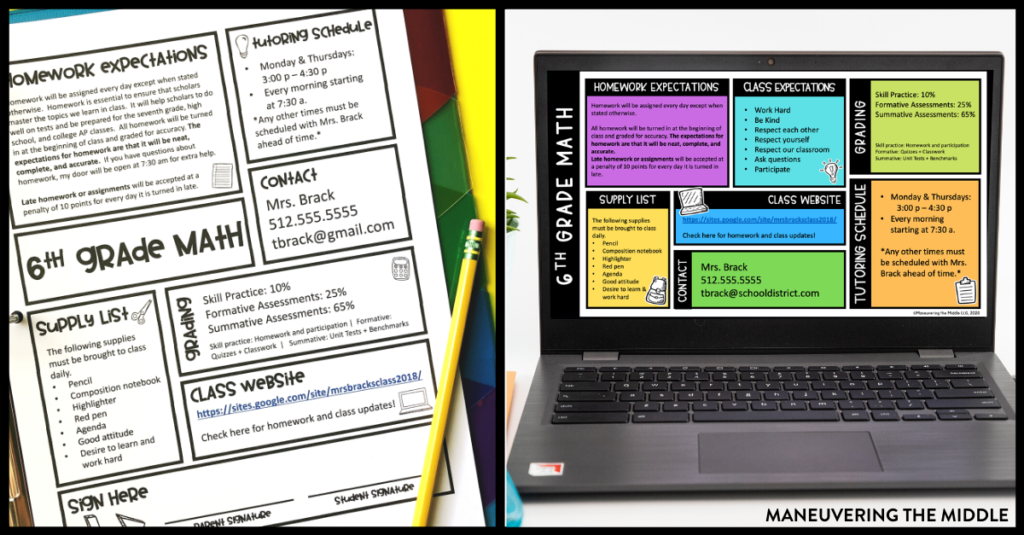 THE MIDDLE SCHOOL SYLLABUS
1. Keep YOUR SYLLABUS Simple
Do not over inform.  Ask yourself, "What does a student (or parent) HAVE to know about your class to be successful?" Keep to the basics – your contact information, grading and late work policy, homework expectations, supply list, tutoring schedule, and class website.  As a math teacher, I even printed a large copy of my tutoring schedule and how to ask for help on the back.  It was perfect for a parent to put on the fridge.  
Additionally, keep it pleasing to the eye.  Do you enjoy reading paragraphs of informational text? Use headers, text boxes, and images so that specific information is easy to find.
2. Check with Administration and Grade Level Team MEMBERs
Remember that your policies need to be in line with your school's policies.  If your school has a specific late work policy, stick to that.  Not sure? Find out.  If you are part of a grade level team, agreeing to the same policies can make it easier for students and parents (and teachers -ha!) to remember.  
3. Keep Students Accountable for Knowing the Information
In high school, my Algebra 2 teacher had us take a quiz on her syllabus that counted for a grade on the second day of school.  While that may work for some students, playing Jeopardy or any simple point game would be a fun way to start the school year.  I divide the room in half for teams, pass out small whiteboards, and ask questions.  Students have to use their syllabus to find the answers to the questions.  Then their homework on the first day is to get their syllabus signed by a parent.  
4. Post It Online
A syllabus can act as a FAQ of your classroom. Keep it in a place where students and parents can access it with ease. Update it if policies or schedules change.  As much as I like to think that my students kept my paper version, I know that a syllabus is one of the first things to be recycled when binders fill up. I am also a proponent of being as paper-free as possible. You can find our online version (for Google Slides) by grabbing the freebie. We made a variety of versions as you can see below.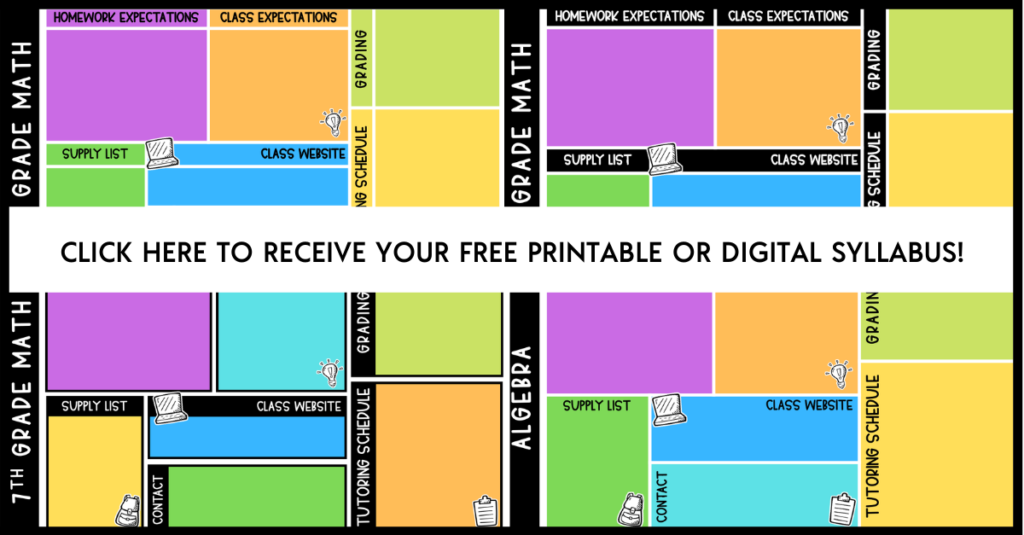 Do you write a syllabus for your class? Whether you do and need it to be revamped or would like to have one for this year, you can snag a free, editable syllabus.  It's easy to type in the content, and you just need Google Slides (or Microsoft Powerpoint if you are using paper.)