In March, when the United States shut down due to COVID-19, the team members at Maneuvering the Middle had an emergency Friday afternoon meeting to discuss how we were going to pivot to support teachers during this unprecedented time. Since then, we were able to support distance learning by providing 16 free instructional videos, provide Google Forms exit tickets on various topics, and post numerous videos instructing teachers how to teach using their computers (something many have never had to do before).
We were amazed to see how many teachers adopted various technology tools to make digital learning optimal for students. Our Facebook group became a mecca for sharing ideas, feedback, and resources. Teachers truly can do anything! There isn't a barrier a teacher won't try to overcome on behalf of their students.
We interviewed 3 teachers asking them how they used Maneuvering the Middle resources while remote teaching, and they agreed to share their knowledge with us today. Since the future is still very unknown, we thought this toolkit could help teachers better prepare for the fall. You can click through to watch the videos of these teachers modeling what tools they used and how they used them, or you can read the highlights below.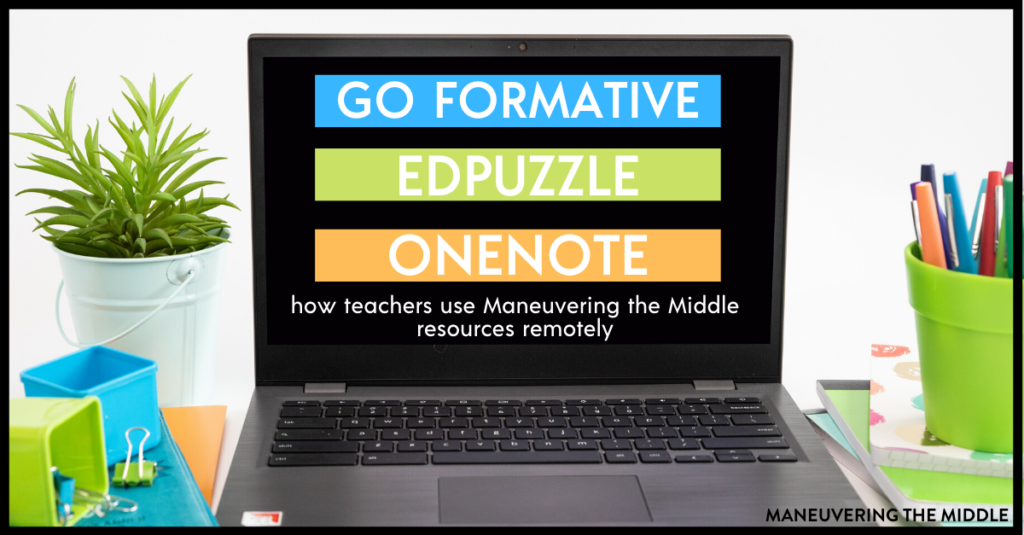 DISTANCE LEARNING WITH MANEUVERING THE MIDDLE RESOURCES
Go Formative
Lauren Casias has a B.S. in Secondary Mathematics Education and M.Ed. in Teaching & Learning. She has taught 8th Grade Math & Algebra 1 in Texas for 5 years. She is passionate about using technology in her classroom to foster student growth, confidence, and engagement. You can find her on Instagram and Twitter at @mrscasiasmath
What is Go Formative?
Go Formative is an online tool that allows you to upload a Maneuvering the Middle PDF, add question boxes (or a variety of other tools), and monitor as students work in real time. Most features that you would use for math are available on the free version of Go Formative. The free version limits the number of PDFs you can upload. It can also be used with Google Classroom.
(Dialogue has been edited for brevity)
Noelle: What is the best thing about Go Formative?
Lauren: The instant feedback it gives the kids. There are many features that you can turn off and on. It eliminates the "did I get this right?" Students can check for themselves. It makes classroom management easier.
Noelle: Tell us how you have been using this in distance learning.
Lauren: Before distance learning, I had students work out problems on scratch paper. Obviously, you can't do that, but Go Formative has a show your work feature. Students can type out their answers, use a mouse to write out their work, or upload a picture of their work from paper.
EdPuzzle
Whitney Phillips has been teaching for 7 years. She began her career as a special education math teacher and made the switch to general education 3 years ago. "Flipping my classroom has been the best decision I've made for my students. Thanks for allowing me to share with others."
What is Edpuzzle?
Whitney: EdPuzzle is a video sharing app that I use in the classroom. EdPuzzle can tell you if students watched the video, when they watched the video, and whether they needed to rewatch a video. It is also Google Classroom friendly.
I wrote a detailed post (with video) explaining the many features of Edpuzzle here.
Noelle: Any video that you create is out there on a public library for anyone to see or make a copy of. This means that other teachers can find copyrighted Maneuvering the Middle resources or students can find videos from other teachers and get answers. Can you tell us how you solved this problem?
Whitney: I have ESL students and students with IEPs who could really benefit from closed captioning. EdPuzzle is working on closed captioning and a privacy setting, but they have not added those features yet. To make the closed captioning available and to work within the copyright, I upload my videos to Youtube, and I put the video as unlisted (so you have to have the link), and it won't show up in the Youtube search.
Noelle: Can you tell us about your flipped classroom when you were in the classroom?
Whitney: Students received their Maneuvering the Middle guided notes to fill out as they watched the instructional video at home. When they came back to class the next day, students would complete a Google Form warm up (or entrance ticket), so I could have immediate data on who needed to be pulled for a small group or who could lead groups that day.  Then we would engage in a Maneuvering the Middle activity like scavenger hunts or He Said, She Said Error Analysis. I really like the digital activities because of the instant feedback.  Instead of spending 35 minutes giving a lesson, students could engage with one another, learn from another, and engage in meaningful dialogue.  
I also implemented a help queue as a Google Form. Students submitted what question they needed help on, and their name would populate on the board, so students could see where they were in line and when I would be able to check in with them.
The students really loved it.
Noelle: Can you talk about grading and feedback?
Whitney: The gradebook will show a student's grade after watching a video and answering questions. You can find out if the student needed to rewatch the video or if they watched the video late. It puts the power of learning in their hands and takes so much of it off of us. 

Note: All Access student videos are not compatible with Edpuzzle.
One Note
Kristi Barajas has been a middle school math teacher for 12 years. This year she is teaching 6th grade GT and Algebra. 
WHAT IS ONENOTE?
OneNote is a digital version of a physical notebook. Teachers and students can capture and organize digital notes, add images, diagrams, audio, video, and related content. 
Noelle: What do you like about OneNote and how has it been helpful to you?
Kristi: I like that I have everything here. Instead of doing lots of scrolling to see all of my assignments, I can use sub pages to stay organized. Students can access links or videos from the same page as their assignment.
Noelle: Do you find that students reference these materials because they are so organized?
Kristi: Yes. They tell me they like it!
Noelle: How did you use OneNote in the classroom before distance learning?
Kristi: I send out the file to all of the students. It gives me a status bar telling me that all of my students have received it.  I would instruct students with my iPad (traditional notes) and then students would take notes on their iPads. Next year, I plan on using Go Formative for their practice problems.
Noelle: What did you do to adjust to distance learning?
Kristi: I included an instructional video (linked at the top of the notes) and students would have to upload an image of their completed notes for me to check. One great feature is that when a student's name is bold that shows me that a student has worked on the assignment.
Noelle: Will this all be here for next year?
Kristi: Yes! They will be able to keep everything they did on their OneNote in their iPad. 
We hope these videos and highlights will help you to either improve distance learning, implement a flipped classroom, or utilize technology to make time for small groups. How do you use Maneuvering the Middle resources remotely?