Maneuvering the Middle resources are used in an estimated 10,000 classrooms all around the world. (Wow!) What is it about our math curriculum that has teachers telling other teachers and their administration about it?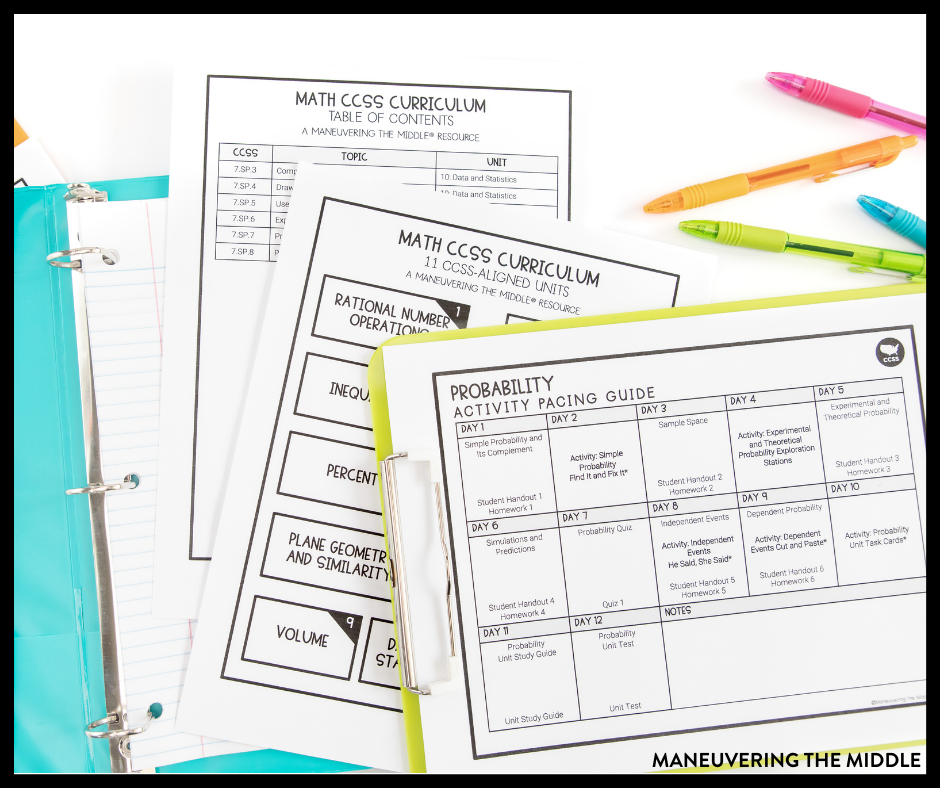 Maneuvering the Middle Curriculum Works
The reason we can proudly promote our resources as the best thing for students (and teachers) is because we have first hand experience with how effective Maneuvering the Middle curriculum is. When I used our 6th grade TEKS curriculum, the number of students reaching "Meets Grade Level" increased by 15% from the previous year (when I was using a different resource).
We receive emails and comments from teachers daily who share that their students are growing.
I love this testimonial because it shows some celebratory data (93% is amazing), but also because Hayley states that our materials help her students love math.
Standards Aligned
If you are in a Common Core State or teach in Texas, then you can be confident that by using our curriculum, you will be covering each and every standard. If you are like me, you read a standard and wonder, "What does that even mean?" You can rest assured knowing that our curriculum team (shoutout Kim, Noelle, Ashleigh, and Sara) have done the work to make sure that the standard is taught with the proper scaffolding to reach the depth and complexity that is required.
All of our curriculum teachers were once teaching this material in their own classrooms, so they know that it isn't simple or easy to get everything covered in a school year.
In addition, schools that use Maneuvering the Middle across all grade levels will see how the content builds upon itself. There are no holes in the content from one grade level to another.
Saves Your Time and Energy
When you are a teacher who can focus on the teaching part of your job and not the curriculum creation part of your job, you can be more effective. Let's be real – writing curriculum is its own job! To be a teacher and a curriculum writer means you are working 2 jobs and being a teacher is hard enough!
My favorite principal said she would always prefer a rested and happy teacher over a tired and stressed teacher with a great lesson plan.
When the curriculum is taken care of, you can use your time and energy for all of the other aspects of the job – building relationships, providing feedback, remediation and intervention, instruction, implementing routines and procedures, running copies and preparing classroom materials, and (insert 1000 more tasks here).
Consistent Routine + Lots of Variety
Maneuvering the Middle offers student handouts, video lessons, study guides, assessments, digital activities, and more. Not to mention, our hands-on activities include:
Solve & Colors and Mazes – for fluency practice
He Said, She Said and Find It, Fix Its – for error analysis
Card Matching and Cut and Pastes – for tactile learning
We offer a lot! These resources are consistent across the 4 different grade levels, so students know what to expect and can focus on learning the math – not a new routine or activity.
Because there is so much variety, you can truly pick and choose what works best for your students. Personally for me, cut and paste activities were not my jam, so I skipped those. Even without those activities in my rotation, I NEVER lacked for anything. I would turn to a digital activity instead!
When I say that I never lacked for anything, I mean it! Check out everything that is included in All Access.

Works for Different Classrooms and Teaching Styles
Maneuvering the Middle works in so many different types of classrooms! If you join our Facebook Group, you can ask how teachers use the curriculum in their classroom and you will find that no two teachers use it the same way.
Teachers use our curriculum in flipped classrooms, with direct instruction, and self-paced learning classrooms. Our materials are used in homeschool settings, hybrid classrooms, virtual classrooms, and in-person classrooms. Teachers who coteach or teach intervention use our materials too. You can find it in public schools, private schools and charter schools!
Our video library makes all of those different teaching methods even more accessible for teachers and students.
It may seem like we are tooting our own horn! We are really proud of what we have created. We know our curriculum doesn't work without amazing teachers, so thank you teachers for all that you do!
Why do you love Maneuvering the Middle curriculum?