Traditionally, middle school classes range from 45-60 minutes.  Though, I have seen some creative bell schedules where students were in math and language arts for longer periods of time or went every day while they went to other classes every other day.  While teaching 8th grade math, my principal implemented a double blocked math class.  Specific hand selected students were encouraged (required) to give up an elective and attend math for a 100 minute class period.  One school I worked at double blocked math for each and every student.  This brings about the challenge of how to structure a 100 minute class period?      
Obviously 100 minutes of anything has its pros and cons.
Pros to a 100 minute class period
More time

More instruction

More support

More practice

Less students

At the end of the year a student will have had double the amount of time in that class than a traditional schedule
Cons to a 100 minute class period
One hundred minutes is a long time

Students get distracted

Often the classes can be more difficult to manage

Students in double-blocked classes tend to need more remediation
Things to Consider
Students are with you for double the amount of time, but it does not mean that you simply extend a 50 minute lesson.  How can you be efficient and productive with the time?
Students need structure and do well with consistency.  How can you develop a routine that breaks up the 100 minutes but still provides consistency?
Students (and adults) have a short attention span.  A good rule of thumb is that new learning should not take longer than 1 plus your students' age, so if you teach 12 year olds, your notes should last no longer than 13 minutes (12+1).
Below is just one way to structure a 100 minute class period;  sometimes things do not go according to plan, but it is always a good idea to have a structured routine for both yourself and your students, especially if you will be with them for so long. 🙂  Though this is what I did in my math class, I do think some of the principles can be applied to other content areas, especially language arts.
How to Structure a 100 Minute Class Period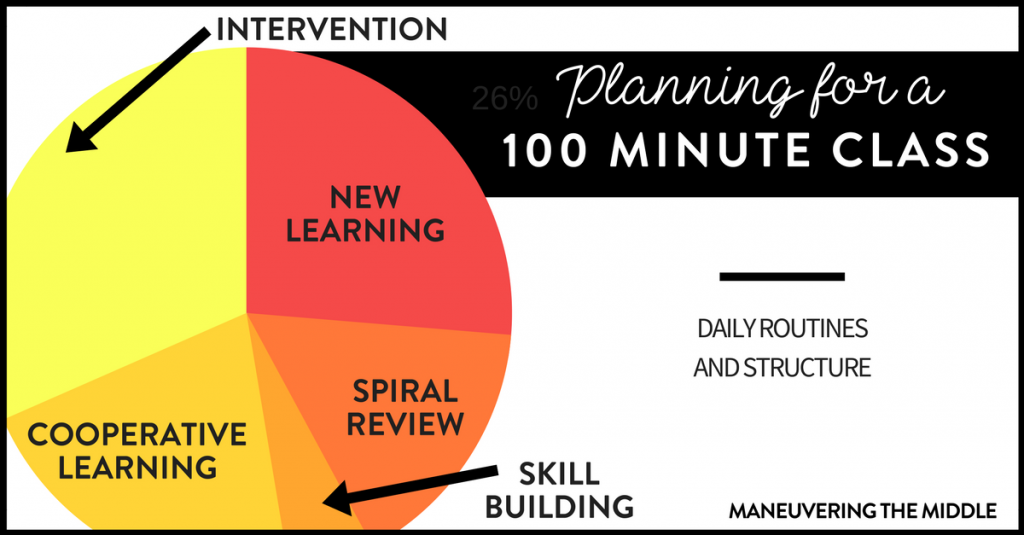 Do First/Bell Ringer/Warm Up: 5-10 minutes
I used a very straightforward warm up routine to get students working when they entered the classroom.  Personally, I used the warm up time to spiral review content that students might have struggled with in the past or just need a bit more practice.  It was really important to me that students would be able to do the work on their own without my assistance or asking a peer for help.  
I used this time to touch base with each and every student and look at their homework/independent practice.  I used my homework agenda to note that they had given effort and greeted each student personally.  I loved being able to do this because the reality is that a really quiet, non-trouble making student can easily blend in at the middle school level and go all day without a positive adult interaction.  Don't let that happen in your class.
Also, I could take attendance (if I remembered). 🙂
I put a timer on for 5 minutes and project it.  When the timer goes off, I spend the next 3-5 minutes either going over the warm up, going over last night's homework, or a combo of both.
Hook (i do):  2-5 minutes
These few minutes are a great time to introduce the objective and make real-world connections.  It can also be utilized to review prior content that is connected or to have students review any new vocabulary.  If you are doing a statistics unit, then consider projecting a real life graph and discussing some observations.  Anything that can create a bit of buy-in is beneficial and helps students to make a connection.
guided Notes (we do): 15-20 minutes
I have always been a huge fan of the gradual release model.  I think it's perfect for a math classroom because it slowly transitions the work from the teacher to the student.  The guided release model allows teachers to see where students are struggling before they get to the independent practice and allows students to work together collaboratively.  Plus, it mixes up a longer portion of the class.  
I do
This is more of the hook and initial set-up of the lesson.  It might include some vocabulary or demonstrating steps to a mathematical process.
We do
This is where the majority of the new material is taught.  I liked working a problem with students together, and then giving them a similar problem to try on their own and discuss with a partner.  Students would share out their responses and we would discuss misconceptions.  When a different type of problem or skill came up within the lesson, we would repeat.   
You do
Depending on the content, quite a bit of the you do is actually done in the class activity.  
Class Activity (you do): 20 minutes
This is the time period where students are engaging with the work in pairs or groups.   I tried to be selective about who would work together and what was expected.  In a 100 minute class period, I would also recommend activities with movement, as well as collaboration.  Sometimes we would do card sorts, but rather than sit at desks I would let students do the sort on the floor.  Other times I would use stations or scavenger hunts to get kids up and moving or use math dates to have them work with various people.  I would circulate and answer questions at this time.
Recap: 5 minutes
As the activity was wrapping up, I would take a few minutes to recap what we had learned by asking students to summarize the lesson.  Depending on the activity we might go over various responses or work a few of the difficult problems together.  
Skill Practice: 5 minutes
Typically, if a student is in a 100 minute class, they have a need for remediation, gaps in their mathematical foundation, or a need to expound upon their problem solving skills.  Each day I would spend no more than five minutes addressing basic math skills.  At the beginning of the year this was multiplication charts with various missing numbers or practice of adding and subtracting decimals.  I often spent several weeks on number sense by practicing converting between fractions, decimals, and percents.  
Station Work: 30 minutes
This was the time that we focused on small groups and remediation within 100 minutes.  I would work with small groups on their assignment, some students would work on a computer, others would focus on different concepts with which they needed additional help, and others would work independently.  This is also the time that my co-teacher would come into class, which was a lifesaver.  You can read more about this on my math intervention schedule post.
Clean Up/Close: 5 minutes
By this time we were all wiped!  It was time to wrap up, clean up, put away supplies, and get everything back in order.  
It took me a long time to really enjoy my 100 minute classes.  I had some challenging students and it always wore me out, not to mention the extra planning that was required each week.  However, over time I really developed a relationship with those students and was able to celebrate some incredible success with them!
Who else had to structure a 100 minute class period?  I would love to hear how you break it down!