There is an enormous amount of content to teach.  It can feel overwhelming to try and put all of the standards on the calendar and often feels like we are flying through the curriculum hoping students are catching on.  When students have a deep understanding of the content, they are able to apply it, use it, and make connections between the classroom and real life.  It wasn't until I began implementing a strategic math review that I saw those changes.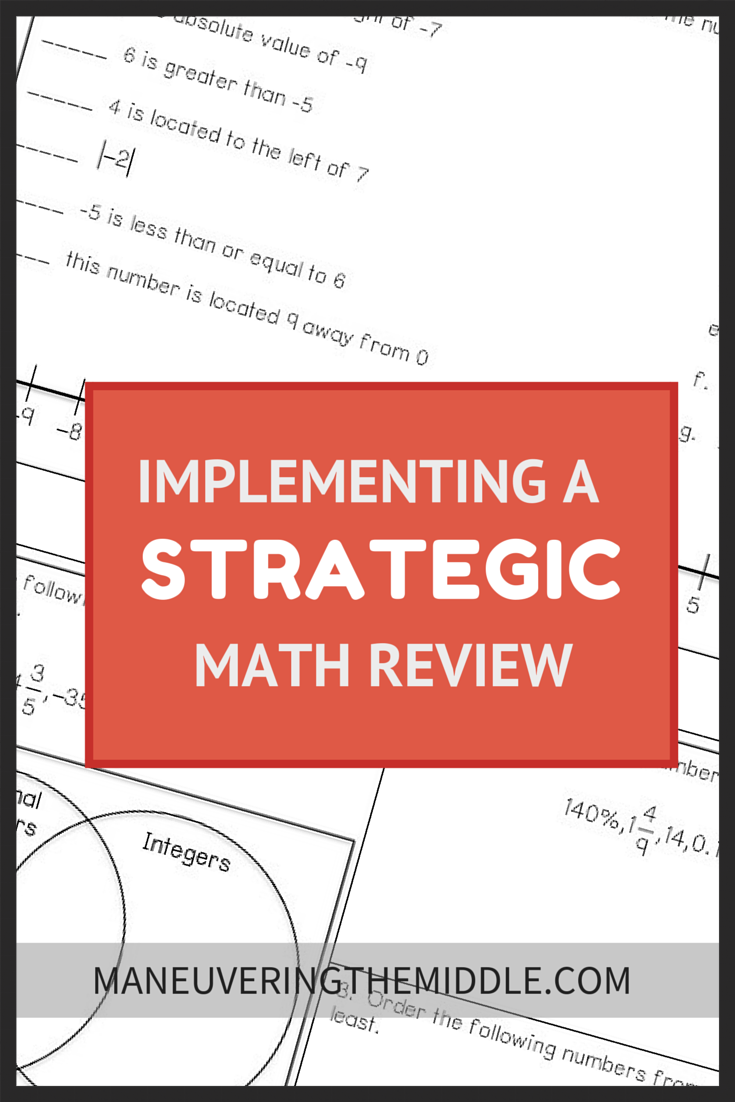 In the day and age of assessment, we are all familiar with the concept of disaggregating data.  Often, we attend trainings or are asked to do this for our benchmark/state assessment/cba/quiz/homework.  After one such assessment desegregation, I was determined to focus on the areas in which students were performing low.  I then had a few choices to make:
Reteach the content
Move on
Figure out how to make more time
I determined that I had to create a system in which I could hit the lower concepts, while still moving forward with the new material.
And thus, I began strategically reviewing through my warm up procedure.
1.  Dig into the Data
This is the most time consuming process, but be assured this gets easier with time.  Hopefully, your assessments have some sort of data desegregation software.  I know that Euphoria is popular, but there are other great ones out there as well.  It can be tediuous, so start with a narrow focus.  For example:
I want to know which standards my students need the most improvement
I want to know which standards my students have mastered
I am a visual learner, so I take the actual assessment alongside the data and write the percentage correct next to each problem and/or answer choice.  This helps me to see everything together.
2. Put it on a Calendar
From there I put the different standards on a calendar.  However, how I organize this depends on the data.  In general, if students did poorly on a standard, I know I am not going to be able to reteach this in one quick warm up.  Here are a few general thoughts:
If they didn't get it – I am going hit that concept in a warm ups everyday for the week.  I will be looking for improvement and really question them through the process.
If they "kinda" got it – I am going to plan that concept for every other day for a week or two.  I want the students who "got it" to practice and see it again.  I want to narrow in on the students who didn't.  During the warm up focusing on the process and specifically helping them through any roadblocks.
3. Have a Plan
So you know what you review and you have put the standards on a calendar.  But, how will you review?  I use my Daily Math Warm Ups to make this smooth and seamless.  All of the standards are included along with a quick reference table of contents.