At Maneuvering the Middle, we take pride in the versatility of our resources. There is not one right way to use a student handout, activity, or even the student math videos.
Teachers in our Facebook Group shared how they used the student videos to meet the needs of their students and I was blown away. What is most fascinating is how teachers use them in ways we didn't even think of when we were in the planning stages of that project. Teachers are so creative!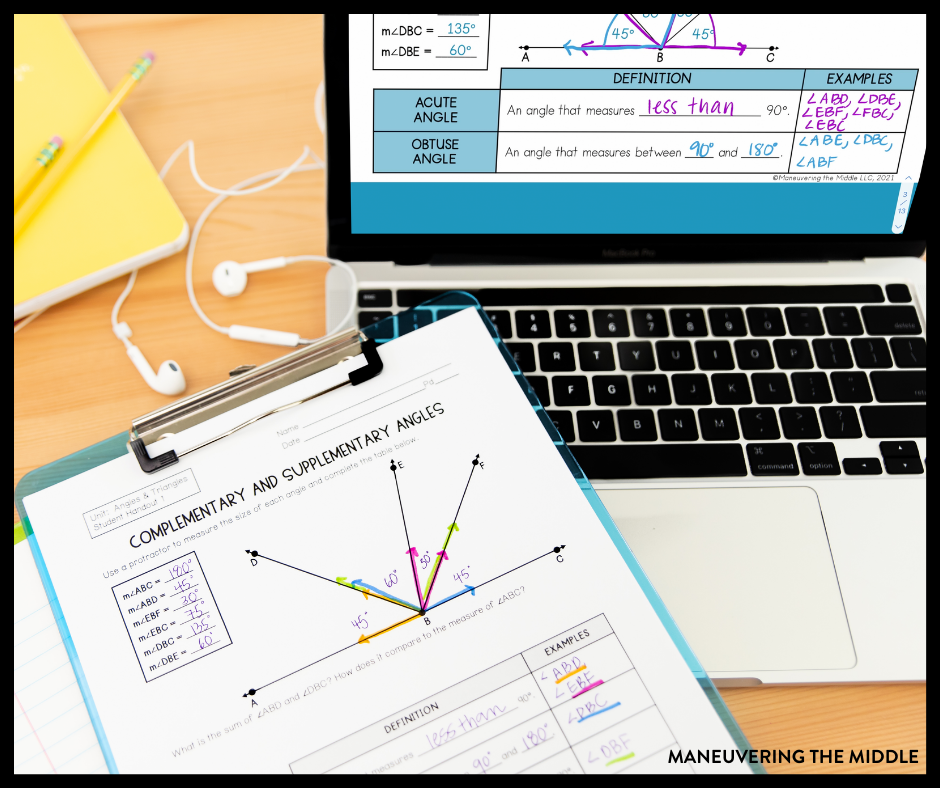 FOR ABSENT STUDENTS
"I use them for when students are making up missed assignments or in ISS." -Jennifer
"They watch vocabulary and intro to the lesson and then one or two problems per video then do a few on their own. Videos are great for students that are absent or need to review the concept." – Courtney
FOR TEACHERS
"They work great when you have a sub, so you do not get behind in your curriculum. These videos are great tools for new and seasoned teachers.
Teachers on my team have watched the videos, especially if they are in a new grade level!!! – Courtney
"I watch them sometimes to make sure that I'm teaching the concept to the depth the students need." -Jennifer
FOR REFERENCE LATER
"I post them to Google Classroom, so if students are absent or need to revisit the material, they are there!" – Amy
"I post them in Google Classroom. Students can use them if they are out or if they need more instruction.
I think it would work great for a flipped classroom. You know multiple voices, word choices, explaining the same thing only benefits the kids." – Karen
IN CLASS 
"I have found that using the videos frees me up to pull small groups, provide feedback while students are applying the content, etc.
The biggest impact is allowing me the time to work with students more. To proactively intervene as needed." -Amber
"I play the first video or two for each set of notes in class. I can circle around and check homework/attendance/make sure every child has a pencil and is writing. I then usually work through the example problems then it's off to stations in independent practice and small groups with me." – Brittany
"I use them (6-8) in class for my SpEd students to take notes. I will stop the video and we have discussions or have turn and talks. I love the videos because they chunk lessons that our other text (Big Ideas) lump together." – Ann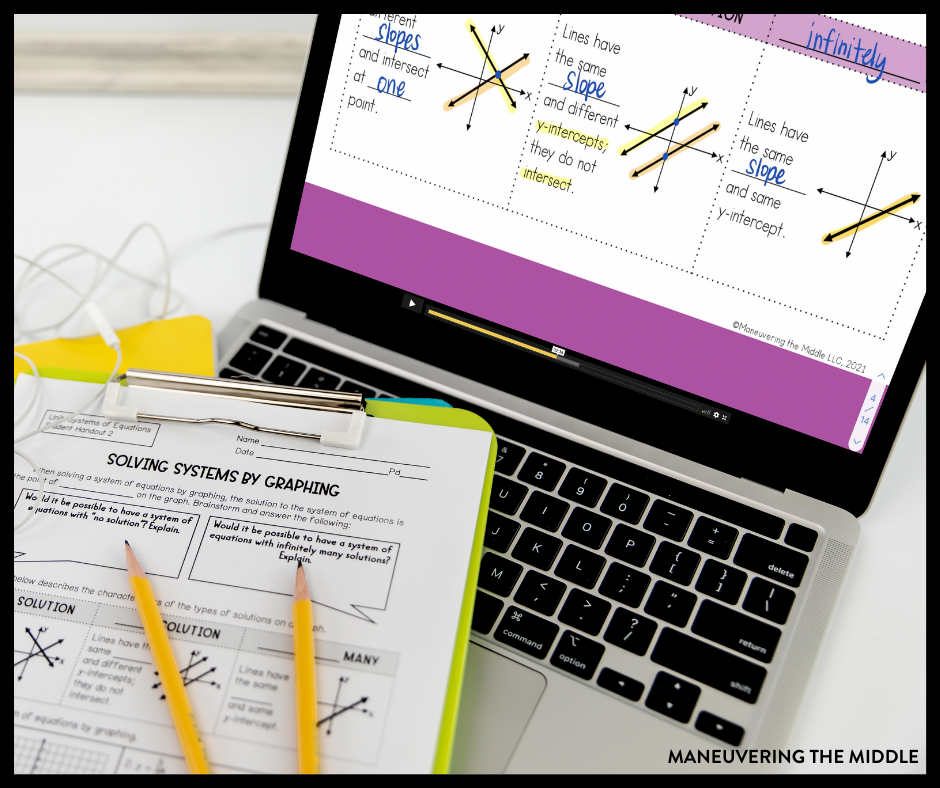 FOR FLIPPED OR SELF-PACED CLASSROOMS
"I use the videos for every lesson to partially flip my class. There isn't enough time to do all the lesson problems and have students practice within a class period. Students watch the videos and complete those problems as homework. The next day, I do the rest of the problems and students do the "homework" page in class. Works pretty well. I teach 6-8." -Carla
"I have a self-paced classroom. I upload all instruction videos and assignments for a unit so that students are able to work at their own pace. I hold small groups at the same time for my struggling students so they are able to ask questions and get the face-to-face instruction they may require. My higher level students love it because they aren't held up by questions and small talk that cause notes to go on forever." -Emilie
GENERAL
"They allow the kids to hear from a different person besides you. She presents them in different ways." -Sandra
"Parents of my students have watched them to help their children study for tests, complete study guides, etc."  -Marissa 
If you are thinking that you would like your students to benefit from these math videos and all of these incredible ideas, then click over to learn more about All Access.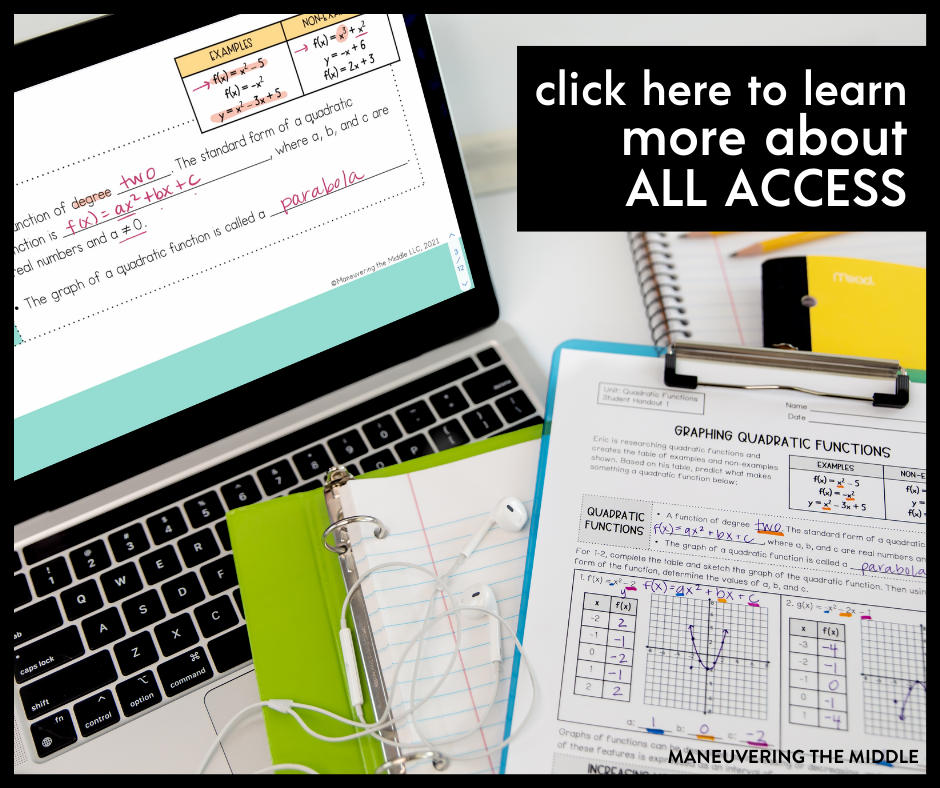 There you have it! This list is in no way exhaustive, so I would love to hear – how do you use our student math videos in your classroom?