Math Intervention is a class or a period of time devoted to helping students who have been unsuccessful (typically on standardized tests) by providing additional time and resources. Oftentimes, a math intervention class is smaller in size or might include a co-teacher. In my experience, there is not a lot of structure, direction, or resources to support math intervention.  Today, I am sharing my favorite math intervention schedule.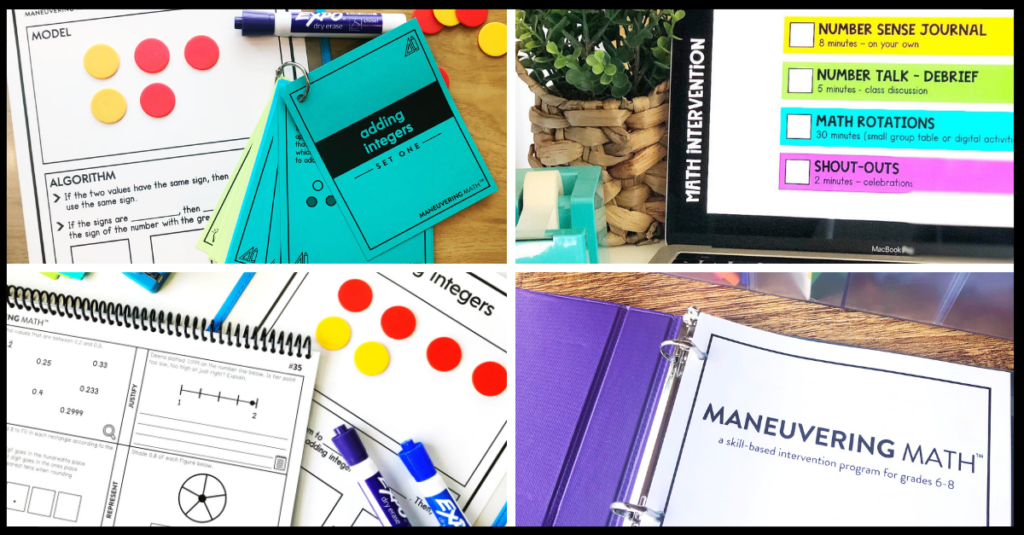 My Math Intervention Schedule
In my second year of math intervention, students were assigned to a math block class for 100 minutes.  It was my role to teach the on-level content, as well as to set aside time for intervention. My co-teacher would join me for the second 50 minutes.  This allowed for me to take a bit of extra time with the on-level lesson before switching gears for the intervention portion of the class.  It was challenging because all of the students in the class struggled with math and had high needs.
After that year, my principal met with us, and we brainstormed other options.  This quickly became my favorite math intervention schedule. Students attended an on-level math class and then would return to their math teacher at the end of the day for intervention class.  In my case, we met during 8th period.  Here is why I enjoyed this:
Math intervention students were spread across on-level classes throughout the day.
All of my students had already attended my on-level math class.  This could also work if you met in the morning and had on-level classes in the afternoon.
My co-teacher came during math intervention time to allow for more small group instruction.
Two 50 minute blocks are more impactful that one 100 minute block, in my opinion.
IDEAS FOR Daily Activities
In order to build fluency with math skills, there were quite a few things that were a part of our daily rhythm.  I have also done quite a bit of research since my original post and have included several suggestions below:
Math skills
We would do timed math skills to build fluency.  I started the year with a 12-by-12 multiplication table that had empty squares.  Each day, the missing squares changed. The goal was to build confidence, as well as mathematical fluency.  As time went on, I moved to fraction, decimal, and percent conversions, and other fluency-related concepts.
Research shows that requiring students to do things that are timed doesn't necessarily improve their fluency and can cause anxiety.  This is something I wasn't aware of at the time, and I wanted to be upfront as to the fact that I wouldn't recommend it now.
What would I recommend now instead…
Number Sense Building
We still want students to build their number sense and numerical fluency, plus we want them to gain confidence at the same time.  This can be accomplished with the same topics as above but can be more discussion- and strategy-based so that students are focused on the thinking and not just on the correct answers.  I share more ideas on number sense building here.
Quick Debrief of On-Level Class
I would check in with my intervention kiddos to see how they felt about the lesson and what questions they still had.  This was informal, but it was useful when we had a difficult lesson. It also helped to create a safe place, because some students might not feel comfortable asking in a larger class.
Homework
Depending on the assignment from the on-level class, I liked to provide about 10 minutes for students to work on homework.  This did not always happen, but 10 minutes is the goal.
Weekly MATH INTERVENTION Activities
Center Rotations
We typically had four center options in my class: small group with me, computers, and two activity stations.  The activities varied, but my requirements were that they had to be fairly self-sufficient, and I had an incentive tied to a recording sheet.
Small Group Instruction
I think small group instruction can be incredibly impactful in this type of setting.  Often, students in math intervention lack motivation and grit.  Small group was my opportunity to correct misconceptions, to encourage successes, and mostly to question them through the process.  You can find how I was able to track data here.
Pre-Teaching or Review
About once a week, we would focus on a new concept that was coming up in our on-level curriculum.  This allowed me to break it down in bite-sized pieces and helped students to see it prior to their on-level class.
MATH INTERVENTION Weekly Schedule
Monday: Centers
Tuesday: Pre-teaching
Wednesday: Centers
Thursday: Centers
Friday: Review and Weekly Conversations
UTILIZING Co-TeacherS
Another reason this schedule was incredible was the fact that my co-teacher came during intervention time.  It was difficult to give her up during my larger on-level classes, but I think she was better utilized during intervention time.  Oftentimes, she would circulate the room to help students while I pulled small groups.  Other times, she would pull small groups.  It was nice to have her in a class that was so hands on!
GRAB a MANEUVERING MATH DEMO BY ENTERING YOUR EMAIL BELOW