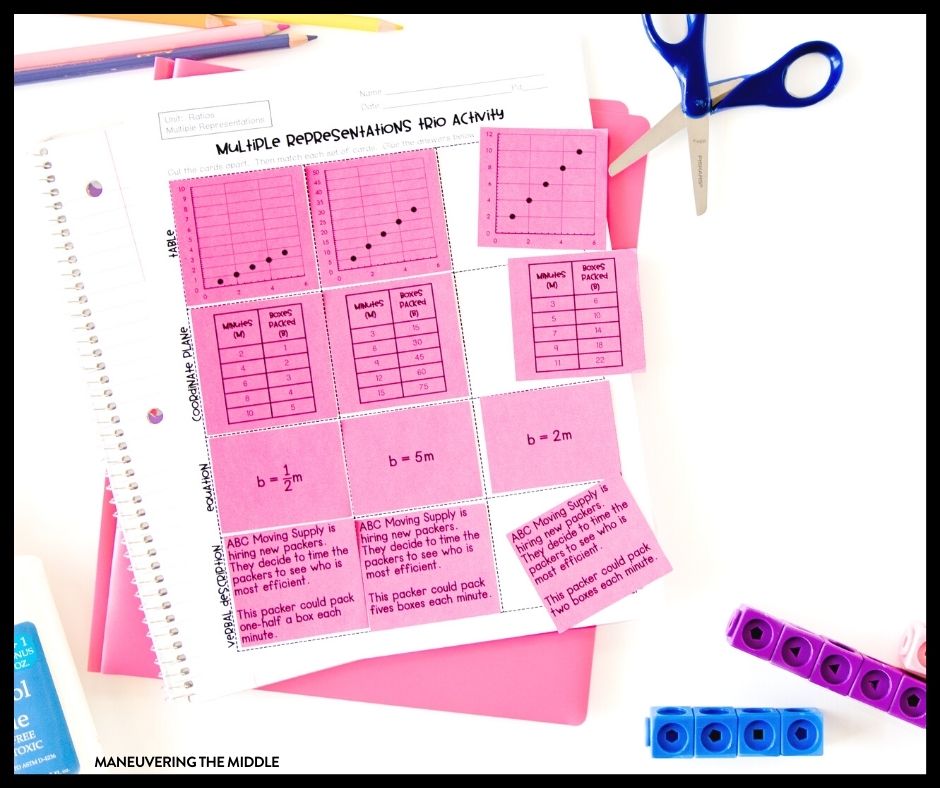 Proportional relationships are ingrained in our everyday. While most students pick up on the process to solve proportions fairly quickly, there is so much foundational conceptual knowledge that we do not want to skip over.
Today, I am sharing how proportional relationships go far beyond just solving for a missing number and how to set a foundation for success in Algebra. Here are all the ways a 7th grader is expected to know and understand proportional relationships:
7.RP.2 Recognize and represent proportional relationships between quantities.
7.RP.2A

Decide whether two quantities are in a proportional relationship

, e.g., by testing for equivalent ratios

in a table

or

graphing on a coordinate plane

7.RP.2B

Identify the constant

of proportionality

(unit rate)

in tables, graphs, equations, diagrams, and verbal descriptions of proportions.

7.RP.2C Represent proportional relationships by

equations.

7.RP.2D

Explain what a point (x, y)

on the graph of a proportional relationship means in terms of the situation, with special attention to the points

(0, 0) and (1, r),

where r is the unit rate.
Visual Representations
These standards are heavily weighted with visual representations, including tables, graphs on the coordinate plane, and diagrams. Some students will have been exposed to these multiple representations in 6th grade with standard 6.RP.3 and equivalent ratios. The goal is for students to fluently connect the table, equation, graph, verbal description, and even diagram together. When given one piece of information, students should be able to represent that same information in multiple ways. Students who can do this will have a firm foundation for 8th grade math and Algebra 1.
Ideas for Teaching Proportional Relationships
There are tons of great ideas and activities out there, but below are a few of my favorite "tried and true." They are all easy to incorporate and provide scaffolding for students who struggle in the math classroom.
1. Multiple Representations Graphic Organizer
Some students need to see everything together, and that is where this multiple representations graphic organizer comes in handy. It is the perfect size for students to show their work. I really like how the components stay the same, but the given information changes.
These are perfect for introducing the various visual representations, but it also can be reused in a clear pocket to use in tutoring or in math intervention. Once students are familiar with the graphic organizer, I would even give students butcher paper and various pieces of information. Then, they would use markers to represent the remaining information. This is a quick informal assessment idea or can even function as partner work for a Friday.
2. Highlight the Unit Rate/Constant of Proportionality
A quick trick to help students see all the connections is to use a highlighter! Model and have students highlight the unit rate/constant of proportionality within the different representations. This is perfect for representing k in the equation and in the table or meeting 7.RP.2D by labeling (1, r) on the graph.
3. Emphasize Vocabulary
Hopefully, students are familiar with the term "unit rate" and how to find it. Constant of proportionality sounds so cumbersome and challenging. Unit rate is often emphasized when we are talking about unit price (cost per ounce, etc), so I think students have trouble seeing a graph or a table and also using the phrase "unit rate." Either way, students need to be familiar with the verbiage and understand what a question is asking. Here is a more detailed explanation for why they are the same.
Common Misconceptions
A relationship is not proportional unless (0,0) is visible in the table or graph

Dividing x/y to find k

General confusion about k

General disconnect between k and proportions

Proportional relationships only involve positive numbers

Mixing up x and y on the table, when it is not given
Anchor Chart Ideas
Anchor charts are fabulous ways to showcase the content in a visual manner for students to reference. They can easily be created before the lesson or as you are teaching, depending on the content. The visual representations of proportional relationships are perfect for anchor charts.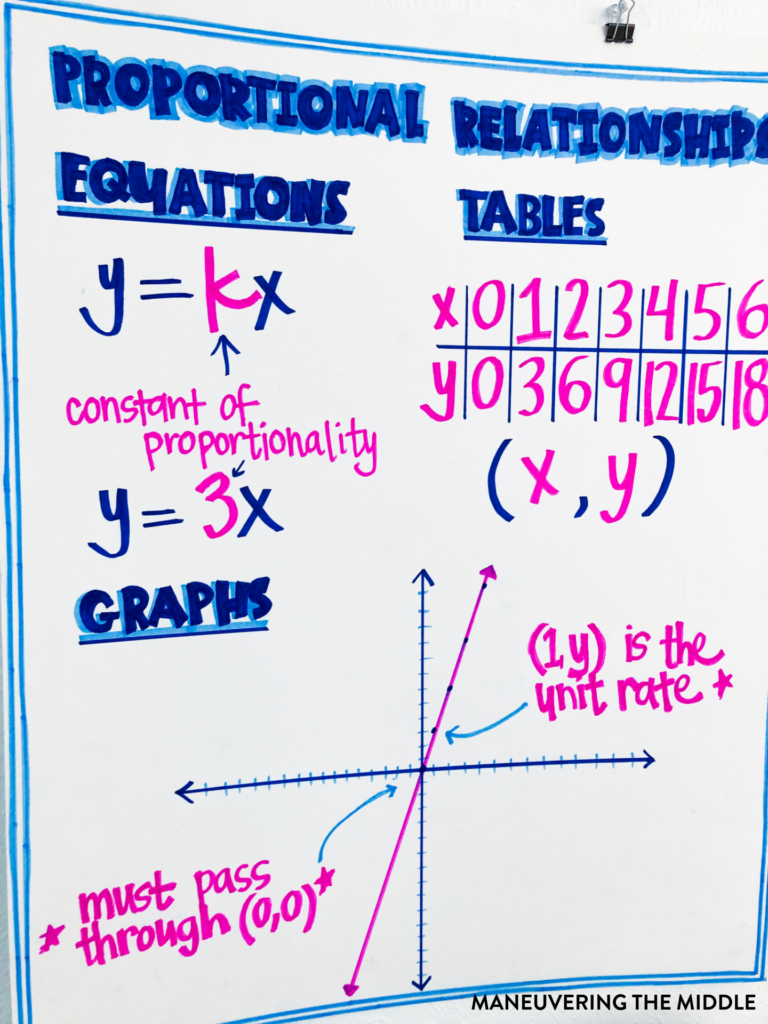 Ideas for Struggling Students
Practice finding different points in the proportion that aren't listed on a table.

Begin with the equation and use and input-output table to create a table.

Use a four corners graphic organizer.

Match multiple representations.

Practice graphing with four quadrants (from 6th grade).
Hopefully, this gives you some ideas for teaching proportions or even insight as to what knowledge your students are coming with. I would love to hear other great activities or ideas you have used! Feel free to share in the comments.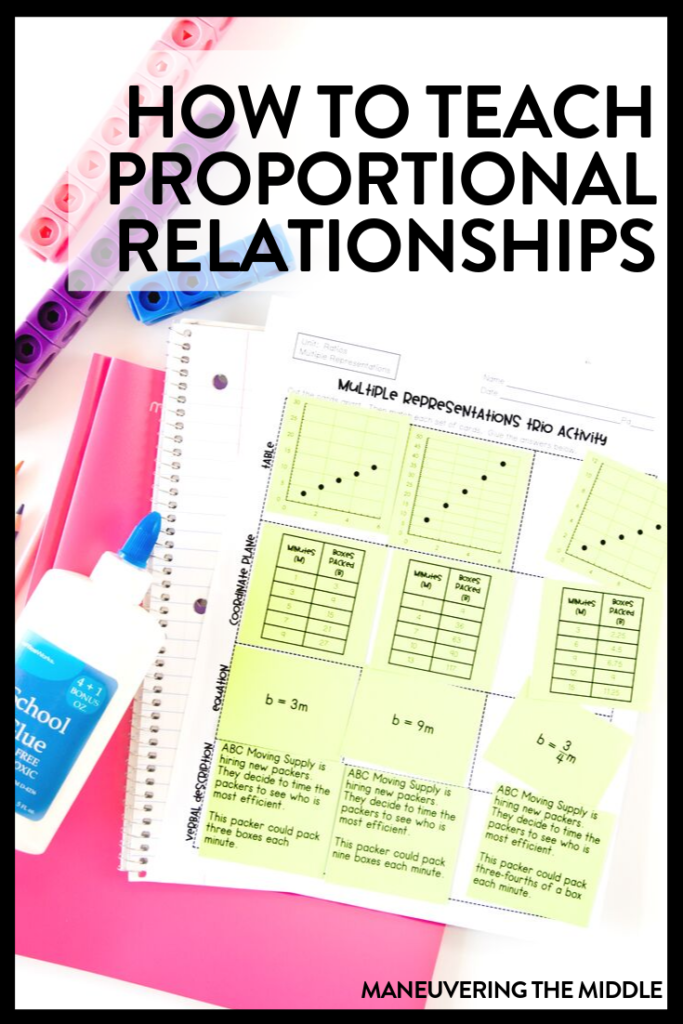 Check out some of our other math concepts posts: percents | ratios | integers
What concept would you like to hear more from us about?