Have you ever gotten an email from a parent who was upset about a grade or a missing assignment?  Maybe they said that they weren't aware of a project.  It's not pleasant, and it is a struggle in middle school where students are asserting their independence and taking ownership of their learning.  Today, I am sharing how to use MailChimp for teachers, a service for improving and simplifying parent communication.
Back in 2006 when I started in the classroom, I used Outlook, our email provider, to create different lists for each of my classes.  Each Friday, I would send a quick email recapping the week and sharing any announcements regarding assignments, projects, grades, etc.  I did this for several years and loved it!  Parents would respond that they appreciated the communication and that it helped them to be more informed and helpful at home.  Unfortunately, it took several hours to get everything organized and set up.  MailChimp is super user-friendly and can be set up quickly.
What is MailChimp?
MailChimp is a free email service provider that allows you to send formatted email for free to less than 2,000 subscribers.  Let's all hope we have less than 2,000 students. 🙂
The reason MailChimp is so great is that you can easily set up an account and have parents join your list through a link or QR code.  This would be perfect for advertising at Meet the Teacher, Open House, through a course syllabi, on your class website, and in parent information packets.  Below, I am going to show you how to create a really nice-looking template that you can easily customize in a few minutes.
How Can Teachers Use MailChimp?
We know that when students go to middle school, parent involvement is more of a struggle.  More classes to keep up with, more teachers to keep straight, electives, and a growing independence are factors that can lead to a more disconnected relationship.  I have found that parents often do want to be in the loop, and they appreciate the extra communication whether it be about grades, what we are studying, or volunteer opportunities.  
A few Ideas for When to Use a Newsletter:
weekly updates
progress report announcements
end of grading period announcements
project details and deadlines
field trip information
PTA newsletters
UIL and club information
fundraising details
1.  Create an Account
You can easily set up an account using your school email address, as well as your schools' physical address.  MailChimp will require a physical address, just FYI.  This address will show on each email sent, so be sure you put your schools' physical address.
2.  Create a List for each class that you teach
I would recommend creating a different list for each prep, activity, club, etc.  You could also create a list per class period, depending on what you plan on sending.  Don't go list crazy, because each time you send something, you will have to send it to the specific list.
3.  Ask Parents to Sign Up for Your List
Each list is going to create its own sign up form, so you will want to ask parents to sign up for the specific list.  As mentioned above, you could share the link on a class website, at Meet the Teacher or Open House, in a course syllabus, and in parent information packs.
Tip:  You might consider creating a short link or QR code for parents to scan to make the process go more smoothly.
4.  Create a Template Newsletter
If you plan on sending information regularly, I would suggest creating a template.  You need to Create a Campaign, select which lists to send it to, and then create the message.  The key is to hit "Save as a Template" once you are happy with the set up.  This way, you just have to find the template each week and change the information.
5.  Send Newsletters whenever you Choose
Once you have done all the set up, just login to MailChimp and send emails whenever you like.  You can schedule the email in advance to make your life easier, too!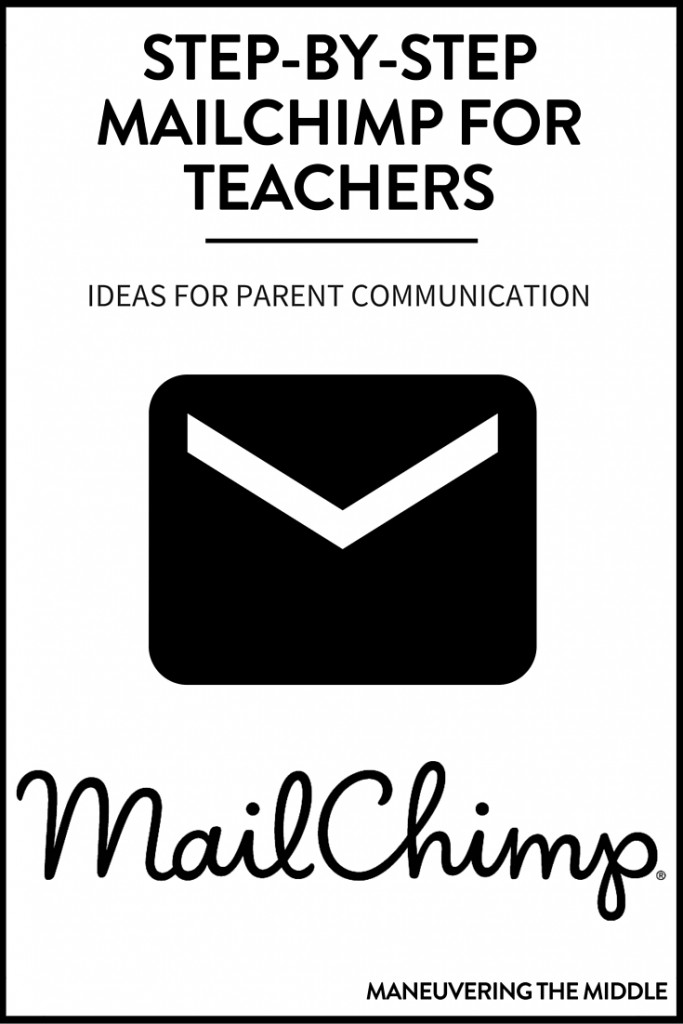 Video Tutorial
If you are anything like me, it is so much easier to follow video tutorials.  Erin Wing was so kind as to allow me to share her great You Tube tutorial.  She shares all sorts of great parent communication tools and ideas on her blog.  Click here for a great tutorial on MailChimp for teachers.  She will walk you through it all.  Thanks Erin!  Best of luck with MailChimp!
Teachers, do you have any other great ideas for parent communication?  Share them in the comments below.