March 1st always brings about two things:  the impending countdown to spring break (yay!) and the daunting task of test prep review (eek!). In my years of teaching, testing season began immediately after spring break.  Different grades and subjects were state tested towards the end of March and throughout April.
First and foremost, I support best teaching practices, which involve monitoring your students throughout the year, consistently spiraling older material, and in general striving for high mastery.  However, there is still a test and we want our students to go into the test feeling confident and prepared, with the material fresh on their minds.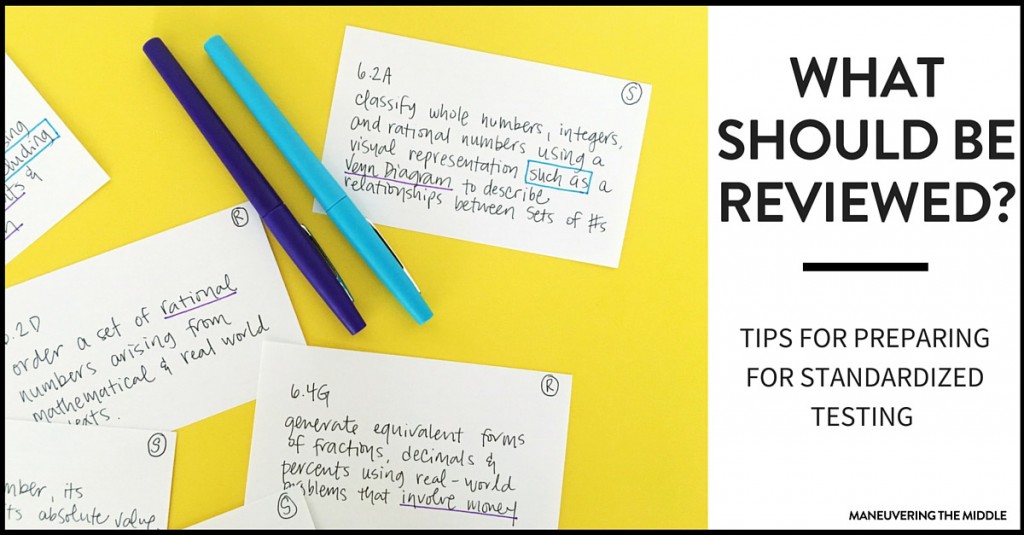 Determining What to Review
Everything.  Well in a dream world, everything.  But, we all know that there is not enough time to review everything.  And, we know its not wise, good for kids, or good for us to be reviewing forever.
There are three things I consider when determining what to review:
1. Most Frequently Tested Items/Concepts
Each test has a different focus.  Some equally weigh each concept, some emphasize certain concepts.  Carefully take a look at the areas in which are most frequently tested.  This would be an area of focus and where I spend a larger portion of my review time.
Most of the standardized tests do place emphasis on certain standards or concepts.  In Texas, the STAAR exam has readiness and supporting standards.  Two-thirds of the test come from the readiness category, and one-third from the supporting standards.  Mathematically, it makes more sense to focus on the readiness standards, and incorporate supporting standards as you are able.
2. Lowest Benchmark Standards
I gathered the data from my benchmarks throughout the year.  The lowest standards (which I am sure are not surprising) are not something that I would just review.  These concepts are in need of reteaching.  One suggestion that worked well, was designing short mini lessons over these low standards.
For example, one concept that was difficult for my students was determining the pattern of a sequence.  I planned a short mini lesson that addressed sequences at the beginning of class.  In that same class period, the activity would also incorporate equivalent representations, coordinate planes, and proportionality.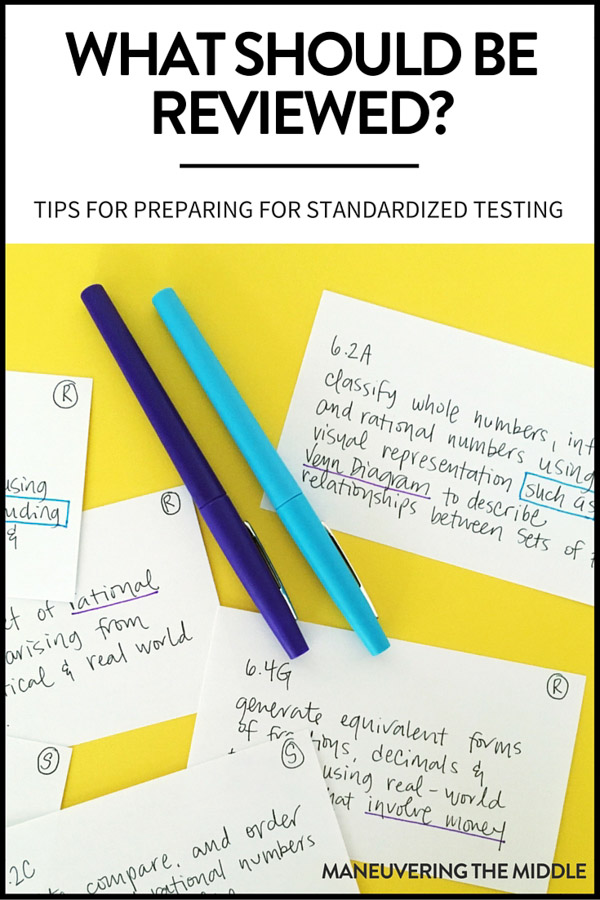 3. Highest benchmark standards/easiest for students
Lastly, there are always those standards that are easy for students.  They perform well with the concept and truly grasp it.  Though easy to ignore, my philosophy is that I wanted students to be confident and not caught off guard.  These questions are perfect for a quick warm up to get class started or to incorporate in homework, if you see fit.
There is no perfect science to review, but preparing ahead will allow you to put all of those precious minutes to work for you.