Pi Day (3.14 – March 14) is on a Tuesday in 2023. Embrace the chance to celebrate this mathematical holiday by circling back (see what I did there?) to these FREE activities for your students!
We are happy to share that we have the perfect FREE activities (that's right, plural!) for your students! Download your free resources below and read our best tips on teaching circles.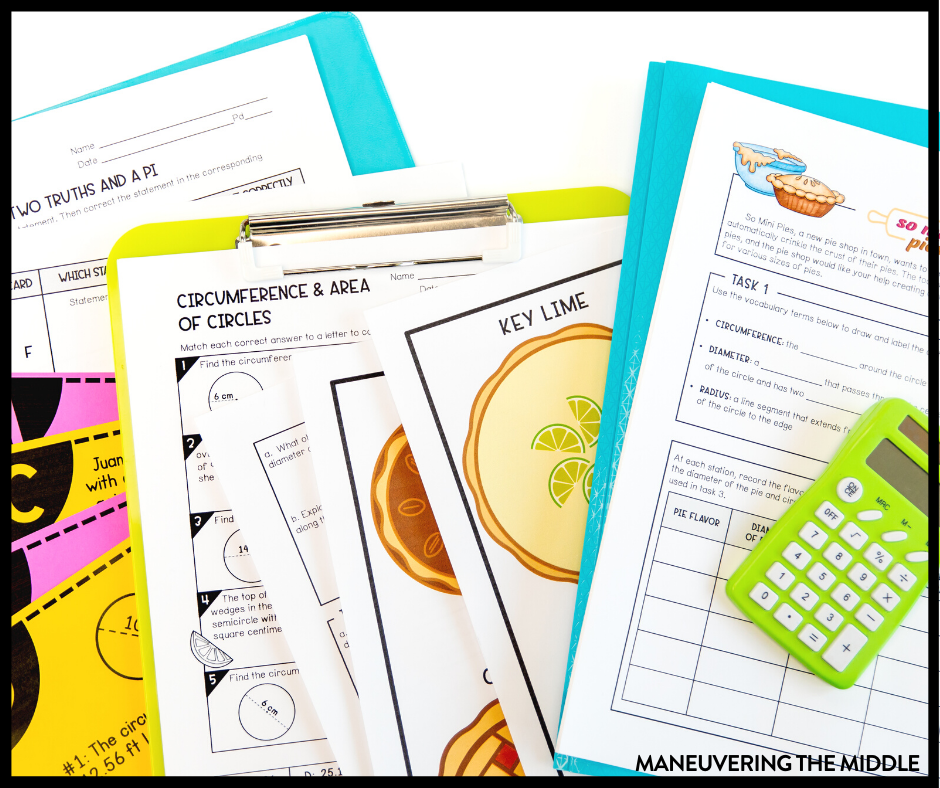 Tips for Teaching
Before I jump to the activity list, let me please share some tips for teaching the various intricacies regarding circles.
Vocabulary and Formulas
Vocabulary is key! I never tire of saying that. Circles have their unique set of terms (radius, diameter, circumference), so embrace it. Create arm movements, put them on your word wall, or create and reference an anchor chart that has all of the parts of a circle labeled.
Label, label, and then label some more! One criteria for success I had in my geometry units was to always label the shapes. If a circle is provided, label the parts! If a model with a diameter is given, require students to draw and label the radius before moving on to solve the problem.
d=2r and r=d/2 is something I made students write on every problem. Problems generally give diameter when asking for the area or radius when asking for the circumference, so the first step would be to find the measurements actually needed to solve. It helped bypass the mistake of just plugging in any ol' number into the formula.
Pizzas are circles! The crust represents the circumference (which they both conveniently start with C) and the sauce is the area.
Write the relevant formulas! Not only does this help students internalize the various formulas, but it also helps students practice substitution.
Be sure to highlight that the radius and diameter pass through the center of the circle. This will be an important distinction as students see different segments in a circle in high school geometry.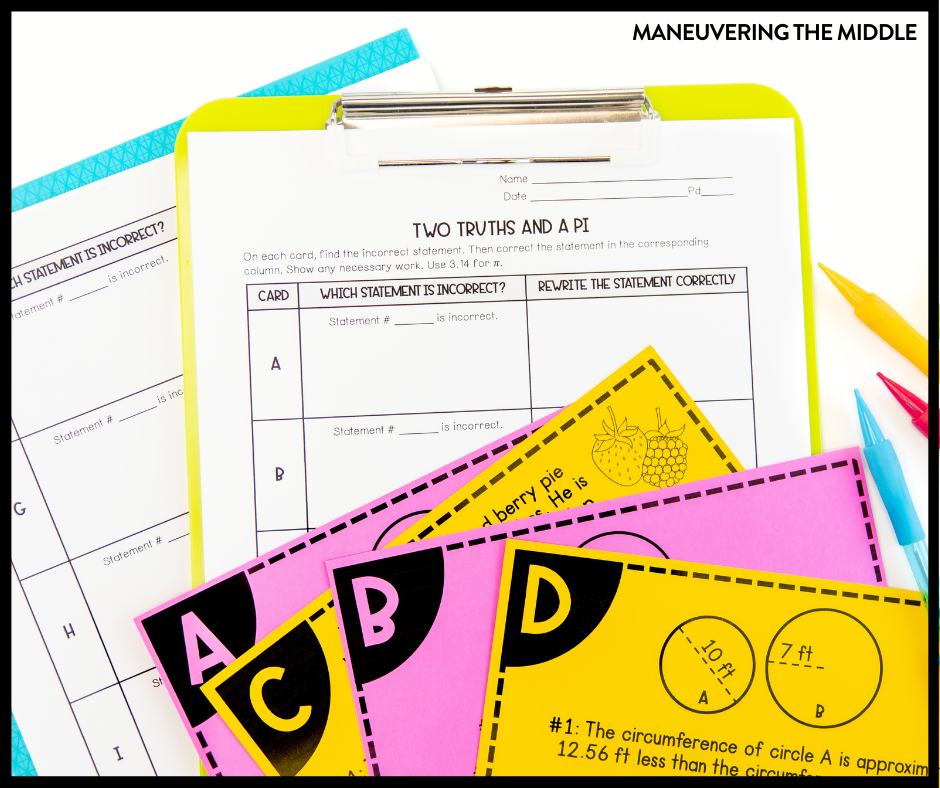 More Tips
Draw your shapes! If no model is provided, require your students to draw a circle and label the given parts. This helps contextualize the problem!
Consider purchasing sewing measuring tapes in addition to rulers for your classroom. They make measuring the circumference of a circle easier than using a string that will then have to be measured too. Not to mention, they are easier to store! You can also print your own paper rulers that do the exact same thing but will be limited by the length of a standard 8.5×11 piece of paper. Lastly, places like IKEA, HomeGoods, and TJ Maxx have long paper rulers too!
Sir Cumference and the Dragon of Pi is a book that I have not personally read, but I have seen recommended by many math teachers. Middle schoolers are not too cool for story time.
Helpful Videos
What is Pi? – This video comprehensively explains pi and just about everything else regarding circles. I would fast forward to 3:20 for an excellent visualization of 3.14 diameters going around a circle's circumference or you can watch the clip below.
Area of Circles – This video may be the best explanation I have ever seen of how the formula for area of a circle is derived. The visuals are not something you can recreate without the help of video editing, so I highly recommend showing it to your students before you cover calculating the area of circles.
Circumference of a Circle – This video explains circumference and solves a few circumference problems.
Free Activities
Maneuvering the Middle Pi Day Activities – Choose from a variety of activities in this freebie, or use all 3 if you think that pi deserves more than just a day of celebration!
Pi Day Discovery Activity – Students can work collaboratively to explore the relationship between the circumference and diameter of circles by measuring mini pies.
Pi Day Two Truths and a Pi – This play on two truths and a lie has students finding which statement is false about various measurements related to circles.
Pi Day Riddle Activity – This self-checking activity asks students to calculate circumference and area of circles. The riddle is a nice touch!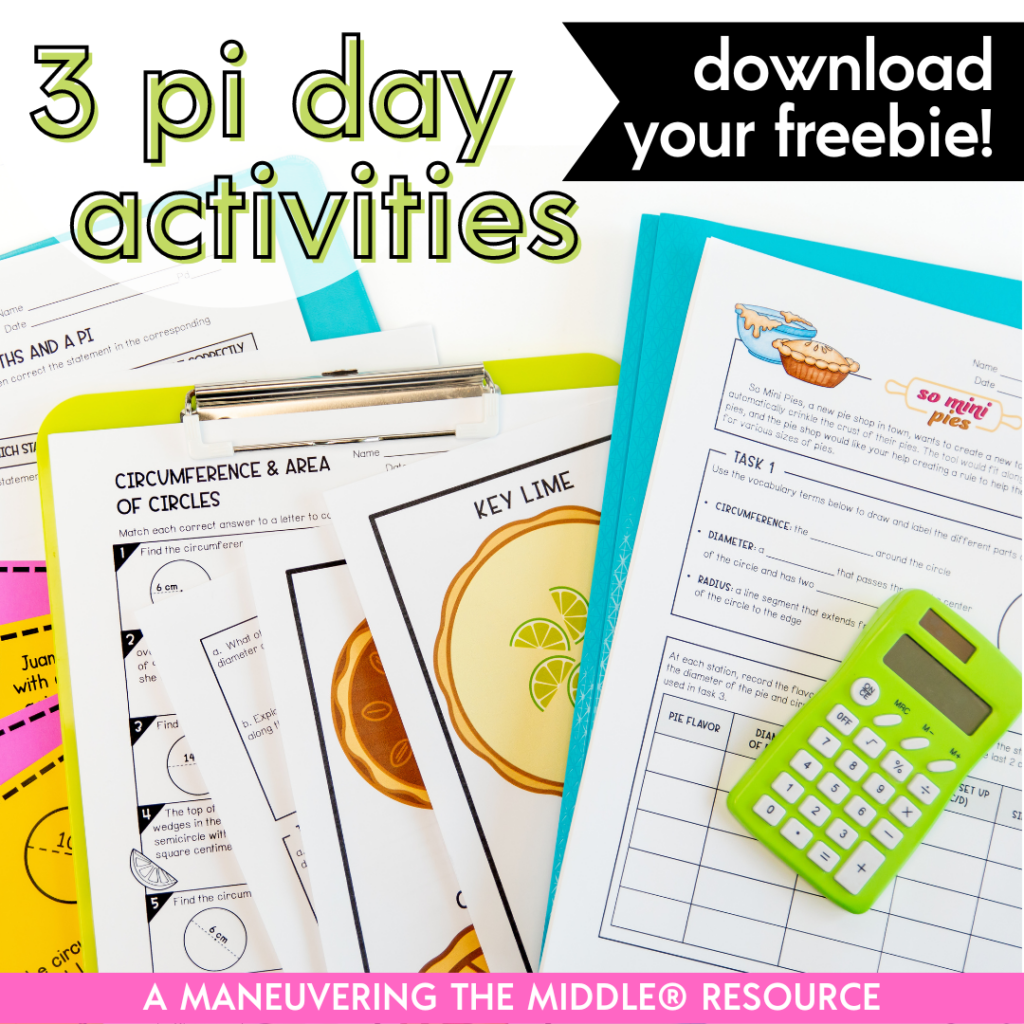 Make Bubbles
Grab a jumbo container of bubble solution, mix in food coloring, and allow students to blow a bubble on paper. Once the bubble pops, students measure the diameter and from there can calculate the area and circumference.
Go Outside and Run Idea
Have an especially active class? This idea is for you! Go outside and form a giant circle with your class. Choose two runners. One runner will be running the diameter of the circle while the other is running the circumference. The idea is to see how many times the diameter runner can go back and forth before the circumference runner makes it back to their original spot. Assuming the runners' speeds are fairly similar, it should be a little more than 3 times. Repeat with different students to get all of the wiggles out. 😉
Measure Circles
Circles are everywhere! Tops of tupperware lids, paper plates, old CDs, cups, and Hula hoops. Ask students to bring something circular from home to class and now you have 30 hands-on, practice problems for students to complete.
Need more Circle Practice?