Prioritizing your to do list can be a challenge when your to-do list is never ending. Just when you feel like you are ahead, something goes wrong. Teaching has so many variables that Murphy's Law will inevitably come into play.
With that said, there are some things that we can do to manage and prioritize our to-do list, so that we get what we need done, done.
Have a Weekly Meeting with Yourself
In order for us to be able to prioritize our to-do list and get stuff done, we actually have to know all of the things that we need to get written down. If you think it, ink it. (quote from Laura Stack blog)
Putting every task that needs to be accomplished in one place – both personal and professional – can free the mental load of trying to remember what needs to get done next.
You can't prioritize tasks until you understand the full scope of your week. Write down everything that needs to be accomplished that week – include appointments, deadlines and tasks. 
If you notice you have a light week (hooray), you can use that extra time to get ahead or focus on long term goals.
If your week is full, you can give yourself permission to say "no" to extras that may pop up during the week. Remember no is a complete sentence. No, I cannot cover that duty for you. No, I cannot chaperone that dance. No, I can't organize that fundraiser. You get the picture.
These planner printables may be the solution you need to start your weekly meeting with yourself.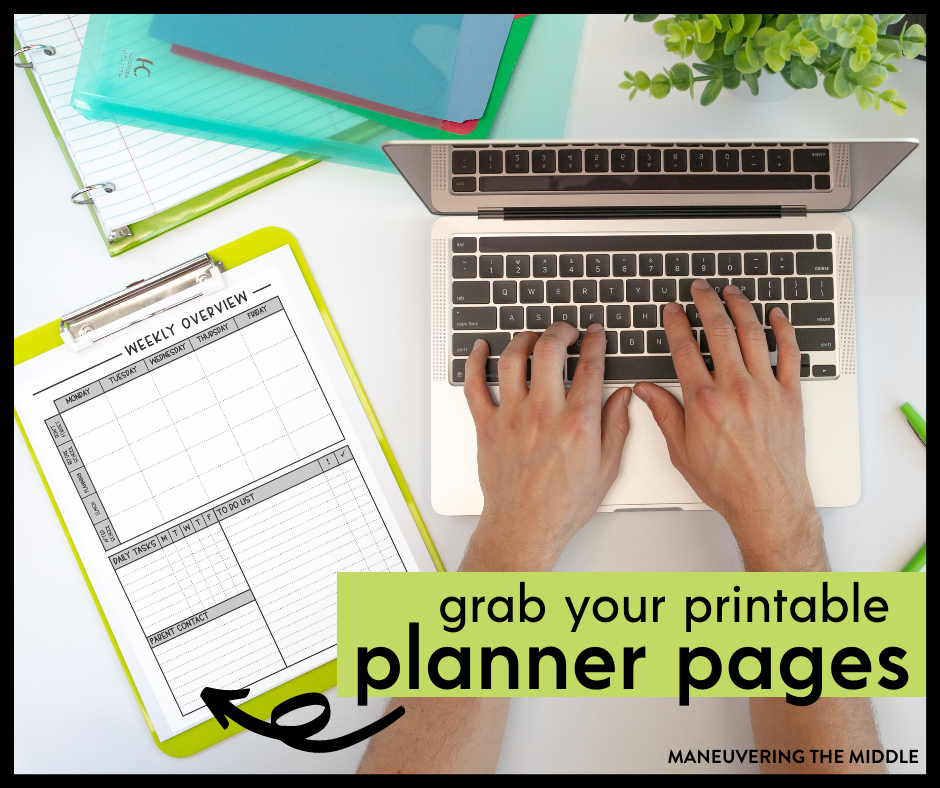 Look at Your Goals When Prioritizing Tasks
When I mention goals, I am talking about the goals that I had for myself and my students professionally. Now these goals were provided to me from my administration based on my students' scores from the year prior + the number of years I had been teaching.
Maybe you have something like that, maybe not. If you don't have a goal for the school year, I would recommend setting one, so that it will help you focus on what matters. Because when you are a teacher, it feels like every single thing matters.
If you are in your first years of teaching, I would recommend setting a goal around classroom management, organization, or time management.
If you are a veteran teacher, I would set a goal around students' academic progress.
While I had several goals, one of my goals was that 85% of my students would pass the state standardized tests with certain percentages scoring within the exemplary range.
Working backwards, this goal helped me focus on tasks like making sure I had higher level questions to push my high students. It also made me realize that I needed to focus on my small group instruction.  It kept me analyzing student data often to see if my students were making the progress necessary to pass. 
Since I was focused on that goal, I wouldn't stress so much about updating bulletin boards or grading everything that wasn't a true test of mastery.
So let's say that you have a goal to build stronger relationships with your students this year, then you would want to make sure that you are allocating some time to writing encouraging notes or inviting students into your classroom for lunch. While these actions may not fulfill immediate needs, they will serve a greater purpose later on.
Urgent and Important Matrix
Have you ever heard of the Eisenhower matrix? This is a really good framework to use when thinking about how to prioritize your to do list.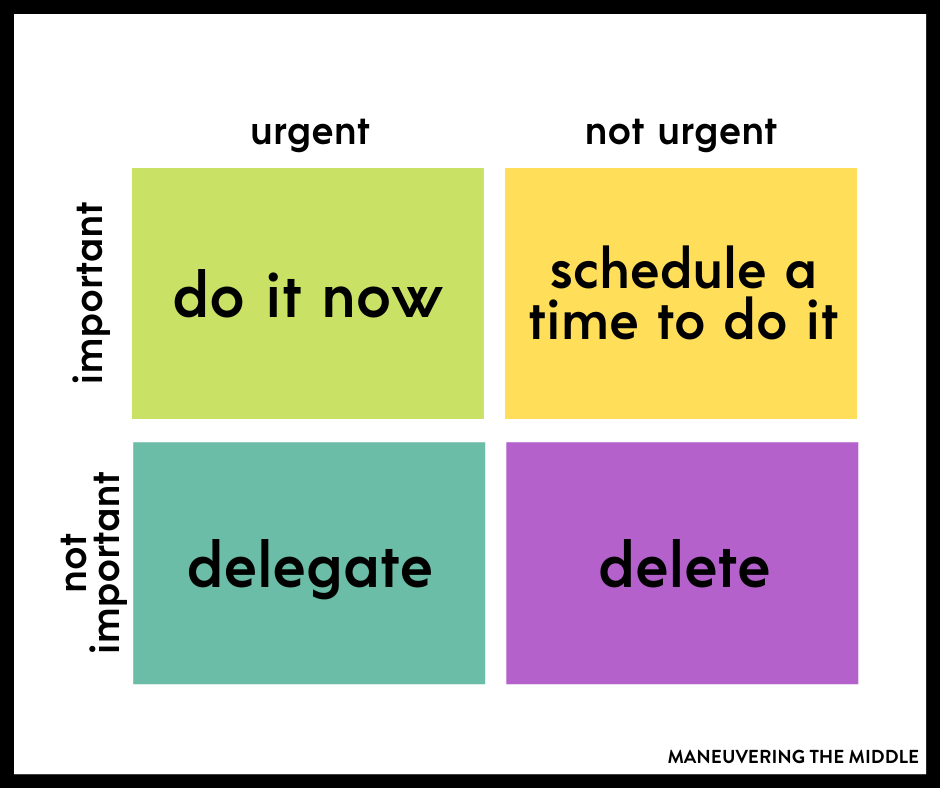 Quadrant 1: Important and Urgent 
These are going to be tasks that have an immediate deadline.  Having your materials ready every single day for students probably falls into this quadrant for just about every teacher. Communicating with parents via email is another one. 
Do these tasks. Get them done. If you feel like every single one of your tasks is in this quadrant, then you will need to start on this list using a tip in our next point. But most likely, some of these tasks can be eliminated or at least delegated. Make sure that these are tasks that only you can do!
Quadrant 2: Important but Not Urgent
These are tasks that are important to your long term goals, but not immediate. In my case, this would be doing a data analysis on the most recent unit test. It is aligned to my goals, but no one is waiting on me to do this.
These are tasks to schedule. Block off 30 minutes during one of your planning periods, shut the door, and set a timer. Devote time to it. If you don't schedule it, it most likely will continue to be pushed to another week again and again because it is competing with more urgent tasks.
Quadrant 3: Not Important and Urgent.
These are tasks to delegate. Oh man, good thing teachers have hundreds of students (see our post on student jobs here) to help with this one. And in some cases, parents! This is how I delegated making copies and laminated task cards to parent volunteers. In addition, I had a few students who were responsible for putting stickers on mastery trackers throughout the year. 
Quadrant 4: Not Important and Not Urgent
Eliminate these tasks! I'm not sure what this is for you – but for me it was putting so much effort in keeping my students notebooks organized. One year I tried to grade student notebooks and that wasn't for me. 
Build Momentum
If you are looking at your to-do list and everything is feeling important and urgent, then you have lots to do. Looking at the list can feel overwhelming and then lead you with decision fatigue on where to get started. 
Here are two very conflicting tips on what to do, so try them out and see which works better for you.
Tip #1 – Eat the frog. While you have most of your energy, tackle the hardest and most pressing thing on your list first. After you climb that hill, the rest of the tasks will feel pretty easy in comparison. And if it takes longer than you think and you get nothing else done, at least you got the most pressing item taken care of.
Tip #2 – Build momentum by knocking out some easy tasks first. You will feel accomplished crossing off those items. You will feel like you made a dent in your to-do list. 

This is where I would also suggest (tip from The Together Teacher) to write down your to-do list into small actions. So don't write down "Lesson Plans for this Week," Write down – "Monday's lesson plan" and "Tuesday's lesson plan"
Another tip to think on what you should start doing first is to think about your current mental state. Are you feeling mentally fatigued? Maybe you should work on a task that is pretty mindless. Are you feeling alert and fresh? Then knock out something complex.
At the end of the school day, I was beat. If I chose to try to write a lesson plan, it would take me 3 times longer than if I did it in the morning. I would instead use the end of the school day to clear out my inbox.
How do you prioritize your to-do list?