Currently, I am teaching operations with decimals, and I have relied on calculators HEAVILY to check my work. Confession: When I was creating my answer key for a lesson on multiplying decimal numbers by decimal numbers with many, many digits, I first did all the math by hand and then went back to check using a calculator. My paper was not error-free! Calculators are such useful tools for anyone who is working in math/science/engineering/completing projects in the house, and we should teach our students when and how to use them.
Note: Don't we find it ironic that teachers spend years teaching students math skills that can be completed using a calculator and then they get to 8th grade/high school, they are handed a calculator? Without proper training, students can use a calculator recklessly, trusting whatever answer is provided without using the number sense that all prior teachers tried to instill.
In one classroom I observed, the teacher would often use the phrase, "The calculator is only as smart as its operator." A sly way of saying that the calculator will give you the answer to the problem that you input, but if you input the problem incorrectly, you still will have an incorrect answer. Yikes!
CALCULATORS IN THE MIDDLE SCHOOL CLASSROOM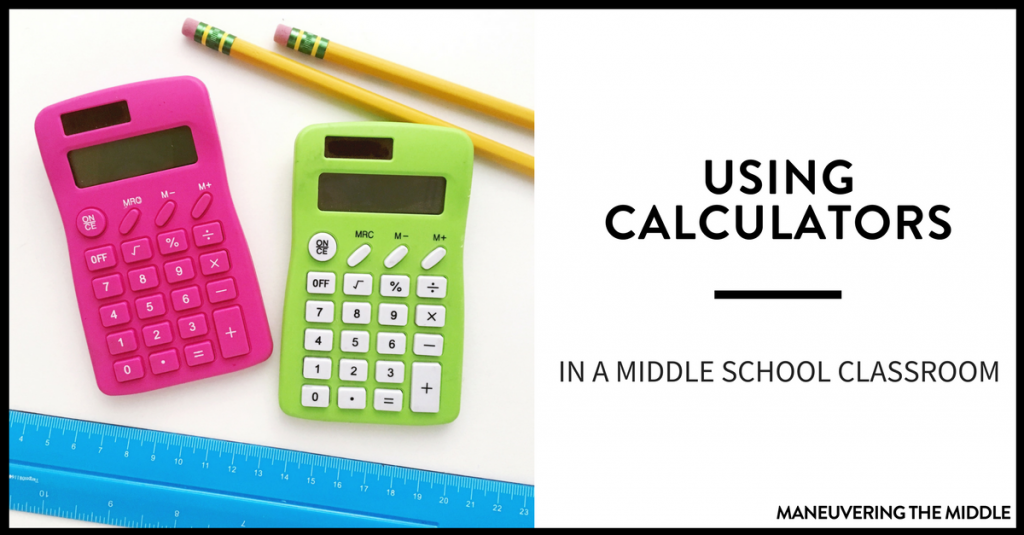 For Students with IEPS
In my middle school classroom, I have around 10 calculators that are available to students with IEPs. (Be careful to make sure that you are allowing only the students who have this aid listed on their IEP to use calculators.) They grab them as soon as class starts and use them throughout the lesson. Whether you have a co-teacher or a SPED teacher who pushes in, its a good idea to make sure that one of you spends time showing students how they can use their calculators in the context of the lesson.
Calculators are dangerous tools when students do not have proper training. I see this most commonly when students are dividing. For so long, students have learned that when you divide, the largest number is what is typed in first. In sixth grade, that is no longer true.
At the end of class, students put their calculators back in the bin and they are ready for the next class. (One year I tried to loan out calculators for students to use at home, but students left them at home so frequently, I stopped.)
Calculator Organization
Since I have so few calculators that are used, I store my calculators in one of these boxes.   I number the back of the calculators to correspond with table numbers and to keep track if any are borrowed. Ms. Henry uses a caddy similar to this.  I used a system like Type-A Mathland's when I used the more expensive TI graphing calculators. It is super easy to see if all of the calculators have been returned at the end of class.
For Days When the Skill Isn't Computation
While students practicing computation is always a good thing, sometimes it is not the most important thing. One unit that I allow students to use calculators (for a period of time–not all of the time) for is geometry. While I am teaching substituting into a formula, identifying the height in a triangle and a parallelogram, and the sum of the angles in a triangle, the calculation seems secondary. Yes, I want students to practice calculating the area of the triangle, but they have 2-3 skills to master before they can do that.
For Students to Check Their Work
Similar to my example above, calculators are great for students to check their work. You could have students use calculators to check their work after completing an assignment. If students' answers are not the same as the calculator answer, students should go back and identify their error. This helps validate the purpose in using calculators — they are a tool to turn to for help, not easy answers.
The Calculator Test
Note from Noelle: While teaching one section of Algebra 1 my first year, I taught with a very experienced teacher. She would require students to take a calculator test about 2-3 weeks into school in order to earn the right to use a calculator. It was her way of ensuring that students had the appropriate number sense background to move forward. I can see why this is so beneficial, especially when you are solving equations with rational numbers and so on.
Calculators serve a very specific purpose in the math classroom: for students to use them as one of the many tools they have in their learning toolbox. Do you use calculators in your middle school classroom? If so, when and how?