Volume is one of my favorite middle school math skills to teach. The skill is visual and concrete, requires sketching pictures (which is always fun to tease what a great artist I am), and the operations required for solving allow for spiraled practice. A real winner from this teacher's point of view!
Here are my 7 tips/ideas for teaching volume in a way that students will get the most from it.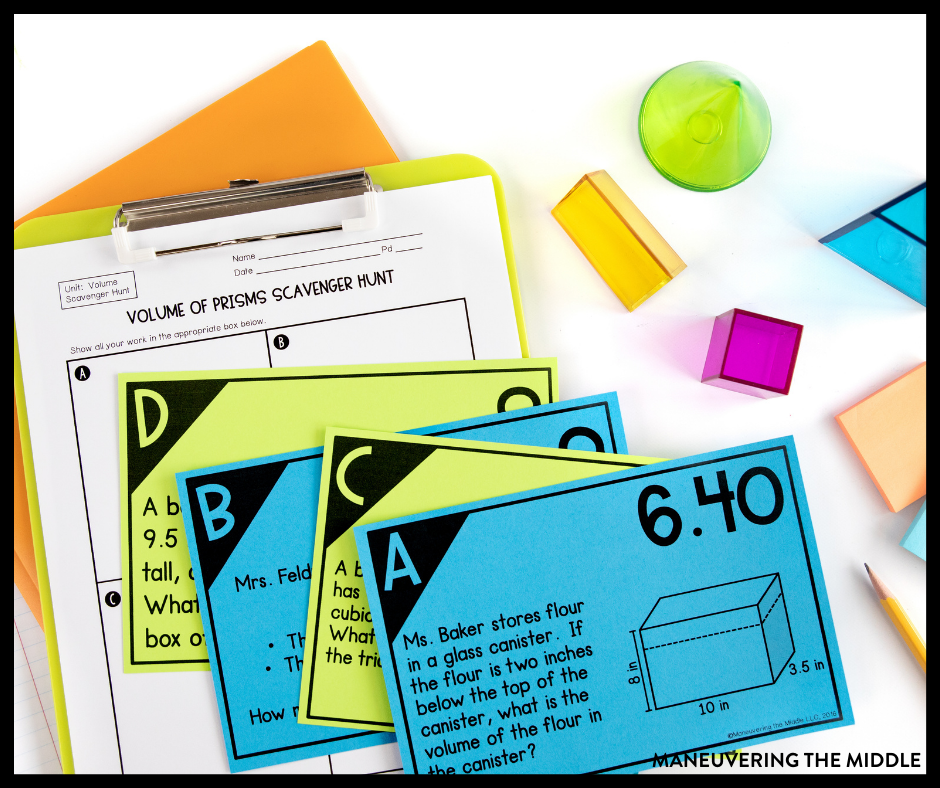 Start with Area
While most scope and sequences require mastering area (or surface area) before moving onto volume, the connection between area and volume cannot be ignored.
In fact, in all of the formulas for volume, the area of the base is abbreviated as 'B'. And while this formula chart does give the formula for the various shapes' areas, it does that separate from the volume formulas. 
Encourage students to shade the base in every problem and then sketch the base separately with its dimensions. This helps students to actually calculate the area of the base instead of using only one of it's measurements, which was often the most common misconception I witnessed.
This Desmos Activity really helps make the connection between the area of the base and the height.
Write down the Formula + Draw the Shape
You don't have to provide formulas when you first introduce volume! Have students make observations and predictions. For example, using a rectangular prism and a triangular prism with the same height and base measurements, ask – "how many triangular prisms could fit inside the rectangular prism?" You can do this for a cone and a cylinder too! Unifix cubes are the perfect manipulatives to use for students to understand how volume is measured in a rectangular prism. 
After you have introduced the formula for a shape, require students to write down the formula for the shape as part of their work. This will prevent students from leaving off multiplying by ⅓ for the volume of a cone or 4/3 for a sphere. I would even make this mistake on purpose, so students would shoot up their hands and say, "Ms. Brack, you forgot to multiply by ⅓!"
In addition, if a given problem lacked a figure, I required students to draw the figure and label the sides with the given measurements. 
Use the Exact Formula Chart They Will See on Testing Day
Set your students up for success for testing day! Provide students with the EXACT formula chart they will see when they take their state test. I made a class set on bright neon cardstock that I would laminate. It stayed out throughout the entirety of my Geometry Unit.
During a geometry lesson,  I would always instruct my students to silently point to the formula we would need on their formula chart.  I would do a quick sweep to make sure students were on the right track. Don't assume your students will understand how to find what they need from a formula chart.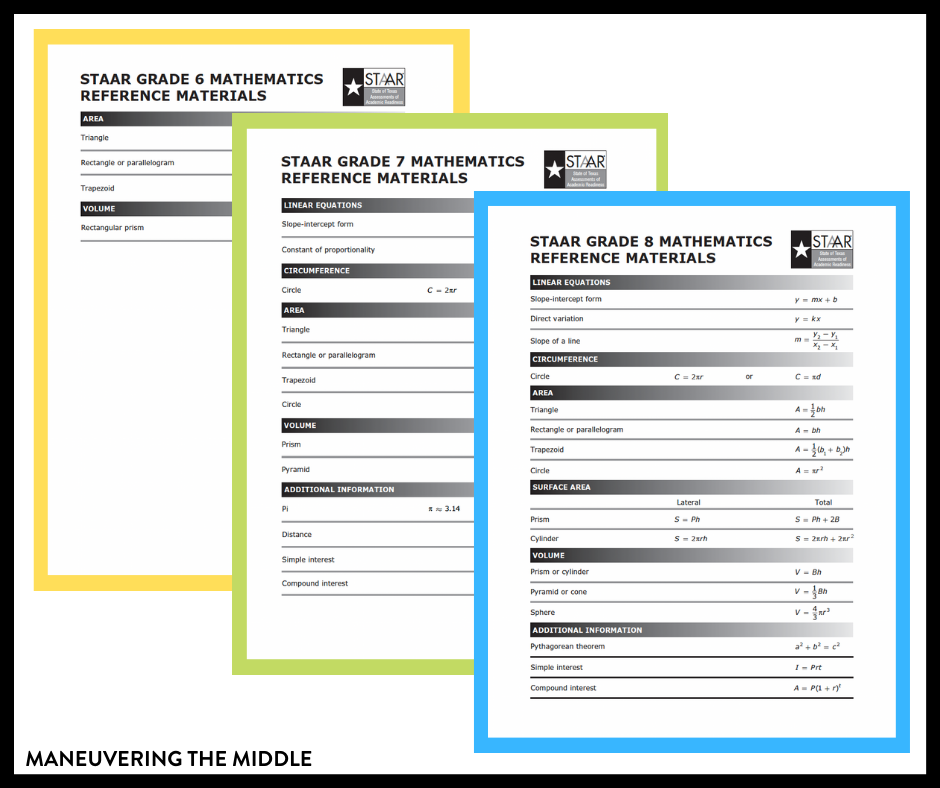 Start with an Exploratory Activity
This is pretty obvious, but volume is so hands-on! It is physically all around us.
You can do this in a variety of ways: calculating the volume of various items like – tissue boxes, cereal boxes, oatmeal canisters, saltine boxes etc. A sleeve of crackers is the perfect cylinder and is a perfect way to show how the volume is the area of the base times height.
Our Exploration Activity helps students explore the relationships between cylinders and cones using play dough or dried beans. You can find it in our 8th grade volume activity bundle.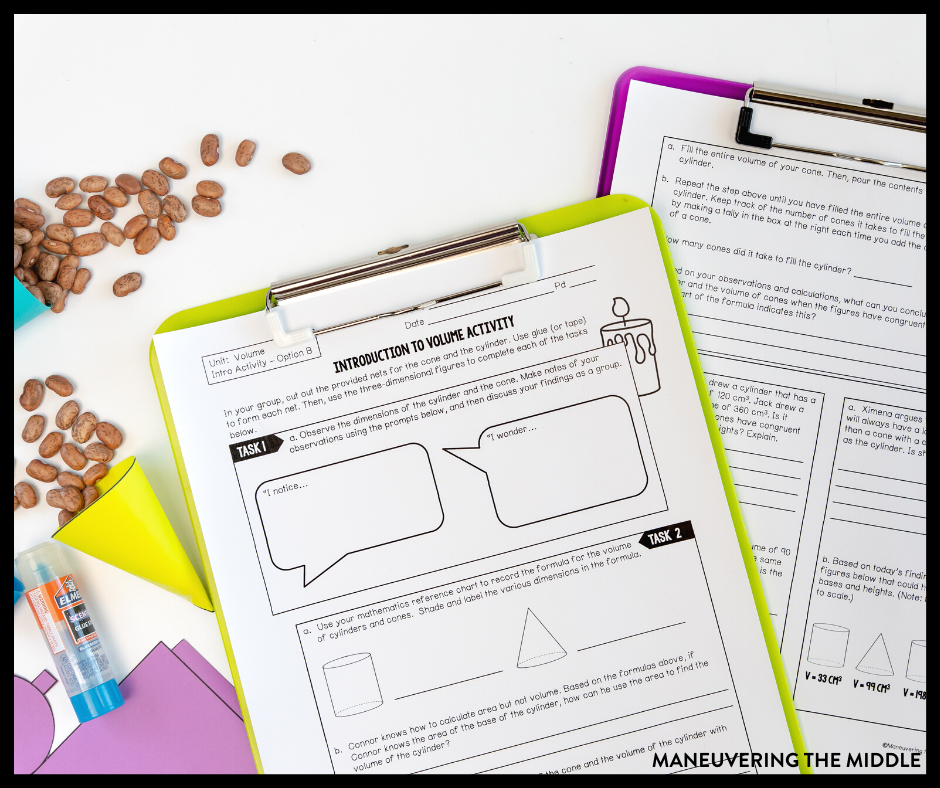 This is a free activity that sounds like a perfect way to include a project for rectangular prisms. Students are given a single piece of paper and instructed to create the largest possible box. 
Maneuvering the Middle Activities
Our activity bundles are engaging and hands on! With all of the shapes that are covered in middle school math, it's nice to know that every prism, cylinder, cone, and sphere will receive practice.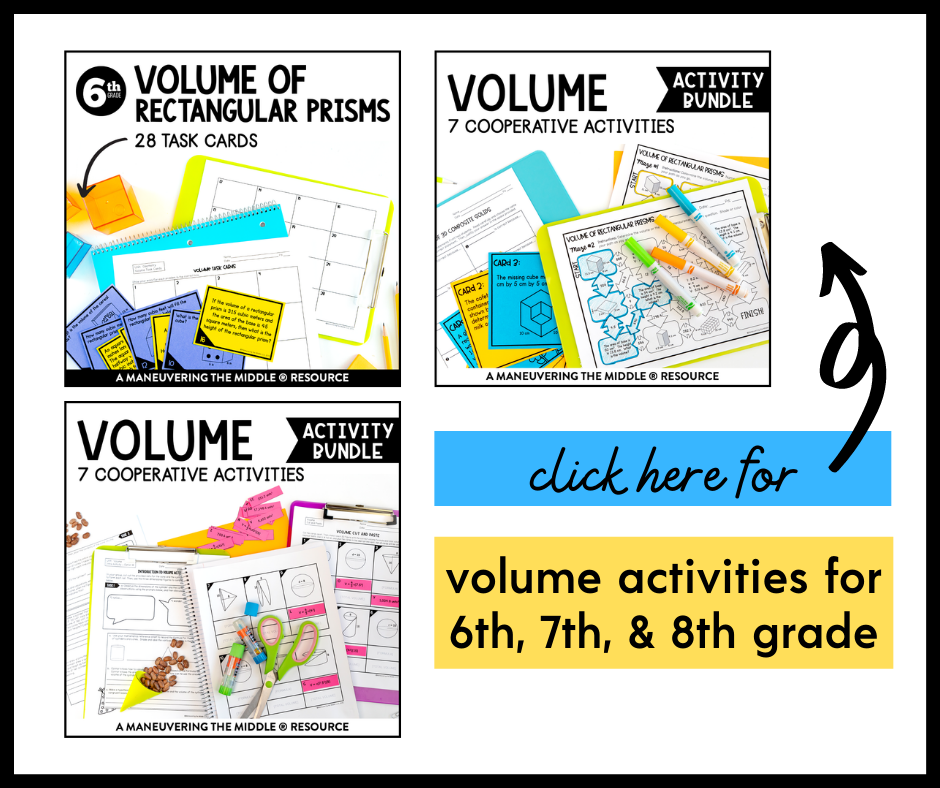 Other Tips
Use fabric measuring tapes over rulers. They are less expensive, take up less space, and students will not be tempted to sword fight.
If you have access to unifix cubes, give students a specific volume and have them work backwards to create as many rectangular prisms with different measurements that satisfies that volume. 
What tips do you have for teaching volume?