As teachers, we have all heard the statement "set students up for success" probably more times than we can count. Sometimes these statements can lose their meaning, but don't let this one! If students feel successful in your classroom, then your workload will be less. Less make up work to follow up on and grade, less classroom management, less … fill-in-the-blank.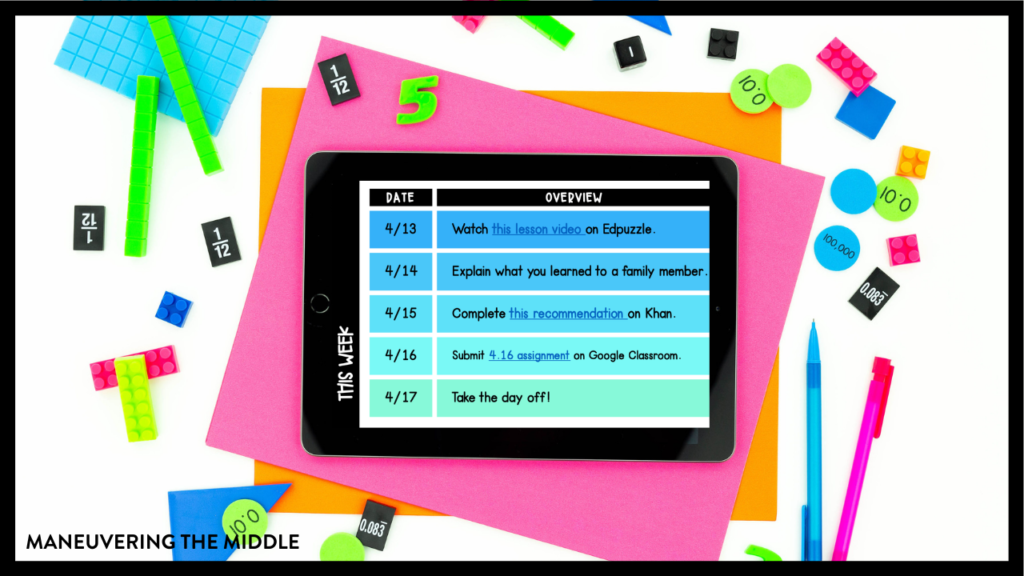 LISTEN ON: APPLE PODCAST  |  SPOTIFY
#1: Make Everything as Easy as Possible
There is a physics principle called the Principle of Least Action that basically states that the path between two points will always be the path that requires the least amount of energy. You may be more familiar with the path of least resistance. Either way, humans (not just students) are wired to give up when faced with one too many challenges. Think: how many times have you gone to purchase something online, only to give up when you realize your wallet is out of reach? Check out the book Atomic Habits by James Clear to learn more.
EVERYTHING should be as STUDENT-FRIENDLY as possible: directions, finding assignments, completing assignments, submitting assignments, and the list goes on.
In the classroom setting, you could always course correct in the moments of confusion. Not to mention, there were so many visual cues to bolster student success: an agenda on the board, a tray for students to turn in their work, and your physical body there to direct and engage. 
The online setting is a little more complex. Course correction could mean a student has felt confused, logged off, leading you to hunt down their (completed?) assignment. Add in the fact that sometimes students are in school and sometimes they are at home and nothing feels consistent anymore!
So here are some questions to consider when thinking through the students' experience.
Is this easy to accomplish? Notice I didn't say the content is easy, I am referring to the process.
Is there a way that I can provide up front directions that will help students and keep them from continuing to ask the same questions? Create a video library that anyone can access. This could be as simple as a Google Sheet that has organized video links you record on Loom or ScreenCastify (make sure it is 'view only').  
Is there anything that we can do as a school to minimize confusion? If every teacher is using different software or platforms or expectations for submitting assignments, then students are more likely to feel frustrated and give up. 
One thing that our MTM teachers are loving is the Google Hub Template.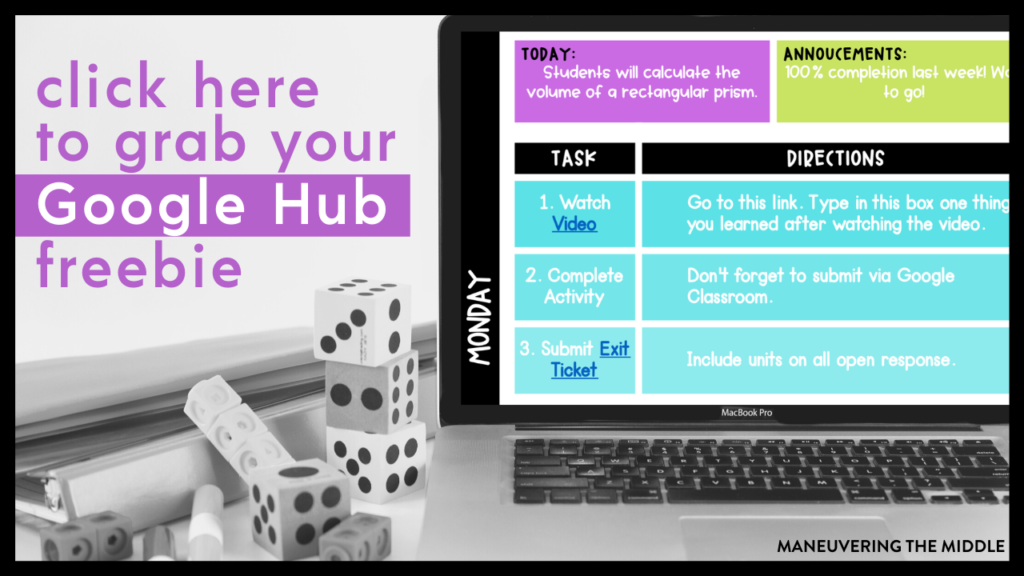 This is a super easy-to-use template that we lovingly call a Hub because you can put all the links, directions, and assignments in one spot for the day or week (we have provided both). It gives students a checklist to reference and it is super colorful and easy to use! You can get yours here and you can learning more about how to use it here.
Read how you can set your students up for success teaching these 5 remote learning routines and procedures.
#2 Build Those Relationships
Nothing ground-breaking here, but the importance of building student relationships this year with students in and out of the classroom has never been more important! When students know you care for them beyond the classroom, they will do more, try harder, and be more successful.
In a typical year, this comes naturally – you would high five students in the hallway, you talked to students at lunch, or maybe you ran a club after school. So much of the fringe time we once had fostering relationships with our students is gone, so teachers will need to brainstorm new ways to engage students and build rapport. 
Scratch the math warm up/bell ringer for fun get-to-know-you type questions or activities
Host a virtual scavenger hunt or show and tell 
Cut out the automated emails — it teaches kids to ignore your emails
Send a personalized message instead — create some templates and copy/paste
Create a menu board that is not content related for students to complete
Put a sticker on your face each time a student participates. Check out some other incentives here (may require some tweaking for a digital classroom)
These are just a few examples of super simple ways to build relationships with your students.  Remember that building relationships with students doesn't just happen in August and September; it is an ongoing effort! 
Clear directions + cared for students = more student output + less work for teacher + student success. How do you set your students up for success in your classroom?