How many times have you been teaching a concept that students are feeling confident in, only for them to completely shut down when faced with a word problem?  For me, the answer is too many to count.  Word problems require problem solving strategies. And more than anything, word problems require decoding, eliminating extra information, and opportunities for students to solve for something that the question is not asking for.  There are so many places for students to make errors! Let's talk about some problem solving strategies that can help guide and encourage students!
Grab your Problem Solving Strategy Freebie Here!
Update for 2020: Scroll down to the bottom to read how we address showing your work during distance learning.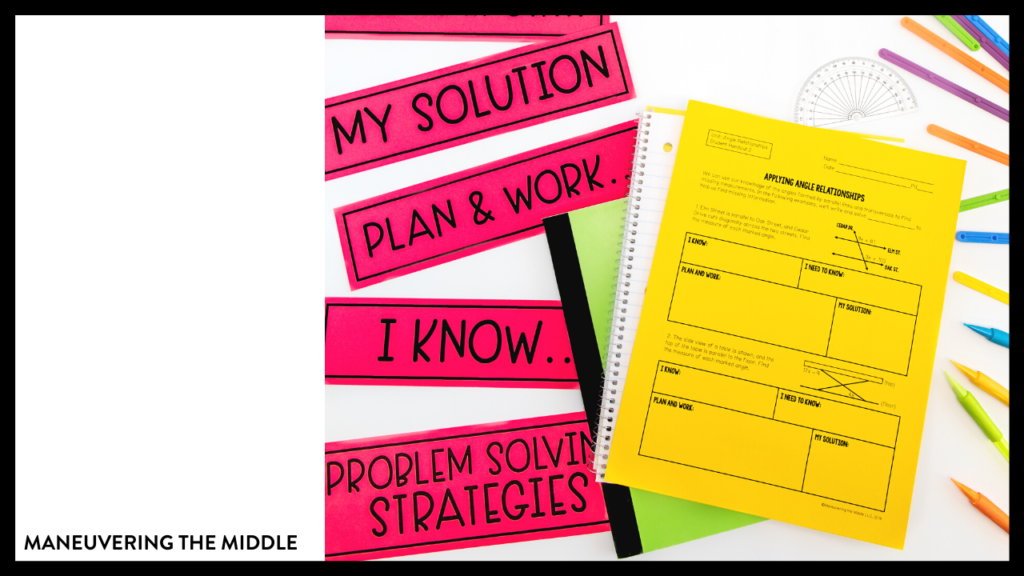 Math Problem Solving Strategies
1. C.U.B.E.S.
C.U.B.E.S stands for circle the important numbers, underline the question, box the words that are keywords, eliminate extra information, and solve by showing work.  
Why I like it: Gives students a very specific 'what to do.'
Why I don't like it: With all of the annotating of the problem, I'm not sure that students are actually reading the problem.  None of the steps emphasize reading the problem but maybe that is a given.
2. R.U.N.S.
R.U.N.S. stands for read the problem, underline the question, name the problem type, and write a strategy sentence. 
Why I like it: Students are forced to think about what type of problem it is (factoring, division, etc) and then come up with a plan to solve it using a strategy sentence.  This is a great strategy to teach when you are tackling various types of problems.
Why I don't like it: Though I love the opportunity for students to write in math, writing a strategy statement for every problem can eat up a lot of time.
3. U.P.S. CHECK
U.P.S. Check stands for understand, plan, solve, and check.
Why I like it: I love that there is a check step in this problem solving strategy.  Students having to defend the reasonableness of their answer is essential for students' number sense.
Why I don't like it: It can be a little vague and doesn't give concrete 'what to dos.' Checking that students completed the 'understand' step can be hard to see.
4. Maneuvering the Middle Strategy AKA K.N.O.W.S.
Here is the strategy that I adopted a few years ago.  It doesn't have a name yet nor an acronym, (so can it even be considered a strategy…?)
UPDATE: IT DOES HAVE A NAME! Thanks to our lovely readers, Wendi and Natalie!
Know: This will help students find the important information.
Need to Know: This will force students to reread the question and write down what they are trying to solve for.
Organize:  I think this would be a great place for teachers to emphasize drawing a model or picture.
Work: Students show their calculations here.
Solution: This is where students will ask themselves if the answer is reasonable and whether it answered the question.
I have rolled this problem solving strategy out to students, and it went decently.  When I provided the boxes (seen below) for them to fill out, I received no heavy sighs that I was forcing them to show their work.  #mathteacherwin
I think the boxes made it clear that it was part of the required work – not something 'extra' I was wasting their time with.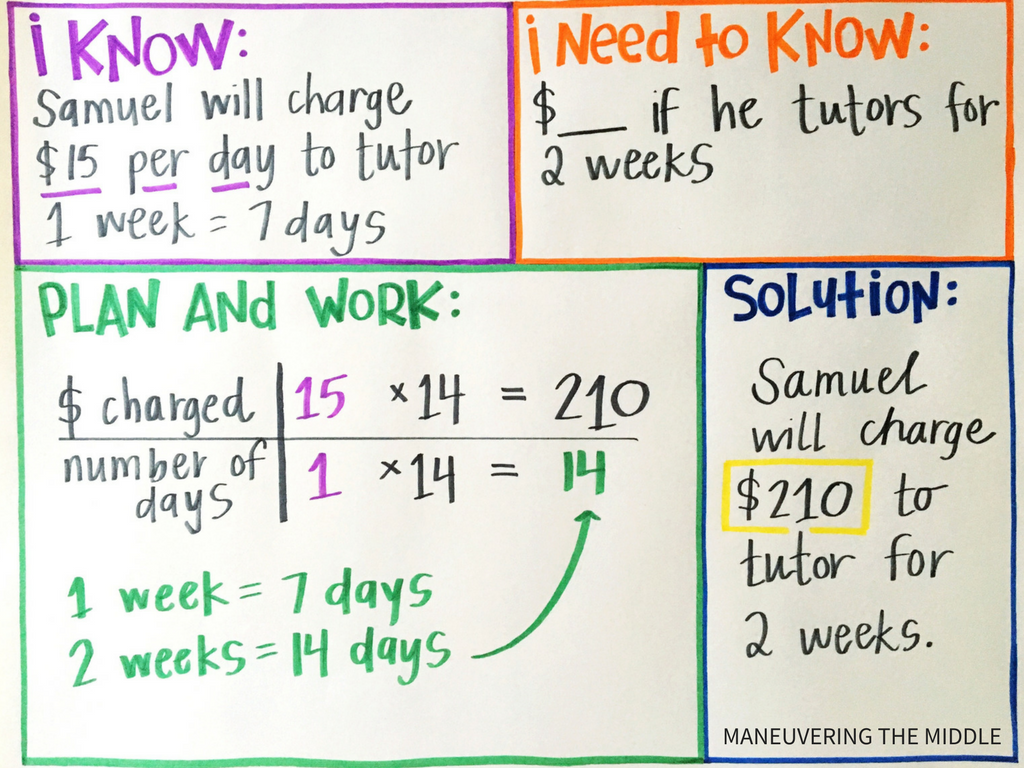 Here is where I typically struggle with problem solving strategies: 1) modeling the strategy in my own teaching weeks after I have taught students to use the strategy and 2) enforcing students to do it.  So… basically everything. This might be why I haven't been able to stick with a strategy from year to year. 
5. Digital Learning Struggle
Many teachers are facing how to have students show their work or their problem solving strategy when tasked with submitting work online. Platforms like Kami make this possible. Go Formative has a feature where students can use their mouse to "draw" their work. If your students don't have access to a touchscreen, then having them submit images of their work might be your best bet. To simplify this process, I would recommend asking students to submit an image for all of their work — not individual problems. We do not want to create additional barriers for students.
If you want to spend your energy teaching student problem solving instead of writing and finding math problems, look no further than our All Access membership. Click the button to learn more. 

Students who plan succeed at a higher rate than students who do not plan.  Do you have a go to problem solving strategy that you teach your students?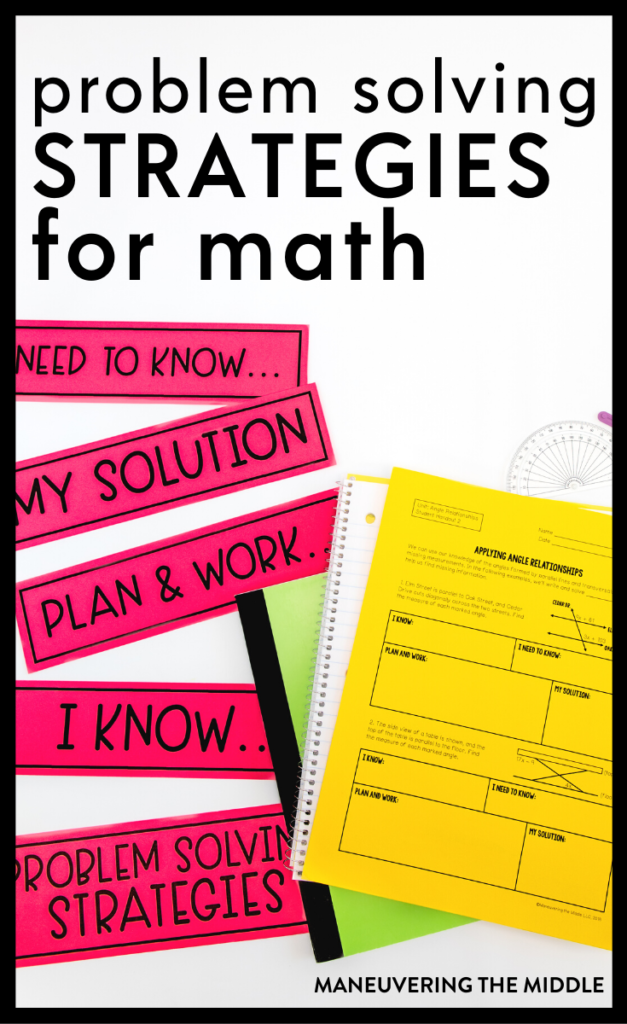 Editor's Note: Maneuvering the Middle has been publishing blog posts for nearly 6 years! This post was originally published in September of 2017. It has been revamped for relevancy and accuracy.